Vlog 208: STEEM is now the highest rated (B+) cryptocurrency on the Weiss Rating + New project on the STEEM Blockchain: Peer Query.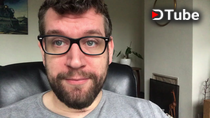 ---
There is a new project on the STEEM blockchain. It's called Peer Query here. It's in Alpha at the moment.
I wasn't 100% sure what it was exactly so I asked the @blockbrothers (our witness) on whatsapp and our dev got very excited.
He instantly compared Peer Query to Stackoverflow. That is a website where over 50 million developers come to learn, share their knowledge, and build their careers source.
That is super cool. But they miss something they don't even know. A reward system in the form of a token (SMT) that can be traded on a open market.
They already have a reputation system but there is no way to monetise the content or to reward each other.
Peer Query solves this problem by utilising the STEEM blockchain. It's brilliant.
Another project to get excited about and just shows all the growth that's going on at the moment on the STEEM blockchain.
Weiss rating B+
---
This morning I became a member of the Weiss rating site. I suspect I will be referring to it more often in the future and wanted to pay for the source.
I had to pay in Dollars I guess they are not that crypto ready yet :)
What is cool is that STEEM got the highest rating of all of the cryptocurrencies that are rated at the moment.
It's great news and gives even more legitimacy to this blockchain.
I talk about it more in my vlog.
---

---
I am a witness with our developer group @blockbrothers for the Steem blockchain. If you want to support us I would appreciate your vote here.
We build Steemify a notification app for your Steemit account for iOS.
Get it Here:

---

---
▶️ DTube
▶️ IPFS