Peer Query Alpha: Taking Steemit.com, Quora and StackOverFlow to the limit in 30 days!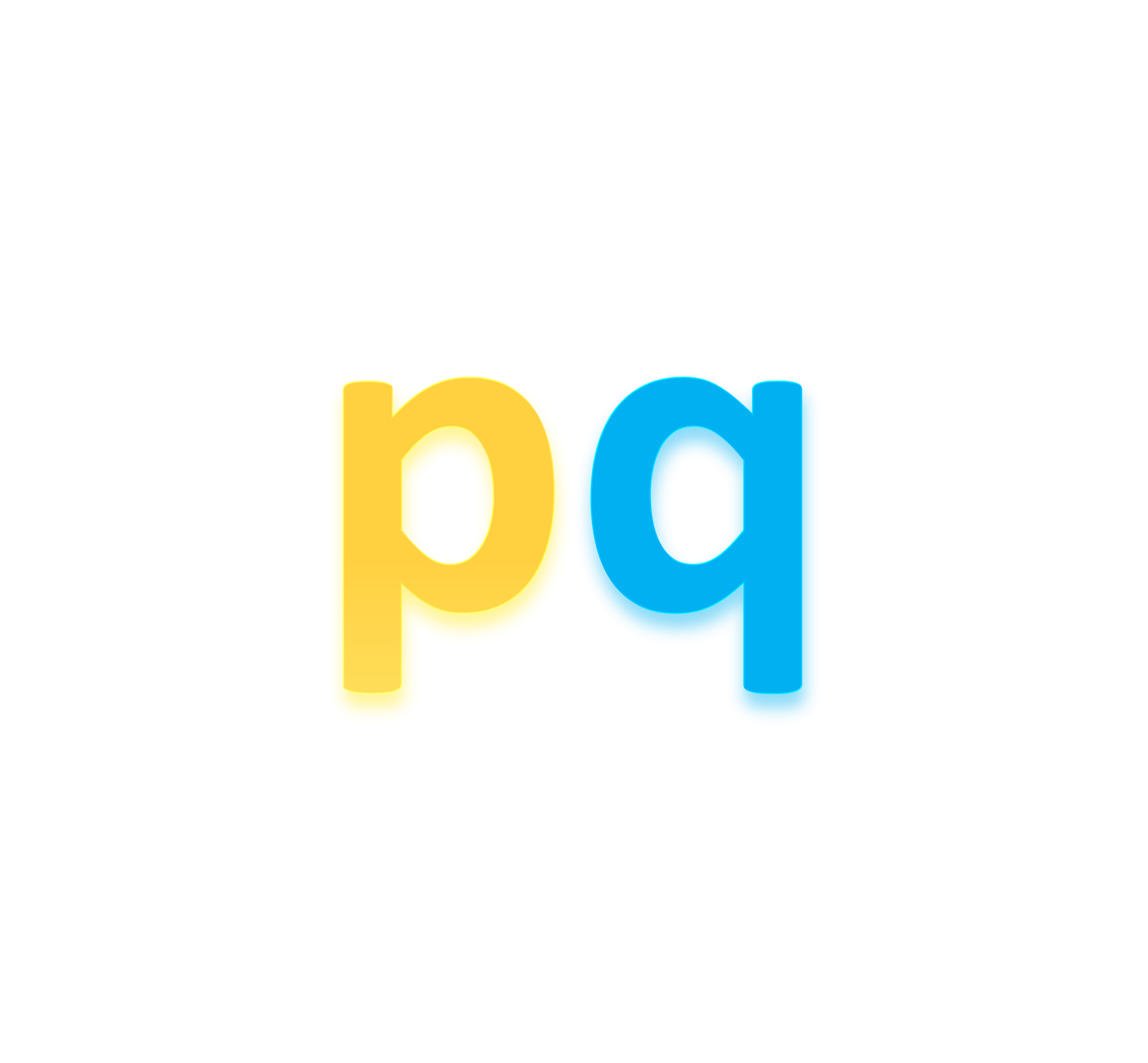 She is here, and she is a beauty. While not perfect, I would say that Peer Query Alpha is a thing to behold. After days of development, the alpha version is here and is more like the thing.
What's new in the alpha
A better UI
While the Proof of Concept version was styled in Bootstrap, the alpha version of Peer Query is built on Semantic UI and has a minimalist but detailed feel.
A landing page
A landing page is critical to the first impression a user gets on a site. The alpha comes with a landing page that also serves a preview of the contest of the site.
A menubar allows users to select which trending content to view: proposal, contest, question, gigs or quizzes - while a comment sidebar show the comments of the first post.
The landing page also explains how the site works, and does introduce new users to the capabilities of the Steem Blockchain.
Here is a preview(failed to include the comments area):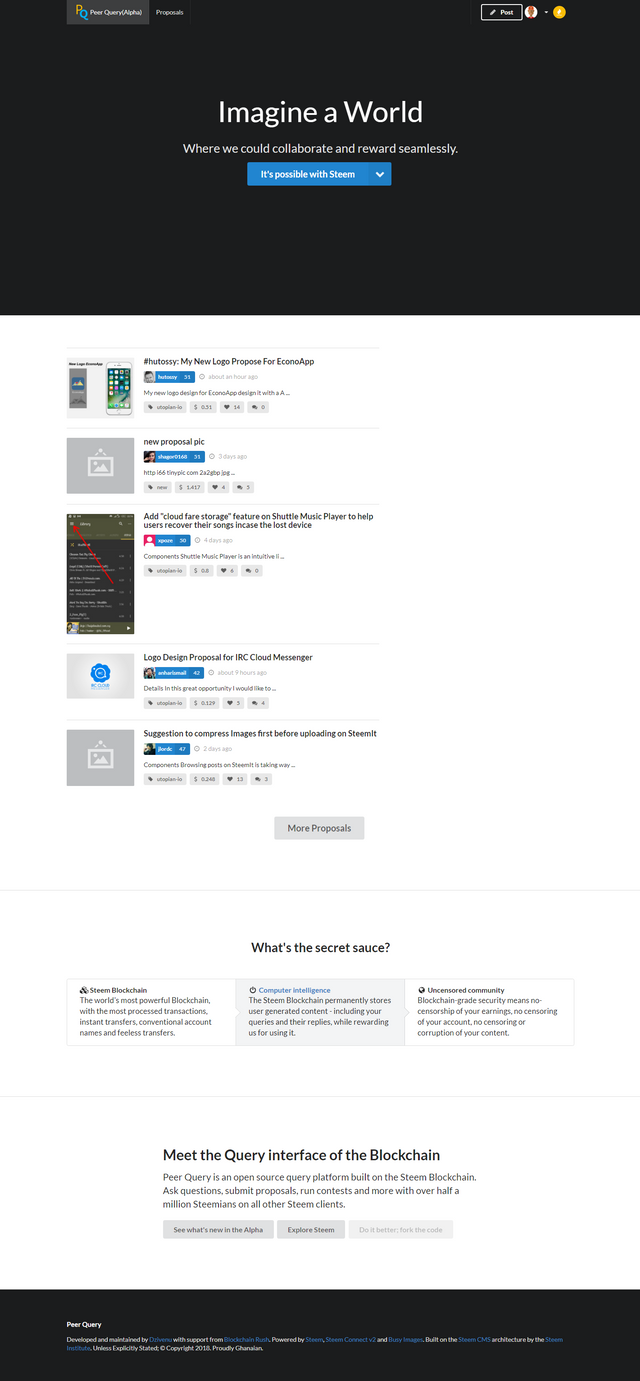 Awesome post editor
The awe may not be in the advanced Quills.js editor, but its in the section on your right which shows you a snapshot f your last post, its earning, votes and responses count as well as the top comment by votes!
What do you think?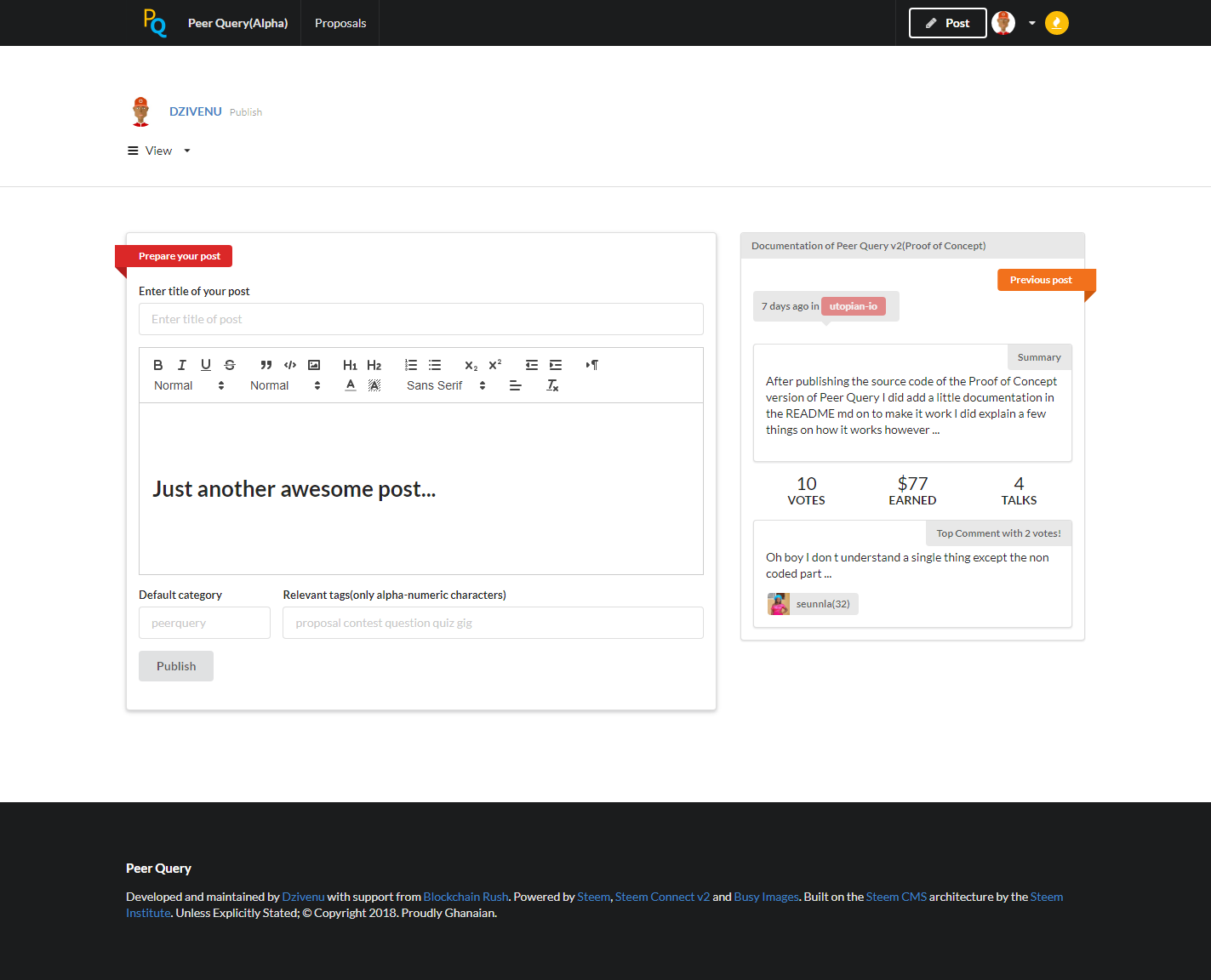 Superb post reader page
It is my intention to give user the best experience when reading content and I did manage to create an awesome post viewing page. 
The only catch is that posts are not currently well parsed due to what I could call as a no format content attitude on Steem.
Its interesting to not that on Steem you find out content which have both HTML and MarkedDown tags. Rending such content is not very accurate on most Marked Down renders, meaning the app developers will have to write several custom functions.
It even gets more disturbing when you have to deal with unformatted links. Naked URL without attribute tags, image links without an image tag, Youtube links without iframe and the list continues.
While content from Steemit.com, Busy, Utopian are will formatted, those from newer apps and clients are not and this creates lots of challenges when attempting to render content which has no definition or schema.
For now Peer Query will display badly formatted content as they are. I am still working on improving the post rendering functions.
Awesome vote slide bar!!!
Take a look at the Peer Query alpha slidebar in action: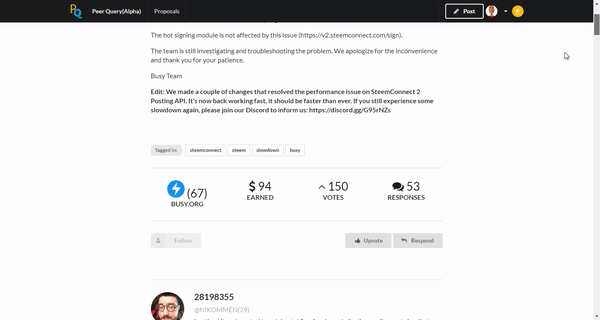 What needs improvement
Better comment handling
After a comment is posted, the entire page reload so as to display the new comment. In the coming updates, only the comment area will reload.
Templates for post types
This is another feature that I will be working on so a proposal looks different from a question likewise to a contest.
Image rendering
Aside from images on the post page and the user avatars, post thumbnail images are need to be formatted to have a uniform size as well as consistency in capturing the first image image in a post.
Better summary extraction
Summaries are not well extracted from posts and that will be improved in my upcoming updates.
Better footer
The current footer is very minimalist yet is a good place to put good information about the project. In the next updates it will be put to better use. 
Better post editor utilities
The current post editor lacks autosave and history. This means you cannot expect it to save your draft and you also cannot "undo" and "redo" activity. In the upcoming updates these features will be added.

What's missing and coming next
Comment sorting
In the subsequent updates, there will be the option to sort comments by most voted, newest, trending and more.
Video embedding
The current editor does not support video embedding, in the coming updates it will be included.
Post editing
The current version does not support post editing but support will be included in the subsequent updates.
Wallet page
A wallet page is something I am working on and will release hopefully this week. Its nice be able to view your account's wallet stats without having the leave the site.
User feed page
The user feed is a feature that best serves logged users, on social media its known a your wall. Steem has a function for that I am using it to create a user feed page. It will be the page to be redirected to after login, so you see you newfeed content.
"Community page"
Inspired by two posts by @pilcrow on how to calculate who upvoted you the most as well as who responded the most your posts, the next update will include a community page which will show your followers, those you are following, your upvotes and your commentators by frequency.
More dedicated query pages
Currently there is only one active page which is the proposals page. The next update will include pages for questions and more dedicated pages will follow in the next updates.
Tags page
Yes, you will soon be able to explore posts on any tag you click! There will also be a "tag" page to view all trending content from all tags - just like the homepage of Steemit.com!
Site pages
Custom 404, About us and other pages will be developed soon.
Lots of new SUPRISE features!!!
Yes I am cooking lots of features for Peer Query and will be releasing them within the next 30 days, follow for updates.
The 30 Days challenge
Power engineer Peer Query
I am devoting the next 30 days to full time development work on Peer Query. During this time I will be releasing new features to uplift its feasibility to that of Steemit, Quora and StackOverFlow.
While I cannot promise the release new features each day, they will be released once they are stable and are useful to the users. Also they will released in batches and you can follow for updates.
This is my challenge for this month of Febrary: to build Peer Query to become the Quora/StackOverFlow of Steem and then release the source code for others to use for more projects for Steem.
This is my mission for this month, and I hope you will follow and support me along the journey to build this resource for the Steem blockchain.
Release the code
After developing a stable version with fully functional features in the next 30 days, I would be releasing the source code on Github under MIT license so everyone can use it for free and for anything.
What you can do
I am putting out an open challenge to the Steem and Steemit community: just as you have supported several other Steem projects, I would ask for your support.
After spending months as an author at @BlockRush, I felt challenged to build something which will make Steem more accessible to the world.
Peer Query is my little way of supporting the Steem network by making it more practical for people to use. My endeavor to build Peer Query has taken me off my career and had a financial train on me.
Yet I have purposed to continue my mission as a fulltime Steem developer and will spend the next 30 days building exciting features for Peer Query.
However, I do not make any earnings from Peer Query as it is free to use, and I am not a witness - yet I will be releasing the source code for free once it is done(somewhere around the end of this month).
Due to the development process I no longer have time to blog and you can see that @BlockRush has run out of activity, Steem and Steem Dollars. The hosting bills for Peer Query is also rising.
For that reason I will need your upvotes and resteems for this exciting 30 days, as they will enable me to continue to fund my work which will in-turn make Steem more valuable. I appreciate your understanding.
You can also help by sharing this post or the site's links with others, as well as writing your own reviews about Peer Query.
Message for the team
In my earlier post I had called for a team for Peer Query yet I have not been able to engage those who showed interest. I am sorry for my negligence, I believe the team will still come on, yet perhaps after a stable release of the alpha.
Again due to my work on the alpha, I have been without much time to chat. I hope you can bear with me until the stable and fully functioning version of the alpha is ready, so the team can then take it to the beta.
Credits and acknowledgements
With the launch of the alpha, I say that a new age has began for my work on Steem. I thought I would have been a great author here, now its certain I will have to develop great things.
Without the support of some Steemians, I would not have come this far; perhaps I would have left Steem. I would like to acknowledge the people whose support for my blog keep me on Steem.
Special thank you to @Dan and @Ned and their teams for the creativity in developing Stem which has now given us all the opportunity to earn from doing what we love.
A million thank you to @Drakos, @pFunk, @Netuoso for their supporting when I encountered a problem while developing the Proof of Concept version.
While I cannot mention all the names, a few notable once include:
And another million thank yous to you reading this post, for your support, time and effort. Peer Query owns its success to you all.
Status of the Steem Institute
Unfortunately, I would have to postpone the launch of the Steem Institute from the end of January 2018 to somewhere in March 2018 due to my extensive work on Peer Query and the lack of cash.
However, the good new is that I am investing part of my earnings from Peer Query into stepping up the Steem Institute and will launch it once Peer Query is in the beta version.
I am counting on your support to build these projects and which aim to make Steem more valuable, feasible and accessible. Until next update, lots of love from Ghana.
Enough talk. Explore the alpha > www.peerquery.com.
Upvote and resteem to support my development work on Peer Query! Thank you!