Don't Give Up Now Because The Moment Is Right Now.....
When I first bought into STEEM 6 months ago, I saw the price as a bargain. Given the possibilities of this blockchain and the applications that were being developed at the time, I was sure that I was not buying in blindly. You would think then that today, because the price is much lower I'm wondering if I made a mistake back then.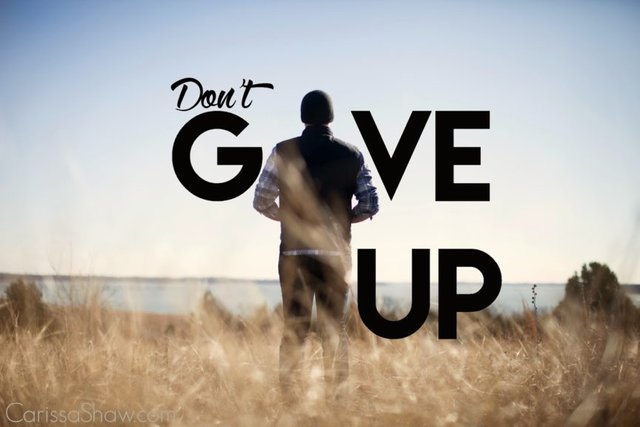 img src
The short answer is no, not at all. Of course I'm not trying to say that the current price of STEEM is something I should be cheering about, but when it comes to the blockchain itself, nothing has changed, it has only improved.
We are weeks away from an update, a necessary one for the expected SMT release and one that is sure to help with bringing more people to participate of STEEM. I remember having to wait for more than a week for this account to get approved, and we can't say that makes a lot of sense when you are walking about mass adoption.
You want to know what I'm thinking? I'm considering that I'm being given a second chance here, a golden opportunity to load up on some tokens and wait for it to rally up. It seems to me very unlikely that this will not happen, and looking at the condition of the whole cryptomarkets in general, I can't really any coin to be doing well.
What I'm trying to say is that I'm going to focus on the upside of things and not on the things I have no control over. The way payouts are working right now, people who are staying active on STEEM are getting a lot more tokens for their work. I have also noticed less people posting, more people stopping because they think the price is not worth it for them. To me those people are just hurting their own interests by making those choices.
I fully intend to stay active, to continue posting and interacting with everyone that visits this blog. I make it a point to reply to good comments, and I've even sent a few donations to different people who I knew could use a helping hand. I don't see one valid reason why anyone should be slowing down right now, but I do see hundreds of reasons why everyone should be working a little harder.
I'm also going to be buying some more tokens in the upcoming days. As a friend of mine says: STEEM is on sale, so why not buy it at a discount? When the market turns around I'm sure I will be very glad I did.
Steem on my friends