When we moved to Utah the pasture behind our house was empty, except for snow and weeds and an overturned row boat in the back corner.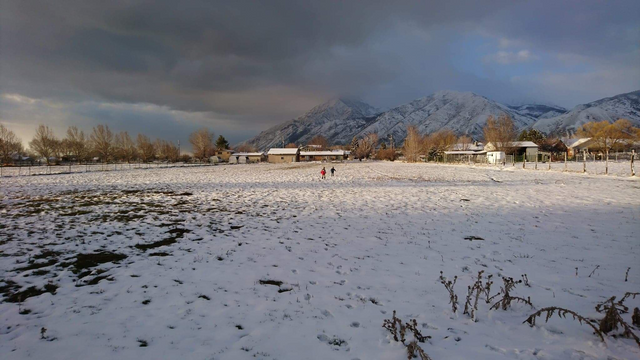 The Things running back toward our house across the pasture
In the summer three Texas longhorn cattle moved in, joined shortly after by two larger cows of a different breed. The owner of these late arriving cows, a real Utah cowboy named Brian, hoped they would be impregnated by the Texas longhorn bull.
For a couple months we had 5 cattle in the pasture right behind us, and roughly ten billion flies. A month ago the owner of the Texas longhorns moved them to a different pasture, but Brian kept his two cows behind.
I guess his cows didn't get pregnant. Today I saw a large white van in the pasture.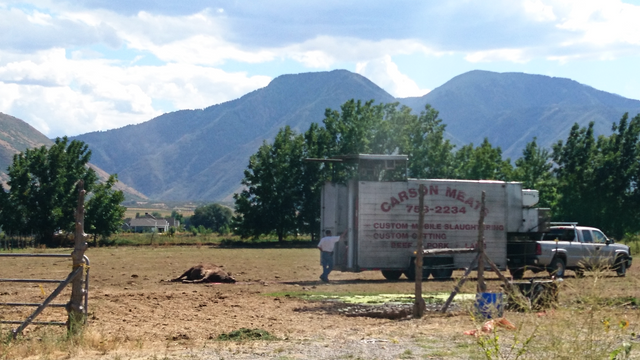 My wife named all the cows, this is Hazel laying on the ground with her throat cut.
I talked about it with @thingone. I told him they were cutting up the cows into meat for people to eat. He said, you mean they are cutting the flesh from the skeleton. I told him the bones would probably be used too. Plants like to eat bone meal, or they can be used for soup bones or animal food.
He thought about it for a bit. They shouldn't have cut her throat and let all her blood out, he said.
We are not vegetarians. Maybe once a month I will buy a beef roast, or grill burgers in the summer. I reminded @thingone about the hamburgers we made last week. He has been helping me shop. I told him that all the meat at the store came from animals that were killed and then cut up for meat. The cows were going to be cut up and the meat put in refrigerators or freezers to be eaten later.
He understood.
Hours later we ventured out into the empty pasture. I told the things not to walk in the cow blood. They gave it a wide birth and joyfully ran to the boat in the back corner. I stayed behind to look at the cow's blood.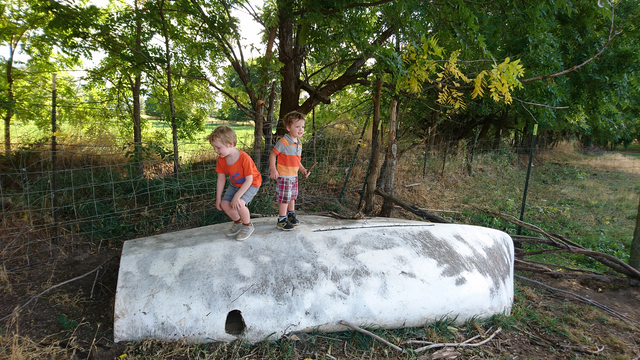 The life's blood of a cow, coagulating on a hot Utah day, looks like an active lava flow. It looks like Mordor. It looks like death in a much more metal way than I thought it was going to look like.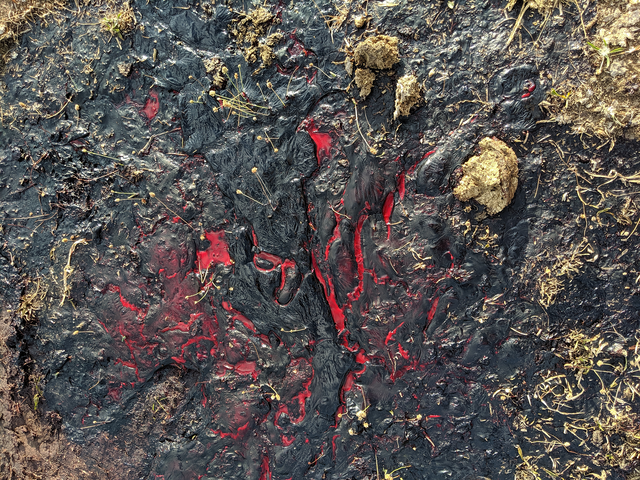 That is not ran through a filter nor edited in any way. That is what it looked like.
As I rejoined the Things, a horse in the neighboring pasture came over to say hello. We know this horse. We fed it some carrots months ago in the spring, before the cattle arrived.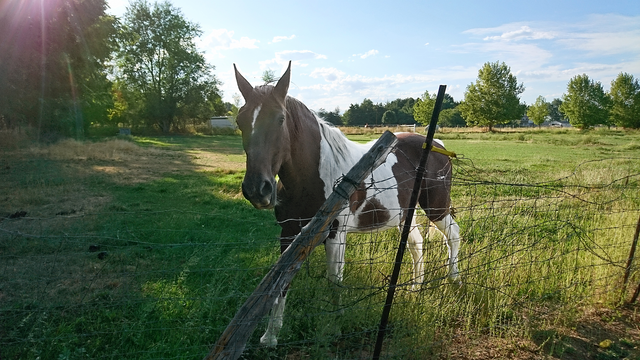 @thing one said, sometimes they cut the flesh off a horse?
No, we don't eat horses here. But in some parts of the world, people eat horses.
He didn't question this, and I wouldn't have had a ready answer if he did. Horses... in western culture we see them as wild, and free. Intelligent and noble. Cows in western culture are... cows. The word is an insult. That isn't fair of course, watching cows these past five months has given me a new appreciation for them.
I told the Things that if we could find an apple, this horse would eat it out of our hands. @thingtwo sprinted across the field back to the irrigation ditch between the field and our house. I knew the Things had spotted several apples that had wedged themselves against the wooden bridge I built, the last time the ditch had water.
@thingone was nervous and stood on the boat while @thingtwo and I fed the horse the apple. It stamped its feet in appreciation and let me pet its nose for a long minute or two. Flies crawled around the corners of its eyes.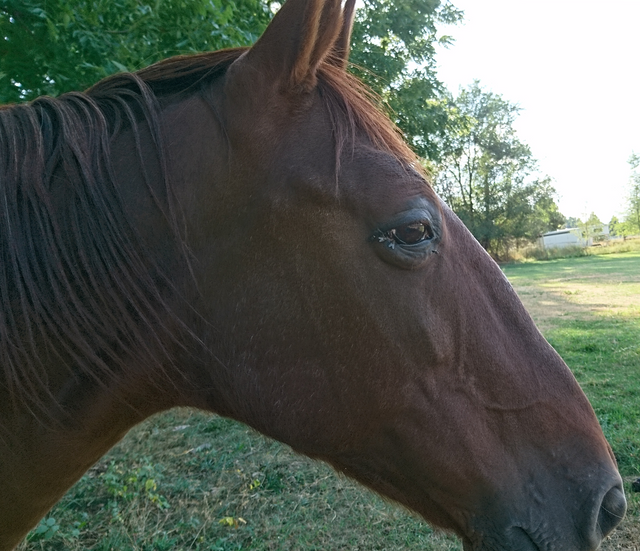 I would not want flies crawling around my eyes.