It's roughly 20 C here, has been for the past few days. And I have to say, you wouldn't believe the change it makes on one's attitude. To be honest, this is my favorite weather, maybe a tad warmer, you know, early 20s. You don't die from the cold or the warmth, it's perfect.
And one of the things I particularly love about this kind of weather is that I get to wear my leather. I love leather and this is perfect weather for it because very probably next month it's already going to be too warm for it. Now, I'd wear leather through the winter, but then I'd probably freeze. So, this is what we're left with.
And you know why I love leather?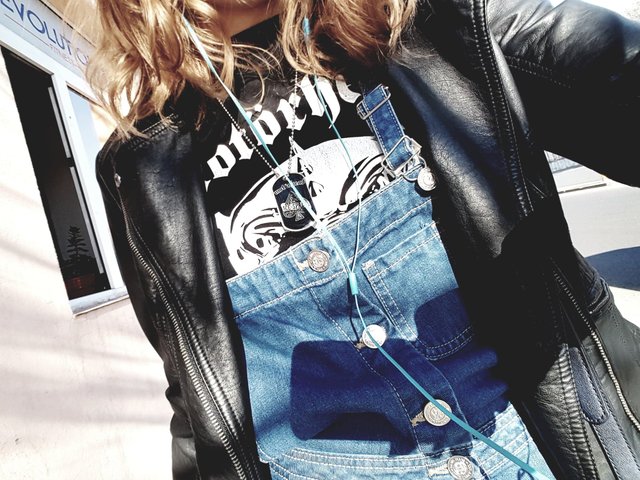 Well, because it's fucking badass. It's pretty simple, really. It's not ten fucking layers of clothing that make you look like a donut and it's very rock n roll. It can be elegant, yet naughty at the same time. It's fucking great.
And one thing that's been on my mind is what a huge difference our appearance makes on our general feeling. You know, everyone tells you that's not what matters. But I disagree. I mean, don't go overboard, don't become obsessed with how you look 'cause that's no good either, but you should give it some importance. Because it is, after all, important. We are programmed to want to attract, I don't know, man, it's a sex thing I guess. We want to look good, we want to be presentable. When you look like a black donut coming through the snow, well, maybeyou're happy, it's just not my thing.
I'm sure you've noticed this yourselves. I'm sure you have a favorite skirt/jacket/sunglasses/T-shirt/underwear that makes you feel you can rock this world. It's a good thing. It's a normal thing.
I hate it when these people say "how you look doesn't matter". Of course it does. Idiot. Because how you look influences how you feel. It's the same with doing your hair or wearing make-up or high heeled shoes (or whatever does it for you really). It's an accessory we associate with power, with strength and general badassery.
Me, I associate leather with power, with badass rock n roll. And I feel very comfortable in rock n roll, so it figures I feel comfortable in a leather jacket.
Stop buying into this whole "it doesn't matter how you look" thing. It does. And the trouble with this stupid concept is that it's not proactive at all. I mean, think about it. Clothes are easily changeable. If you feel good in high heel shoes, chances are you're probably going to tend towards wearing those anyways, so you're set. But his idea applies to all sorts of other appearance issues.
And you can change how you look. You can lose weight or gain weight, depending on how you feel good. You can dye your hair, you can change who you are, at least appearance-wise. And if that's how you feel good, you should. It doesn't matter how you look, what does matter is how you feel looking like that. Because the main difference between sweats and sexy lace is in your head anyways. It's in your attitude.
Well, maybe I digress. The point is leather is awesome. You can tell, because everyone turns to look after people in leather. Even I do. Hell, there's just something about it.
So, what's your garment of choice?
P.S. - This is what I associate with leather. Ya see what I mean?
Thanks for reading,