Basic Knitting Patterns #6: How to knit the RIB STITCH – DIY Tutorial – Beginner Friendly!
Hey Knitting Steemians,
This is the last part of the series "Basic Knitting Patterns".
The RIB STITCH is not only one of the most important knitting patterns, it is also very versatile as you can create countless variations of this pattern. Depending on the desired effect, either narrow ribs, which pull together strongly, or wide ribs which pull together less or not at all, are knitted.

The rib is usually used as a border for sweaters, shirts or skirts. But also a classic scarf is often completely knitted in this pattern. The pattern lays flat and does not curl. The stretchability ensures a high wearing comfort.
Tip: If you use a narrow rib as a side pattern of a shirt, the stretching creates a nice fit of the knit at the waist. This way, the waist can be optimally show up! This effect is even more intense when the entire waist is knitted in Rib Stitch.
It is important when using the Rib Stitch as a border that the cast on is not too tight. The same applies to binding off. Otherwise, enough stretching is not ensured, and the finished knit may not even be able to wear.
The basic rule for the stretching is: the smaller the ribs, the more the pattern pulls together. The 1/1-rib is therefore the pattern with the strongest pulling effect, so strong that the finished piece of knit appears in the Stockinette Stitch.
 
Here are some pattern samples: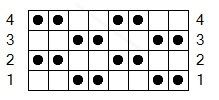 First Row: 2k, 2p
All other rows: knit stitches as they appear.
First Row: 1k, 1p
All other rows: knit stitches as they appear.

First Row: 4k, 2p
All other rows: knit stitches as they appear.
 
 
If you like this article, support me with an Upvote, Resteem and follow me for more creative articles about crafts, DIY and creative hobbies.
The photos and the text are 100% created by myself and may not be reused. It makes a lot of work creating this content. Please respect the copyright, thank you.