It's already day 7 of our keto diet, I can't believe it! And we're finally in ketosis! Yahoo!!
Here's a recap of the last couple of days:
(scroll to the bottom for links to our keto journey up to this point)
Day 5
For breakfast I had a hardboiled egg, a piece of bacon, and bulletproof coffee.
For lunch we had a yummy BLT salad.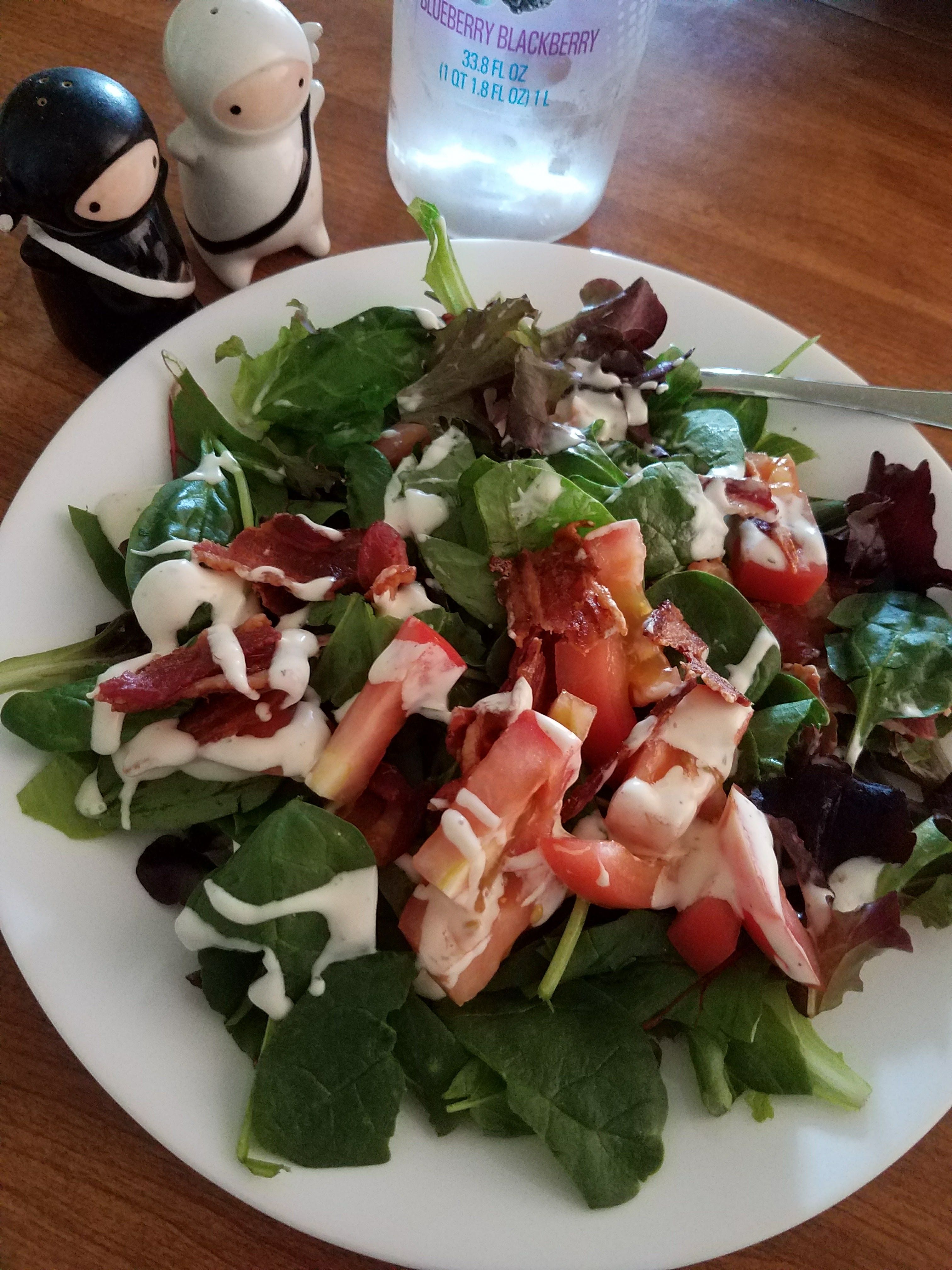 And dinner another taco salad with ground beef. Yummmmmm.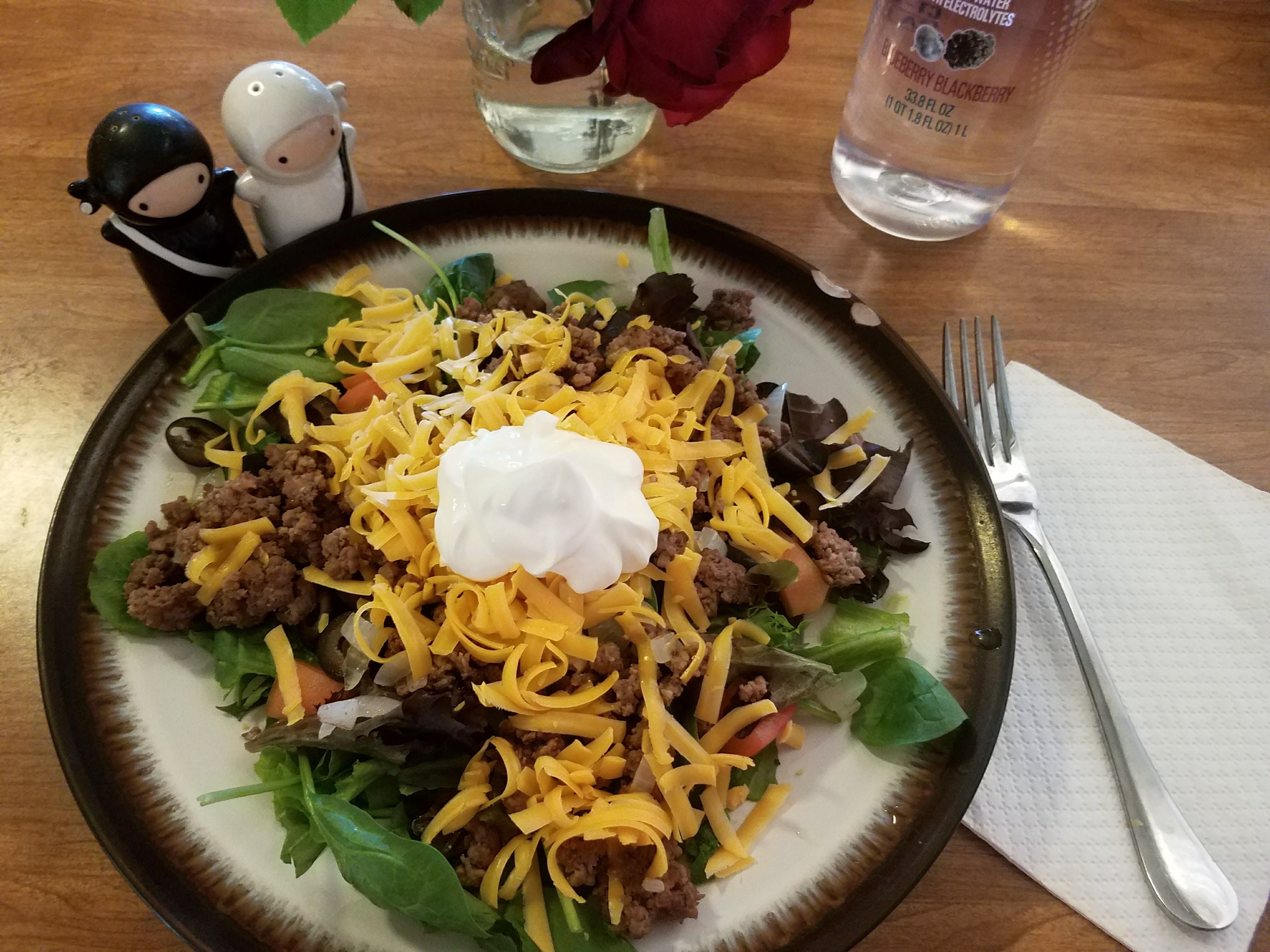 Day 6
We had a light breakfast with just bulletproof coffee.
For lunch we tried something different that turned out really tasty. We made something like a cucumber sandwich. My husband peeled a cucumber, sliced it in half and then again in half lengthwise and scooped out the seeds. We then spread cream cheese in the empty space and layed a couple of pieces of lunchmeat and a piece of bacon on top.
I also needed something a little sweet, so I put about 1/2 cup of blackberries in a cup with some flax seeds and chia seeds then poured about a cup of heavy cream over the top. This was really tasty! It was like melted ice cream with a little crunch!!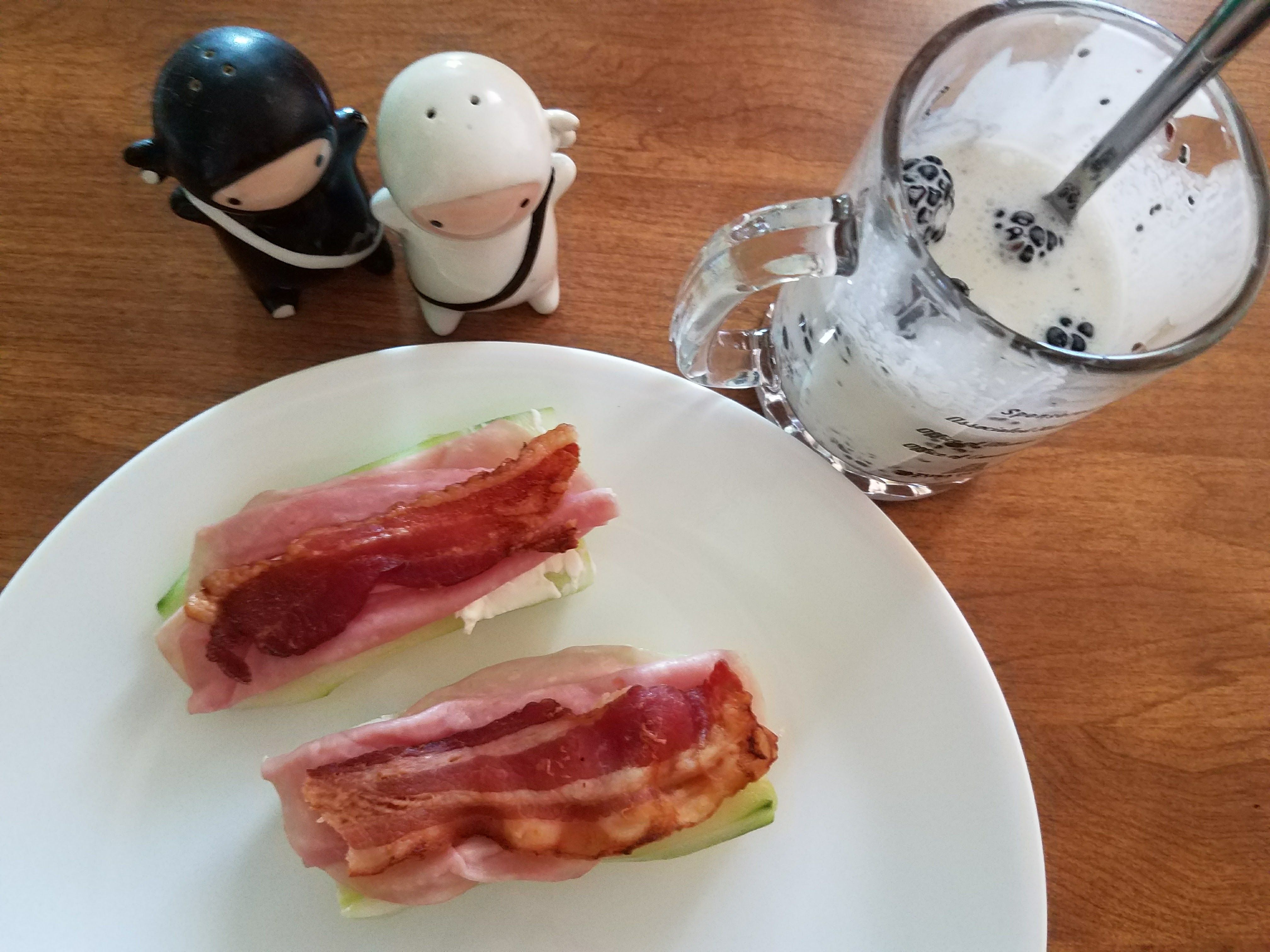 It's been amazing to me how during the last couple of days I haven't really felt hungry like I used to. I used to snack all day and always feel hungry, but I feel like the majority of the time with keto so far I haven't had the same cravings. It's pretty cool! 😁
Dinner this day was a little tricky. I ran/walked a 5/k with a friend. At the end of the 5k each week you receive dinner and a beer from a local steakhouse. The beer was obviously off the table, but I had no idea what they would have for dinner, as it's always a surprise. Luckily they had a caesar salad, which I wolfed down while longingly watching my friend drink her icy beer. They also had a roast beef wrap... which we both took home.
When I got home I had a fried talapia patty, picked the roast beef out of my wrap, and had a piece of almond bread toasted with cream cheese and everything seasoning.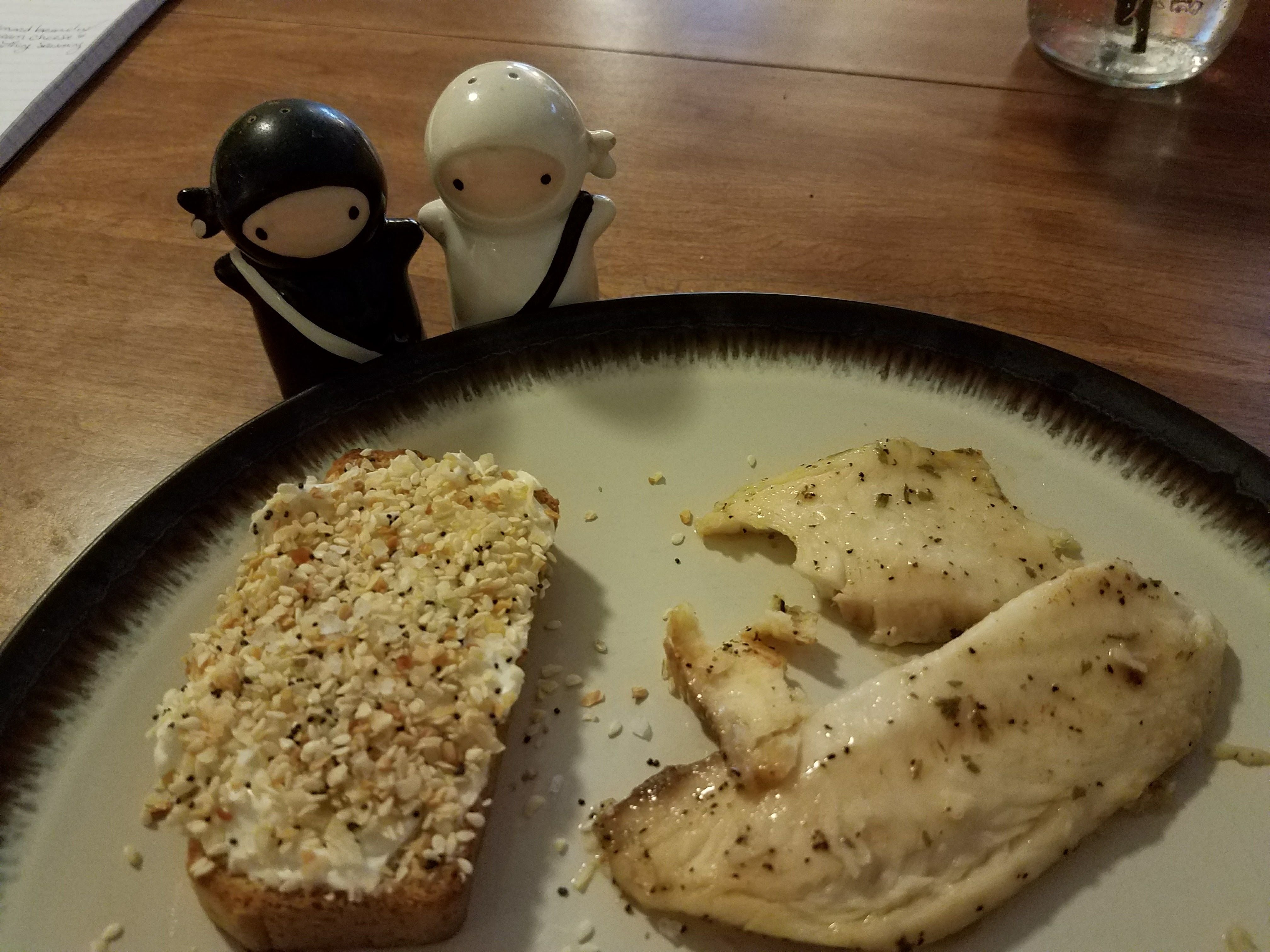 Everything seasoning is the BEST!
Have you every had an everything bagel?!?!? They are deeeeeelicious! I found out they sell everything bagel seasoning - without the bagel! WOO!! And THEN I found a recipe for the seasoning! DOUBLE WOO WOO!! Its is great on just about anything, and especially yummy on top of something with cream cheese and avocado.
So, here it is!
Everything bagel seasoning:
1 TBSP sesame seeds
1 TBSP poppyseeds
1 TBSP dried minced garlic
1 TBSP dried minced onion
2 tsp coarse salt
I'm pretty sure I experienced the keto flu yesterday... although having also done that 5k, it is kind of hard to tell the cause of my dehydration! The run was WAY harder than usual (hence the mostly walking I ended up doing), I felt pretty dehydrated in the evening, I had a slight headache, and I didn't sleep very well due to my brain going 1,000 mi/min! So, I think we're in ketosis! Woot!
To help get though the dehydration and overall crappy feeling, I made some chicken broth by microwaving a cup of water and stirring in a chicken broth powder. The super-saltyness of it felt really amazing, so I had a 2nd serving! And of course, I drank a TON of water.
Day 7
This morning I didn't have any of the dehydration or crappy feeling. I've felt kind of tired all day, which could be the end of the keto flu, or just my body finally realizing I'm on summer break and can RELAX!
For breakfast I wasn't super-hungry, so I had a cup of bulletproff coffee.
Lunch was a yummy chicken caesar salad.
And for dinner - OH DINNER!! - I have had a love affair with macaroni and cheese pretty much my whole life. My mom used to make it for me on my birthday. My husband made it up fancy the night he proposed to me. I love me some mac & cheese. I thought this would be my definite downfall when it came to this diet, but tonight we made -
Cauliflower Macaroni and Cheese!!!!
And after eating it, I knew I would not only be able to survive the keto diet, but it might even be enjoyable!! We added some mushrooms and bacon.... whooooaaaa buddy! 😍

My previous posts on our keto diet progress:
#1 Keto Diet - Only a couple of days in!
#2 Keto Beer Can Burgers