Legend of the Odd Woods - Purple Skies -
8-14-2019
Legend of the Odd Woods
Purple Skies
The trail seemed to be taking a decidedly down ward slope, it was very gradual so as to hardly be noticeable at all. There were small pockets of manicured garden areas with flowers along the trail. I still found this to be odd. No signs of civilization or of any one living in the area. Unless there was another method of reaching the gardens, it was unlikely anyone followed the disappearing trail to tend the gardens. I took this as a sign I may be getting close to something.
I continued along the now visible trail, wondering every so often when/if it would disappear on me again. As the morning started out pleasantly so too did the afternoon hours pass. A slight gentle breeze, and scattered sunshine shining through some broken clouds in the sky.
I stop for a cold lunch in a nice looking small glade, there were still some lingering apparently maintained flower gardens, but not as many as earlier in the day.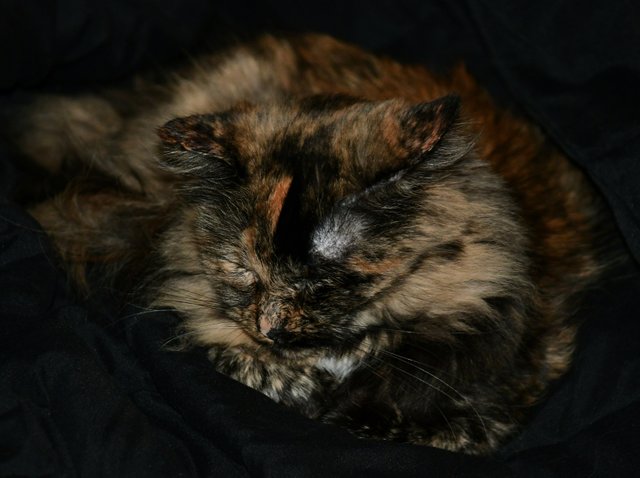 I am not sure from where or why the image of my cat Loki taking a nap suddenly popped into my head, and with it a heaviness to my eyelids came. She looked so comfy and cozy curled up in her little cat nap pose. The image was making me very tired, it would not go away, no matter how much I tried to not see it or to think of something else, the image was everywhere I looked. The Odd Woods, more mind games? I am not sure. All I could think about was taking a cat nap. Just ten minutes I thought let the light lunch settle a bit then I could go on.
Before I knew it I was laying down in the small meadow and curling into a ball just like Loki was. I was fast asleep before I knew it. As quickly as I fell asleep, it seems I woke. In my mind it did not seem as if much time had passed, the shadows had not made much progress across the ground, and there was still some scattered sunshine through the clouds. I felt great for such a short nap, totally re-energized, as if I had slept for a full eight hours. What to me was odd was that I did not have any feeling of just waking up from a sleep. The cat nap was like a switch, I was tired, then I was not. It was something I would have to think on as I continued on my journey.
I continued along the trail it made a sudden turn, and the down slope seemed to increase. As I continued around the corner I noticed a definite change in the air temperature. Where before it had been on the slightly warm side, but still very comfortable, it had become colder. If the temperature continued down I would have to break out my jacket.
As I came out of the corner on the trail I had to stop. The air was getting quite cold, but that was not what sent a chill down my spine. I had never before seen such an Alien looking sky. I had heard stories of purple skies, and I had read books that had purple skies and chemical acidic rains. In the books and the stories it was never good to get caught out in the rain from this type of sky.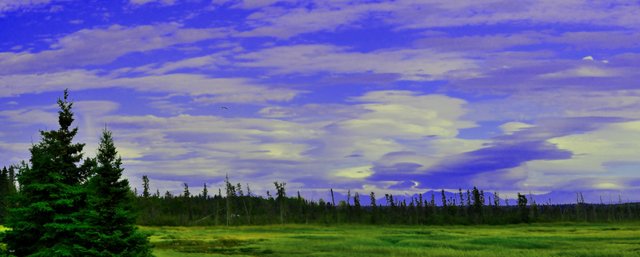 I stood and stared at the sky for, I don't know how long. It had me mesmerized and terrified at the same time. I had not seen any shelters along the Disappearing Trail in the Odd Woods since I first step more than ten feet into them. It looked like I was going to need to find some soon. Perhaps I'll find the garden tenders house or hut or storage shed, any thing to offer protection.

Image source, and separation bar my own work.
About the images
The cat picture is my/our Loki Cat. A tortoiseshell Multi toed feline feline. She likes her naps, she does not like them being disturbed to much.
The sky picture I took on Tuesday, (yesterday). I played with it a little bit, I tried to give it the feel of being some what normal, but also alarming in it's intensity of color. It is two images stitched together using theAuto Stitch program from BC University.
The Odd Woods. Opening part of the story.
The Camp Site. A short five minute freewrite segment of the story
Onward Return of the trail