Cheers to another ::Just Because:: Wednesday! I've been a busy little bee buzzing around everywhere getting ready for our departure, while slightly under the weather, so thought "I know what I need 🤔 … I need to make some of my Nana's Split Pea Soup".
If you can't tell by the name, Nana, that she is from England then rest assured she is from England. Naturally this made her a fantastic chef, especially when it came to soups and potatoes (thank God for potatoes). Although I prefer my Split Pea Soup without ham or any other animal product, my Nana taught me her recipe, which I modified making it my own from there.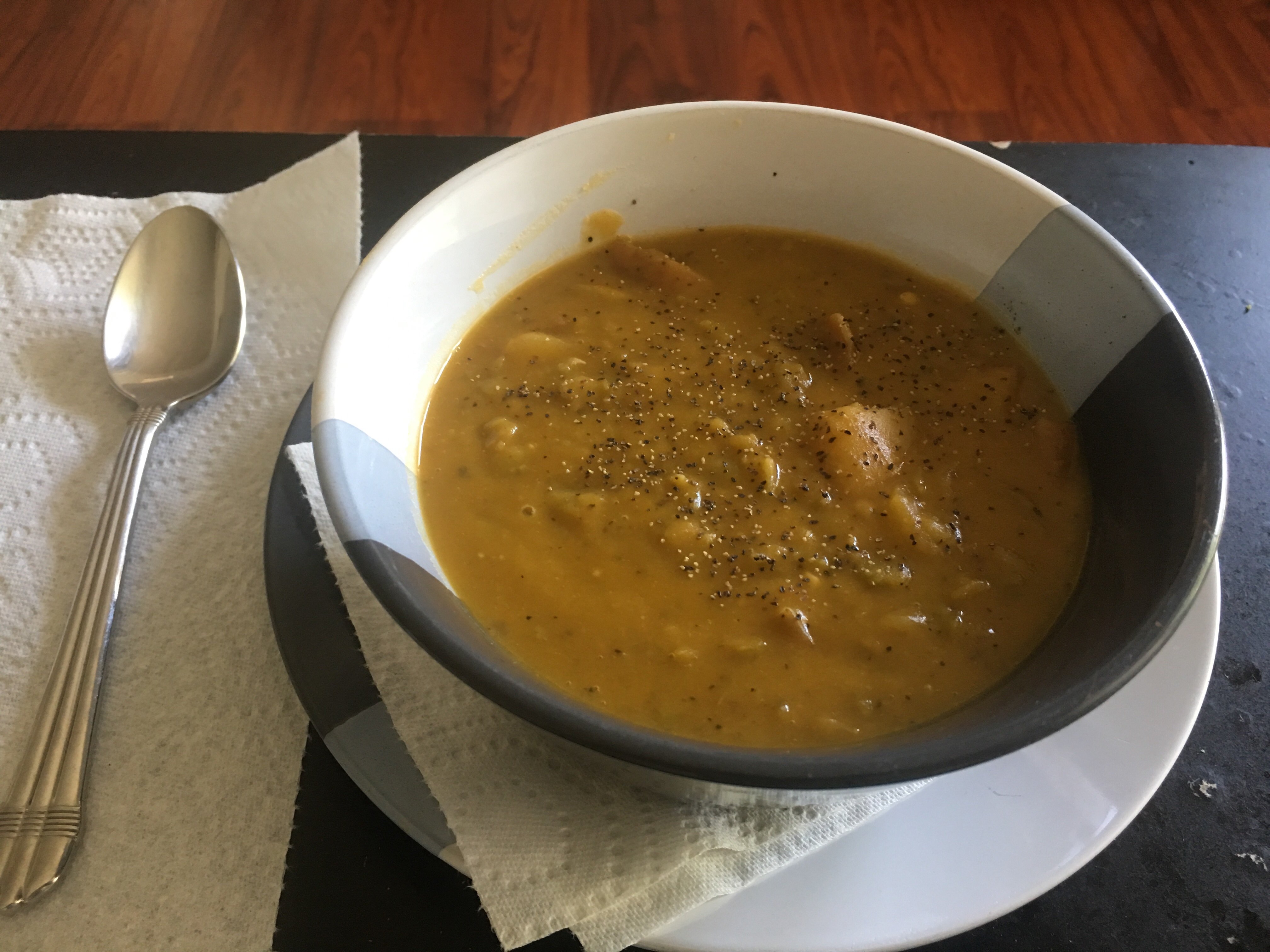 Split Pea Soup
This photo was actually taken to send to my Mom whom receives all the latest pictures of my cooking creations. Silly maybe but it's a way for us to connect, even if only for a second, each day. Plus, I hope droplets of inspiration transcend through my photos into her kitchen and eventually her belly because my goal is always to help facilitate the maximum health of my loved ones (without being pushy or weird about it), but I digress…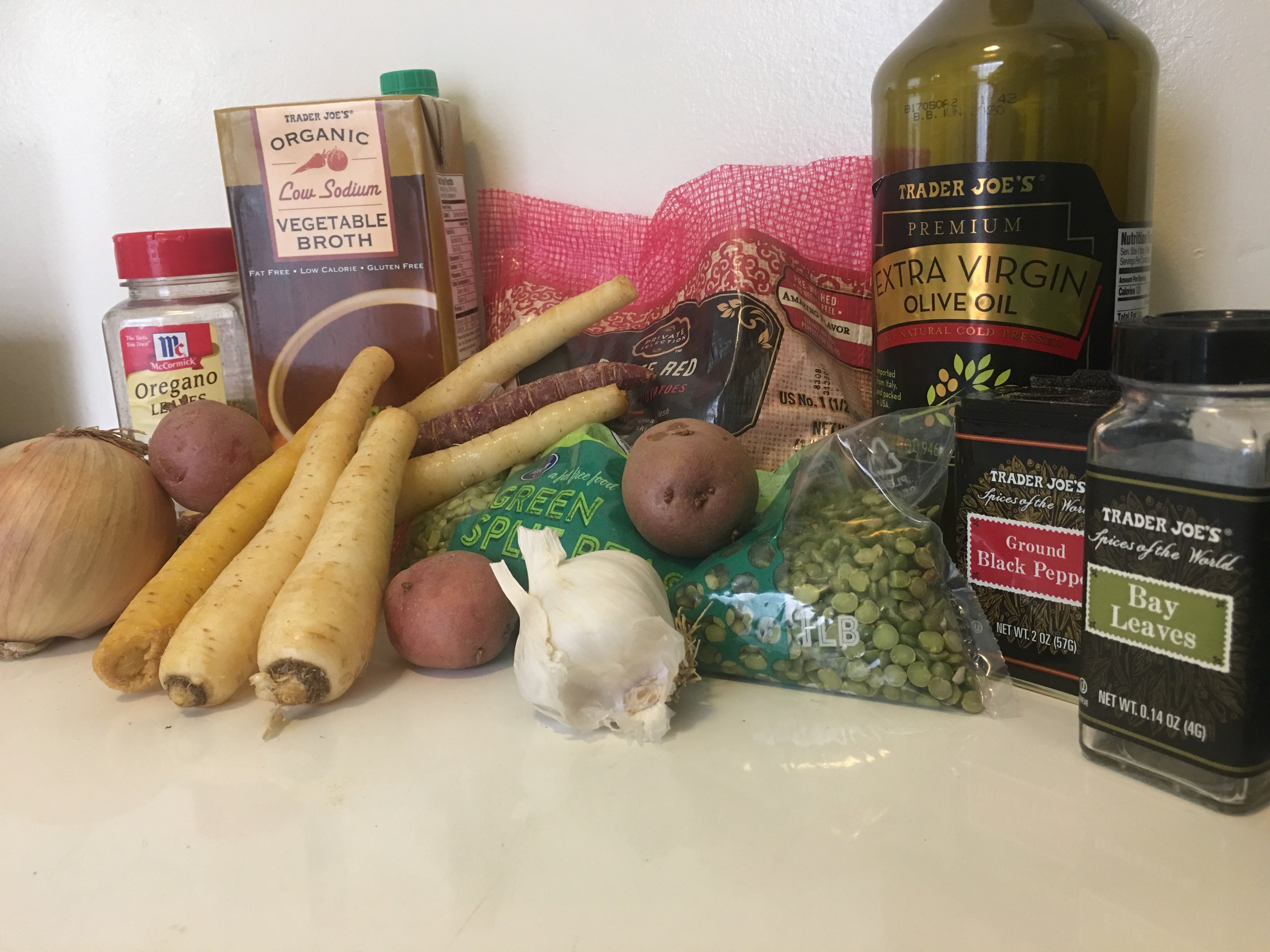 Ingredients
1 Pound Split Peas
1 Onion (Chopped)
3-5 Carrots (Chopped)
2 C. Red Potatoes (Chopped)
2-5 Garlic Cloves (Chopped)
2 Tbsp. Olive Oil
1 Tsp. Oregano
1-3 Bay Leaf
8 C. Vegetable Broth
Sea Salt & Pepper to taste
First, I chop my onions preparing to sauté them. The trick here is to sauté on a very low heat for about 15 minutes. This will give the soup some dimension and an extra layer of flavor.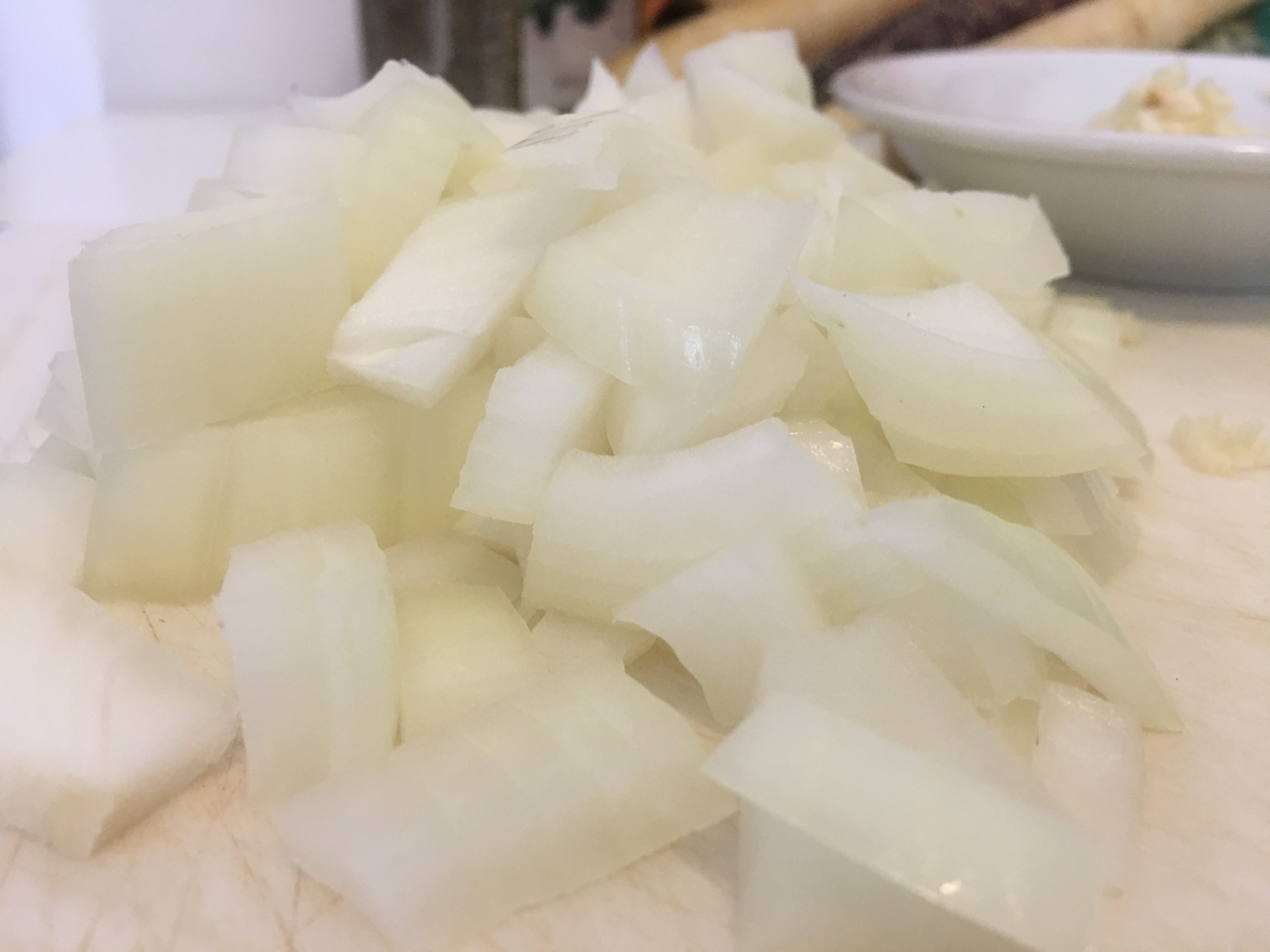 Add a drizzle (2 Tbsp.) of olive oil to your pot along with the onion, garlic and all of the spices, except the bay leaf(s). Remember keep at a low heat for a longer time.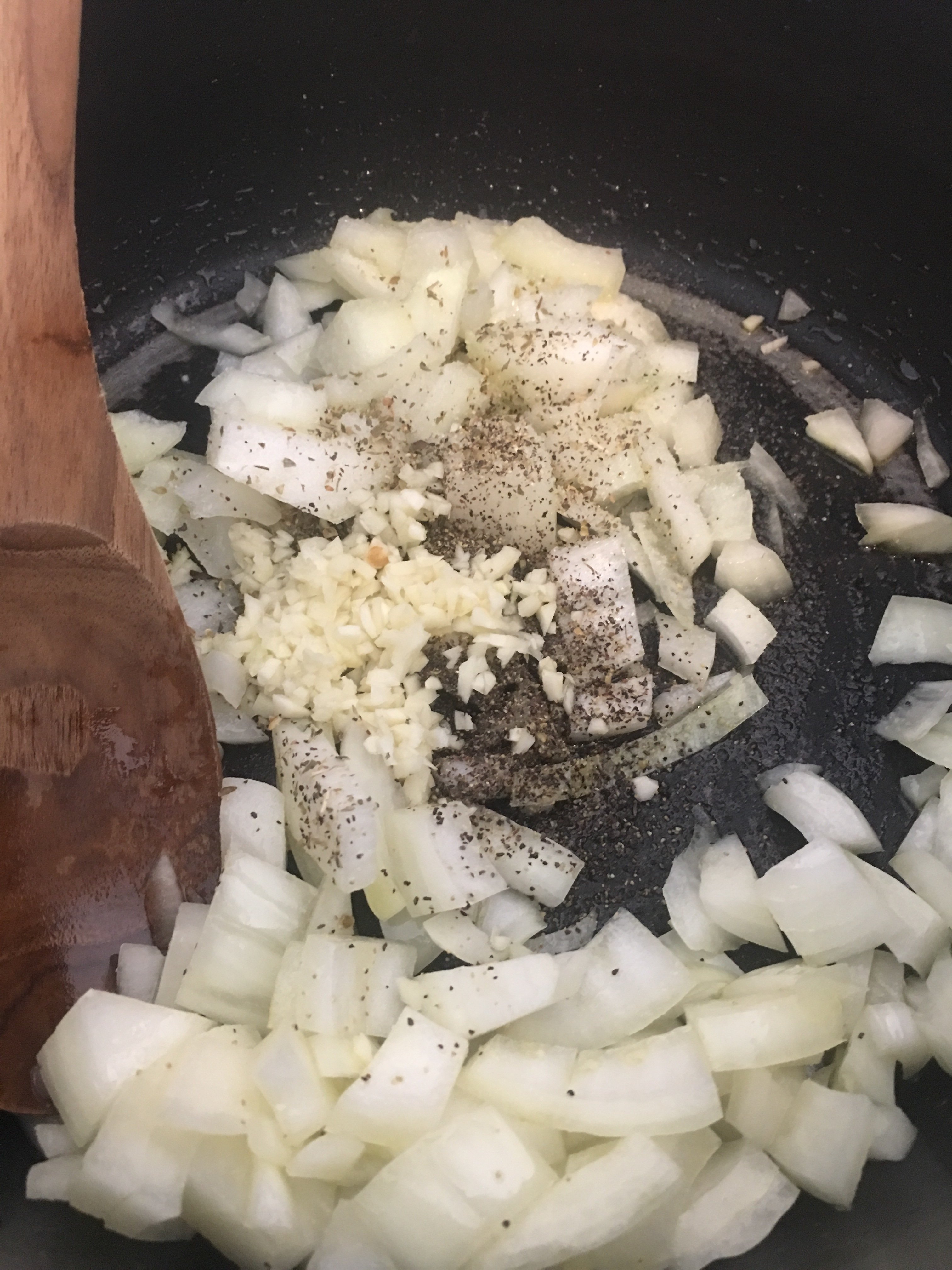 While all of that is cooking to transluscence you can start chopping your carrots. I only had rainbow carrots, which I thought was a plus, so grabbed a few of those color sprinkling guys to chop up for the soup.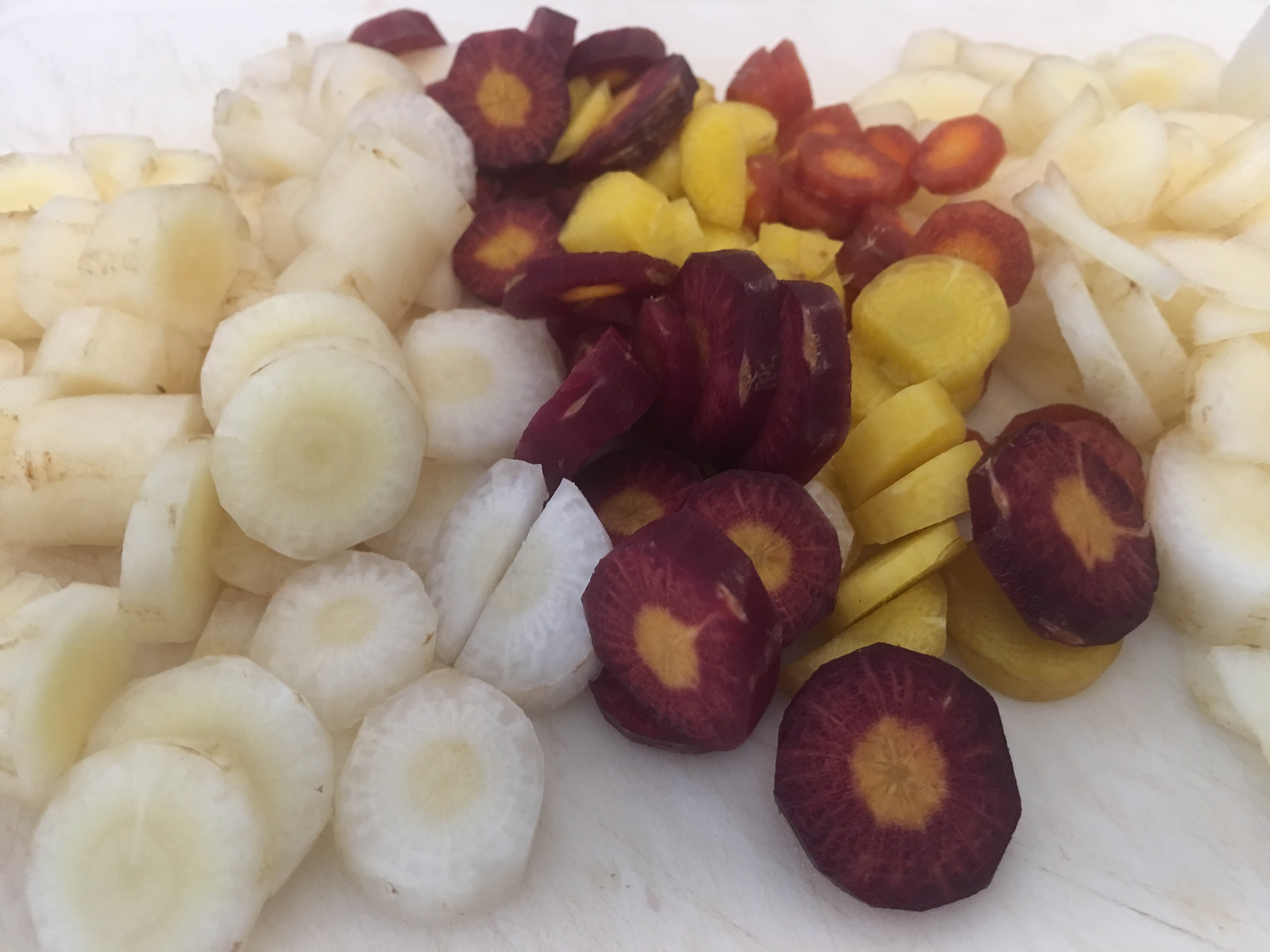 Then I cut up my potatoes. I used red potatoes but any potato will do. In fact any carrot, any potato, you can change the amount of garlic and seasoning and I'm sure it'll turn out just as delicious- pea soup can be so versatile that way.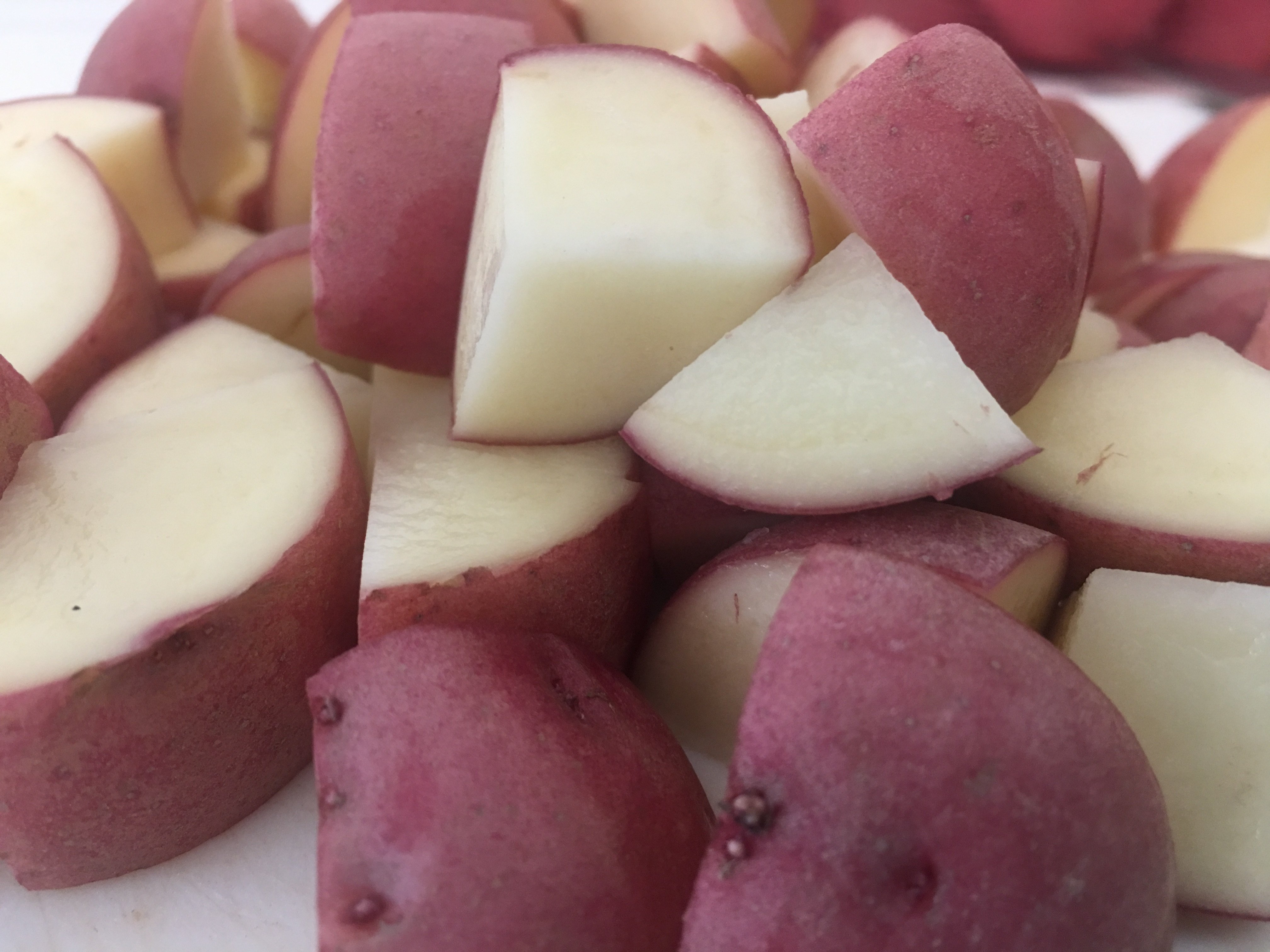 Once the onions are nice and soft you'll want to add everything else: carrots, potatoes, split peas, vegetable broth, salt and pepper and bring to a boil.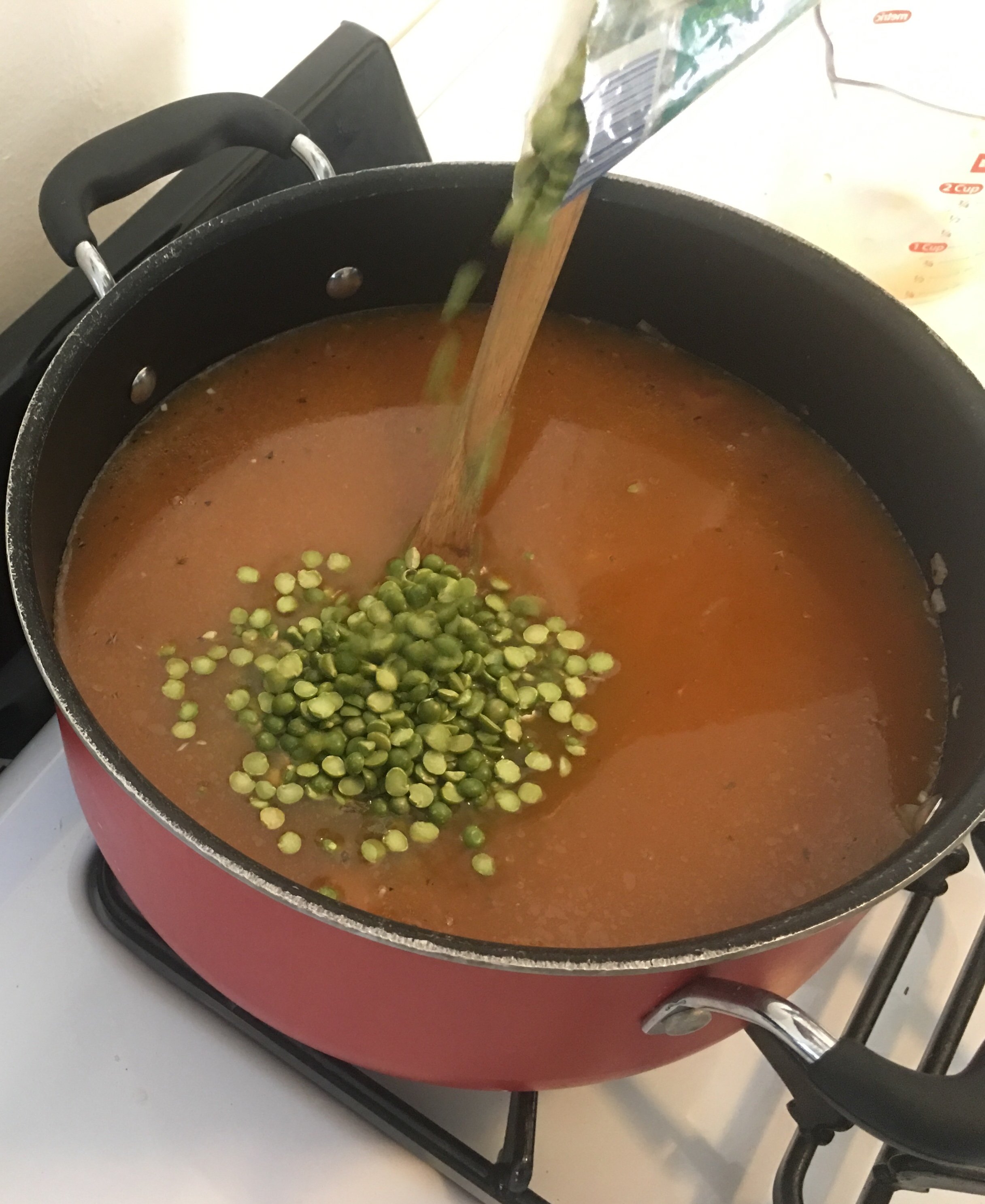 Some people rinse their peas before adding to the soup, I just poured them straight from the package like an outlaw 🤠- feel free to use whatever method you are more comfortable with.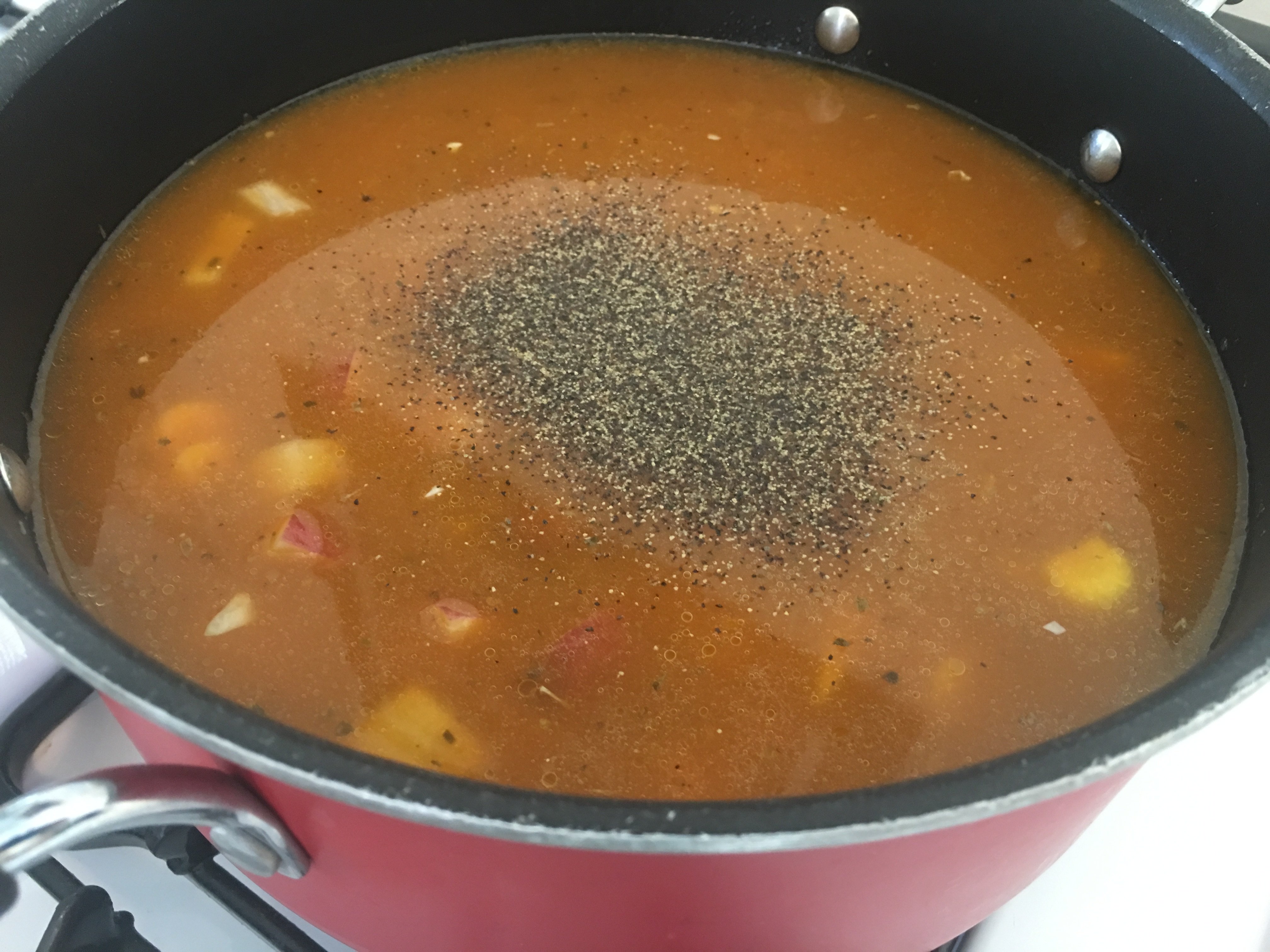 I add a lot more pepper and 3 bay leaves then put a lid on and let it simmer for 50-55 minutes. All of this prep work woke up my hunger monster so I grabbed some almonds to avoid spoiling my appetite.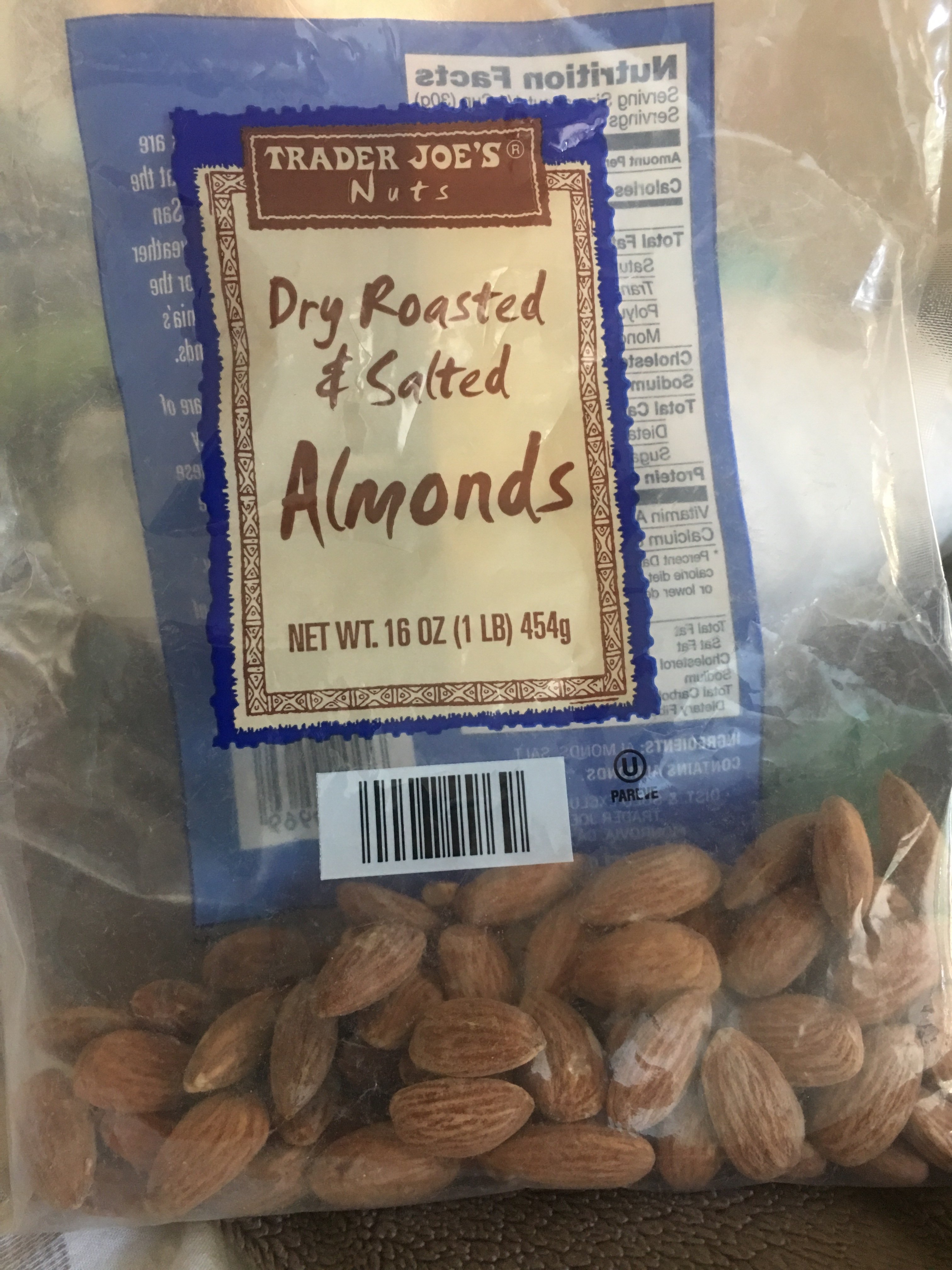 I can never just eat one serving but the snacking gave me the energy needed to fold the laundry.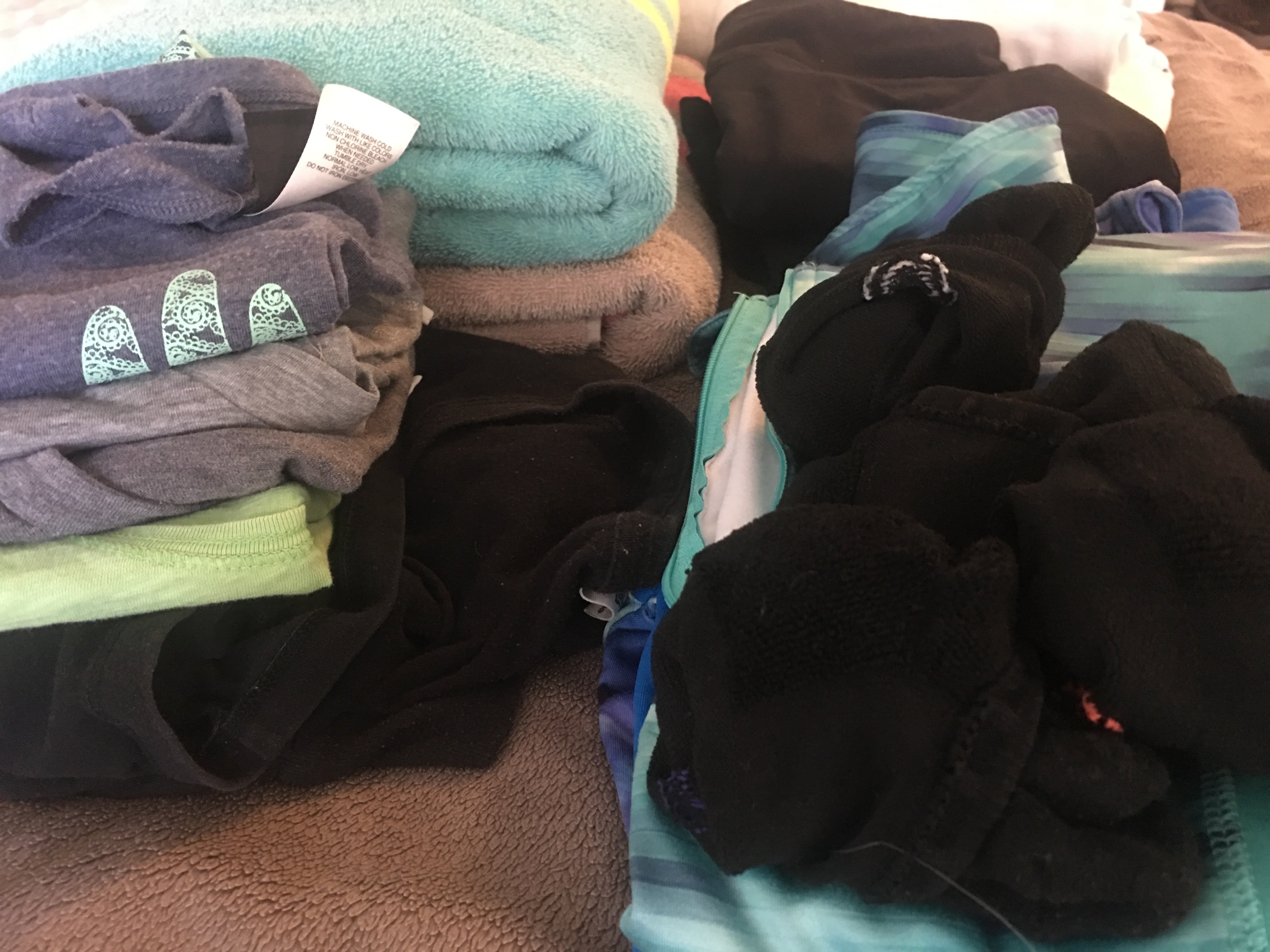 Do you hear that? I can definitely smell it so makes sense that my alarm is alerting me that the soup is-ah-done.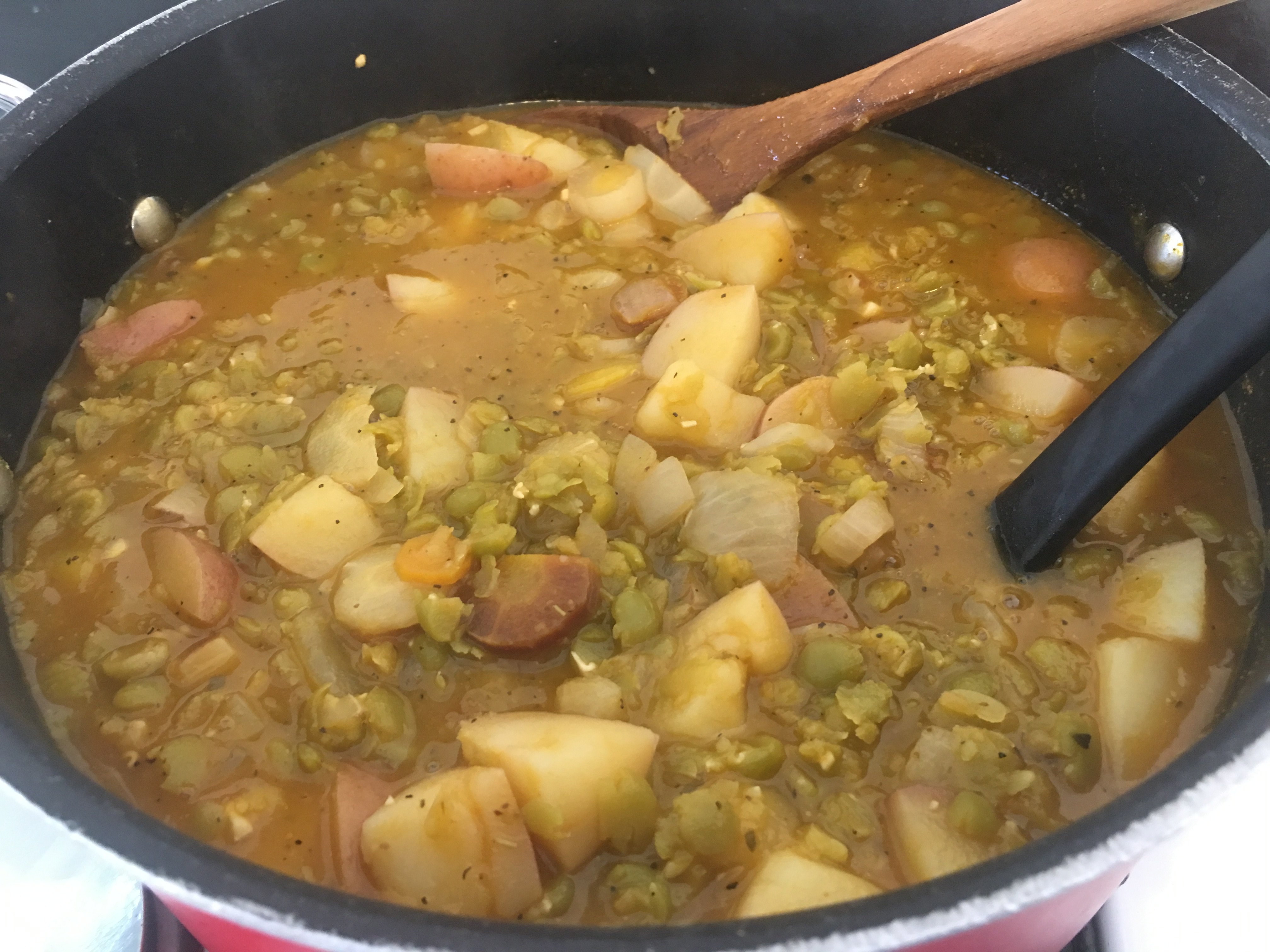 Now, this step is the most difficult task of the entire soup preparation… fishing out the ever elusive bay leaves. They always tend to play hide and seek with me.
It takes two spoon-y things and what seems like a couple minutes and viola…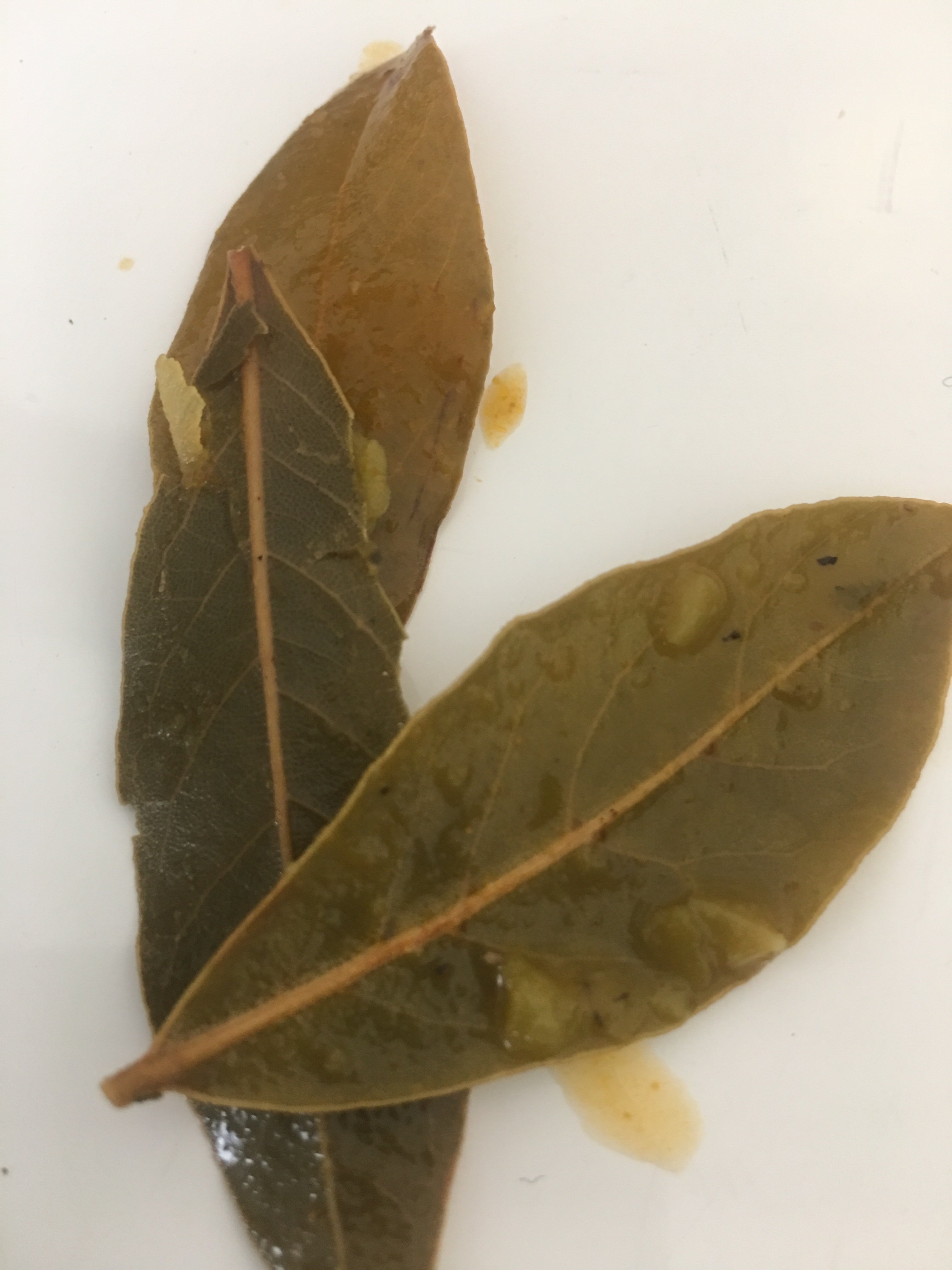 The third one was no match for my second spoon-y thingy. Haha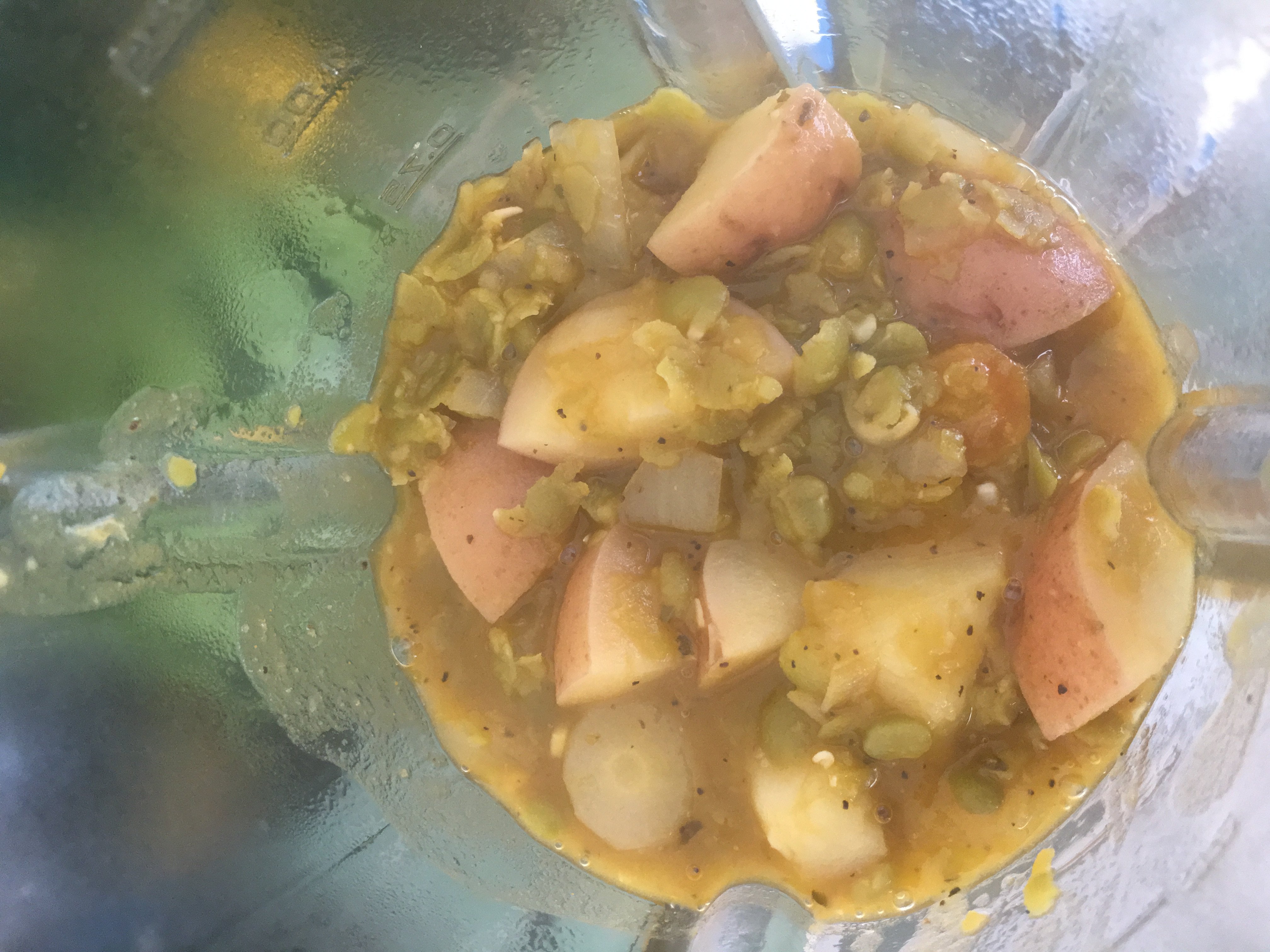 Pour a few cups of the soup into your blender and liquify. I like some potato and carrot chunks in my soup so believe I blended about 3-4 cups of the soup. Then re-introduce the creaminess back into the pot like so…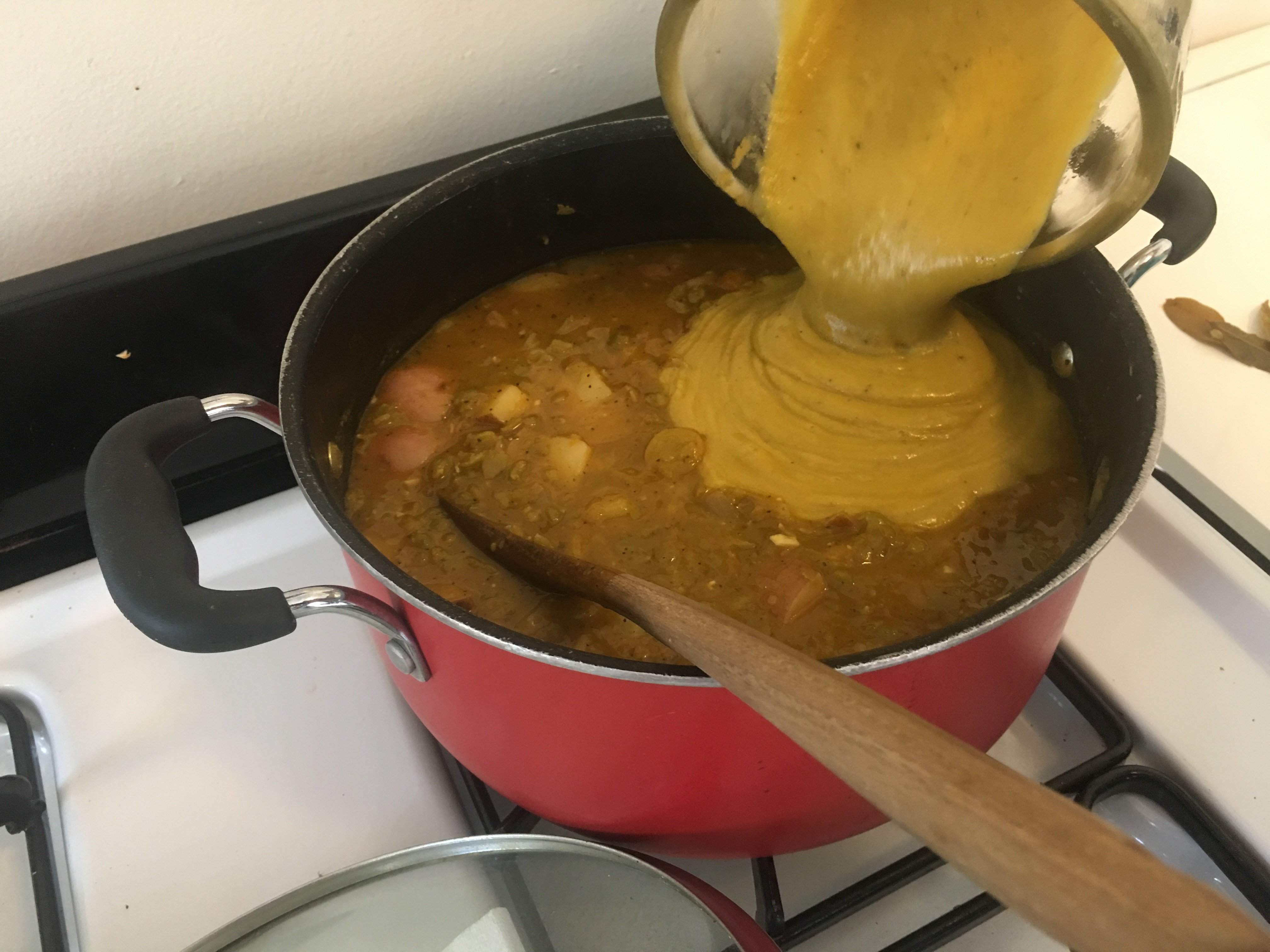 Out of 5 pictures this is the only one that didn't look like poop, literally like fecal matter… but I suppose all split pea soup can easily go there 🤷🏼‍♀️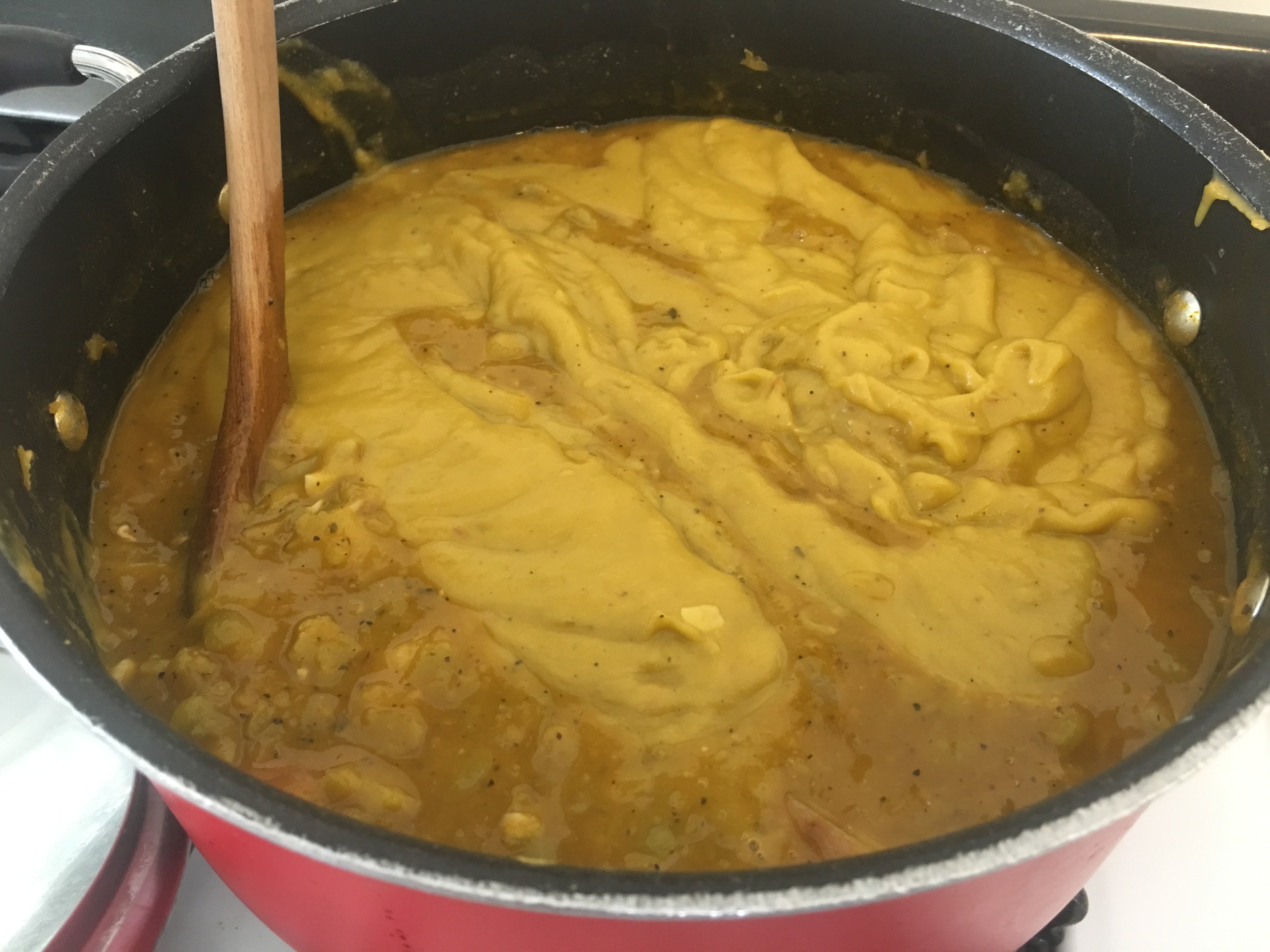 I mix everything real well and grab the bowls because we are about to get down on some Split Pea Soup, which doesn't need any garnish. It's perfect the way it is!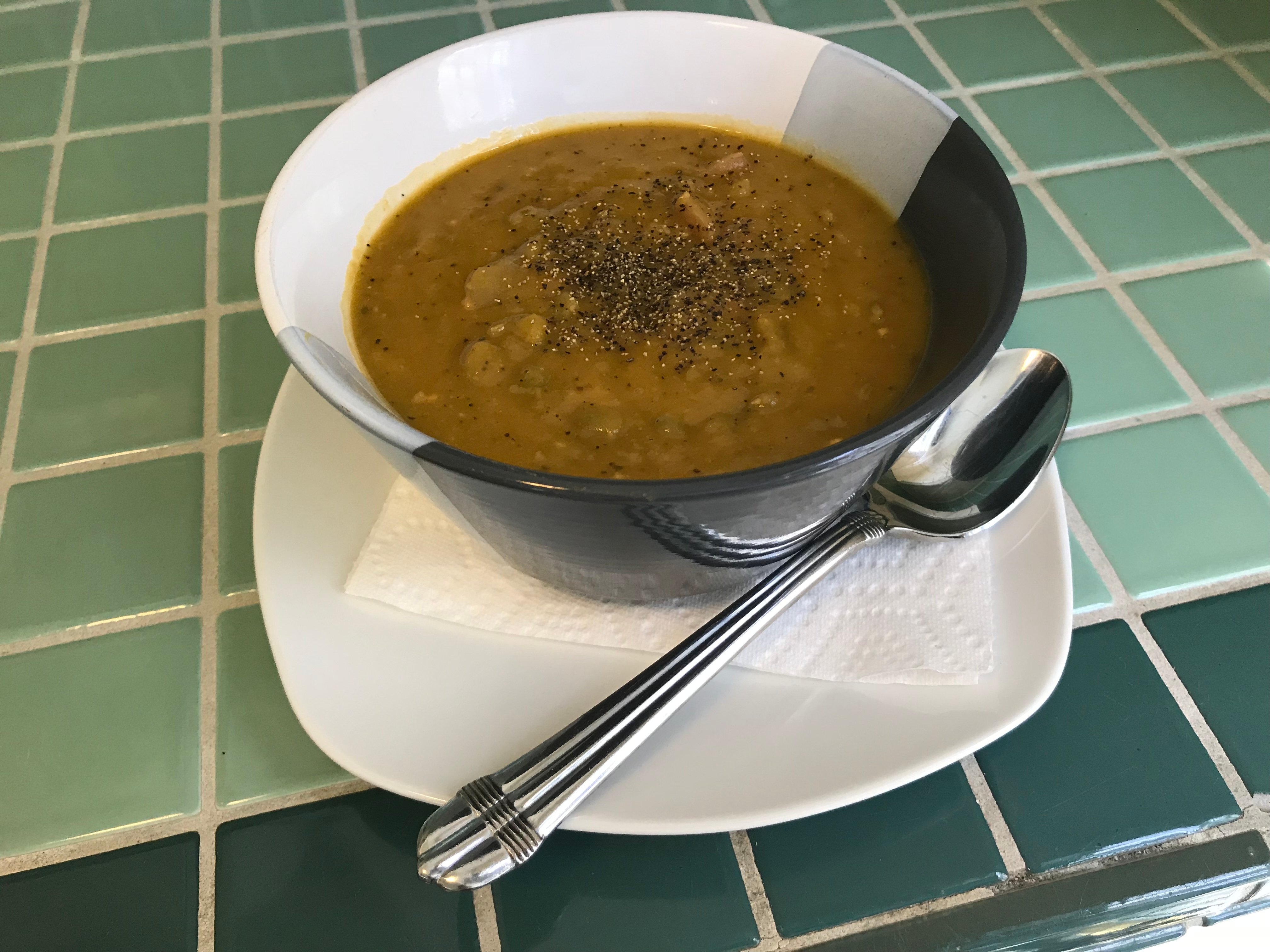 As I said earlier, my Nana was from England and her and my Dad came to the United States when he was only 12 years old. Making this soup reminds me of a time when my Dad would reach into the fridge and heat up a bowl of Split Pea for me and him as he raved about how good of a cook his Mum was… I always cherished these moments with my Dad. Fortunately for me I get to now share these beautiful memories of love and warmth with my almost perfect husband and best friend (Thanks Dad for sending me him 😇).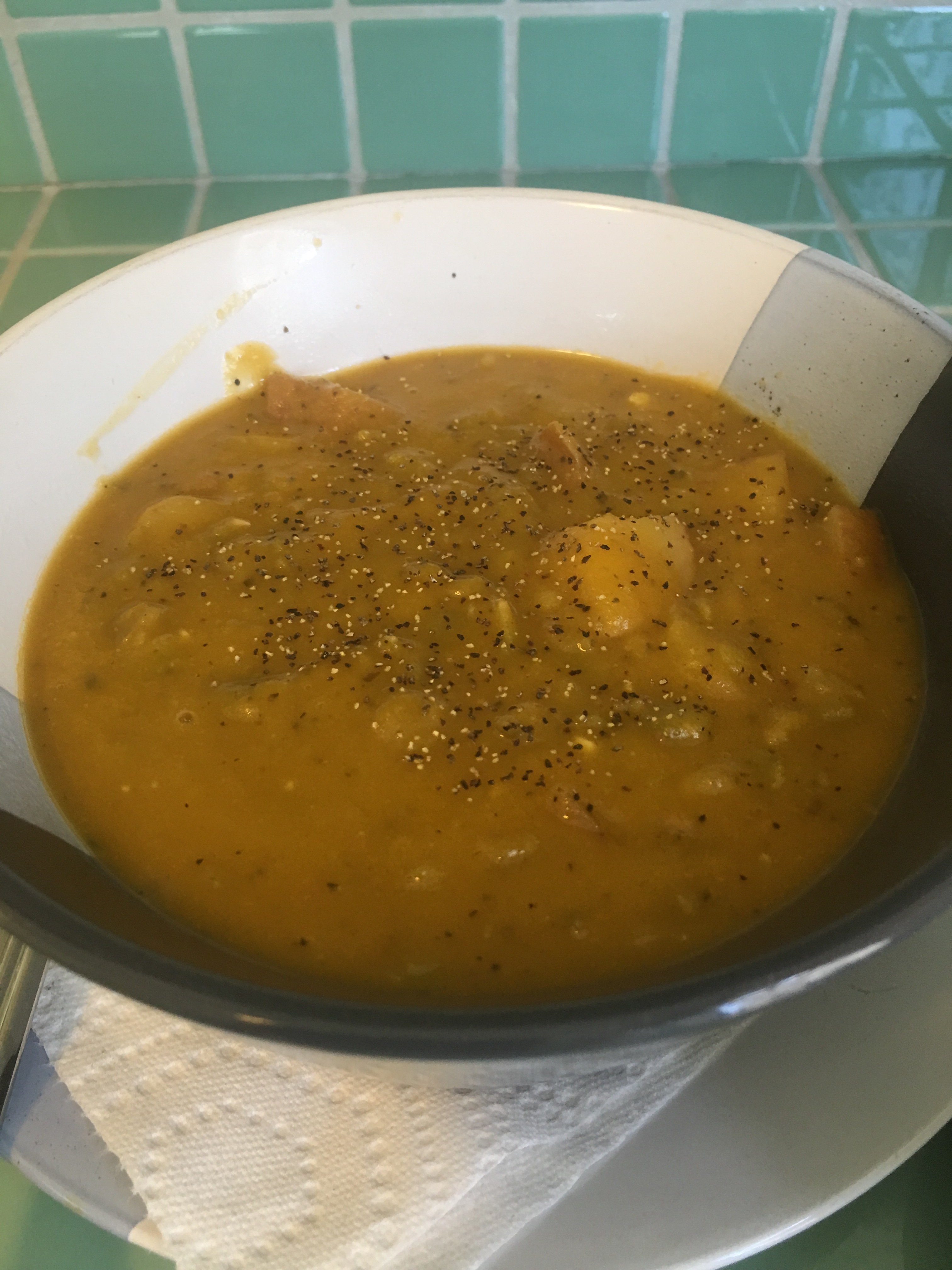 I know it looks as if I didn't prepare "him" a bowl but I promise there are two bowls appropriately utensiled and ready for the feast.
This dish of mine came from England and last weeks ::Just Because:: dish came from Costa Rica- what will next week bring? I'd love to see your rendition of an international cuisine or a memory tied to your Grandmothers soup recipe… Now that summer is over bring on that soup weather :)
As always thank you so much for reading and supporting my blog. I appreciate each and every one of you and look forward to hearing how your Split Pea Soup turns out.
Pura Vida ✌️