If you know me at all you know that I HATE, HATE, HATE scary movies! If there is a movie with ghosts, UFOs, murderers or anything slightly creepy or scary I will do anything to avoid watching it.
My high school boyfriend forced me to watch The Ring (he was a jerk) and it scared the crap out of me!
I still remember the scene when the creepy girl crawls out of the well, walks towards the screen and falls out of the TV! That was probably the scariest thing I had even seen because it was so unexpected that she could come out of the screen, oh hell no!
When I got home that night I covered the TV and even my computer screen with blankets... and they stayed covered for an embarrassingly long amount of time. And that's why I hate scary movies... because they linger in my mind for days and months to come. My mind spirals down a path of thinking about terrible things, especially when I am alone.. and usually right before I go to bed. Yay me!
My brain: Oh, you are going to try to sleep now? Lets think about...DEMONS!"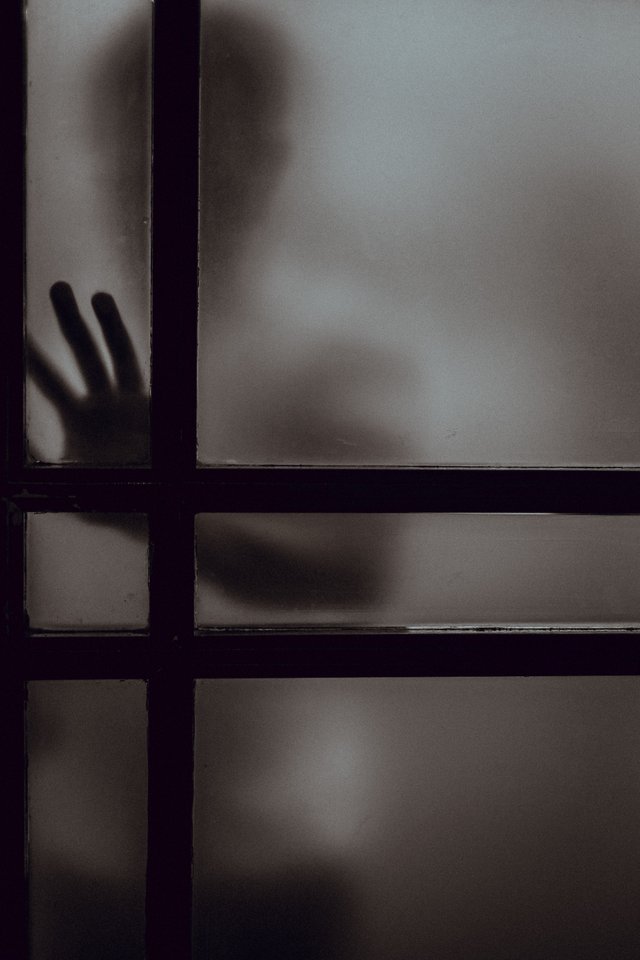 Photo by Clem Onojeghuo on Unsplash
So this brings me to the story...
It was April 2011 and I checked into a hotel in Chicago with my friend, Heather. We were attending an Armin Van Buuren show at the Aragon Ballroom with a bunch of people who were also staying at the hotel. Pulling up you could tell that it was very old and outdated building. The hallways were cold and dark. Not a great impression, but it was the only hotel close to the venue so we thought it would be OK for the night. Boy was I wrong...
We were given a room on the top floor, facing the main street. Some of the drawers on the night stand and desk were open, which I thought was weird. House keeper in a rush? I guess?
After settling in, we noticed the TV didn't work, cool! This room was a real winner, I thought to myself. We were going to have a few pregame drinks, get ready and head out to the show. I did not want to have to deal with going downstairs, requesting a new room and moving all my crap. Since we were only spending the night there and would be out most of the time we decided not to complain and just deal with it.
We went across the street to a small convenience store to pickup some chips and drinks for the night ahead. I went up to the register and checked out first and went outside while I waited for Heather to pay. I looked up at the room and saw a figure standing in the window, and it was not moving. The window was open and the figure was dark in appearance, I saw a head and shoulders. I was confused, did my friends get into my room? Was the housekeeping there? I turned around to ask my friend and when we both looked back at the window the figure was gone. We got up to the hotel room and no one was there... I texted my friends and found out that they were still on the way to the hotel so it wasn't them..strange. It was had to be the housekeeping... right?
After taking a shower and getting our hair and makeup ready, a few friends came over to start pre-gaming. The window would not stay open, it kept slamming shut, and every time it did, the lights would flicker. One of my friend's joked, your room is haunted! Heather and I both looked at each other for a moment. I know we were thinking the same thing. What if the room was really haunted. UGH!
After a few drinks we called a taxi and headed over to the concert venue.
The Armin show was great, he never disappoints and it totally took my mind off of the strange events a few hours earlier.
After the show ended, we headed back to the hotel around 3 am and got ready for bed. Heather and I were sharing the bed, talking about the night and we eventually drifted to sleep. In the middle of the night, something made me open my eyes. I don't know what woke me, but it was a feeling. I saw a glow coming from the TV. The non- functional television was now on... I looked over at Heather and saw that she was still asleep and the remote was no where to be found. I put on my glasses to get a better look. It was an old black and white movie, nothing I had seen before. There was a lot of static playing between the frames. The strangest part was that there was no sound but I felt the presence of something else in the room, I felt a breeze but the window was not open... goosebumps covered my entire body. This was my worst nightmare, this was The Ring, come to life! I did not look at the TV after that point, I grabbed Heather's hand under the sheets and squeezed it to wake her up. I was in such shock that I couldn't formulate words. I could feel and hear my heart pounding out of my chest. Heather and I just laid there calmly and pulled the blankets over our heads in silence. The TV turned off 30 minutes later by itself. During the whole ordeal, Heather and I never said a word to each other. We were speaking to each other through our energy. At this point, the sun was coming up and we decided to check out and get the hell out of there. We drove home in silence. Did we just experience a ghost, or spirit or a poltergeist? I guess it would have been categorized as a poltergeist because it had the ability to shut the window and turn on the TV...
I never brought up that night to anyone else until years later because I did not want to keep that experience fresh in my memory, I wanted to forget it. I recently asked Heather about that night and she said did not want to talk about it. She did not believe in supernatural events until that experience and she had a hard time sleeping for a while after that night.
That was my first, and hopefully last, encounter with a "supernatural spirit" but every time I think about it brings back chills, even writing this post out I feel like it just happened yesterday. Go away, goosebumps! :(
Note to self TV not working = get your ass a different room!