I feel like I'm gradually being a fan of Japanese food. I have just had lunch in a japanese restaurant, one more time.
---
Tokyo Deli is a Japanese food chain with a lot of restaurants located in big cities like Hanoi and Saigon. I have never tried Tokyo Deli in Hanoi and never heard of it here either. But I feel like It is more well-known in Saigon. Since my friends, my colleagues keep talking about it. And finally, I go to a restaurant of this brand for having a lunch before saying goodbye with this city.
---
Tokyo Deli - It's name seems to be cheap/normal brand (I dont know but It makes me feel like that, sound quite industrial lol). But it turns out to be not, not cheap at all. I order a "Deep fried cheese stuffed pork" set for lunch and a dish of avocado maki. It costs about $8
Actually it is cheaper a bit compared with other restaurants, but in my view, its price is still high... You may think 8$ is too cheap for japanese food but please, here is Vietnam. Lol.
---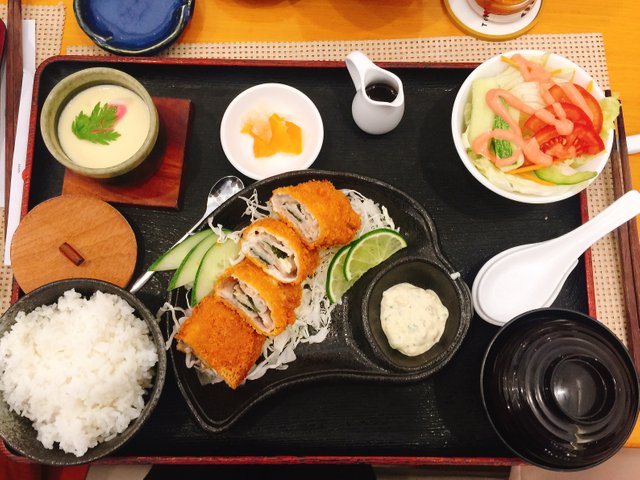 ---
I'm quite satisfied with my meal. I order the lunch set because I thought it is Tonkatsu which I had had in Korea before. But it is not. However it is not bad at all. My lunch set is full of stuffs. There are deep fried cheese stuffed pork, Miso soup, Salad, Chawanmushi (Japanese style steemed egg).
Everything is arranged well, totally fit with japanese style. Simple but attractive and tasty. Everything is perfect except that I forget to pour the sauce on the pork. I was unaware of the existence of that sauce until I almost finish my meal. Hhhh
---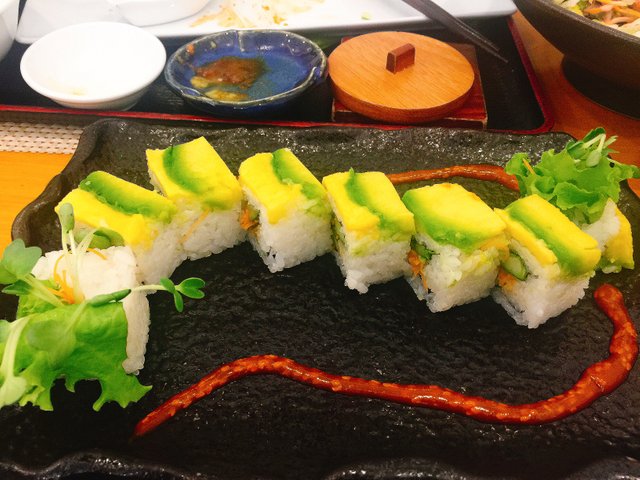 ---
I love Avocado maki the most. I ordered it just because that day was the first day of lunar month, and I want to have something fresh and pure like vegi, eventhough I already had pork. Haha. I also didnt think that avocado and rice is a good conbination. Just order it without considering. But it was beyond my expectation. So freshy and tasty.
---
If I suddenly become a fan Japanese food, Tokyo Deli will be a not bad choice.
---