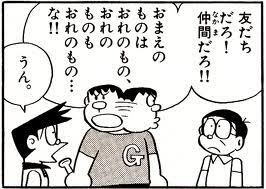 引用元:http://jaianichiban.blog.fc2.com/
ゴ「ねぇ、いきなりだけどお前のこの記事プロモートしてよ」
友「は??なんでお前のために俺がSBD使ってやらなきゃいけないんだよ!!」
ゴ「まあいいから!いいから!」
無理矢理PCを奪ったゴロタ。
ゴ「俺やり方知ってるんだよね〜♪こうやって・・・ほらお前の投稿プロモートできたぞ!!」
友「こ○してやるううう!!!!てめえ絶対こ○してやるうううう!!」
今日は湿度も高いせいで外が異常に暑く感じるSGB(スーパーキン○マ)ことゴロタです!
東京では本日、今年初の「真夏日」を観測したそうですね!いよいよ夏がそこまでやって来ましたね〜
さて、みなさんはsteemitのプロモート機能を使ったことがありますか??
私もどのぐらい効果があるのか知りたくて友人「M」くんの記事を力づくでプロモートしてやりました!!(笑)
まずsteemit.jpのプロモートについての説明を見てみると・・・
投稿を"プロモート"するとは何ですか?

あなたが投稿するとき、それをSteemドルでプロモートするオプションがあります。それは"Promoted"タブに表示されます。リストに表示される順番はその投稿がどのくらいプロモートされたかによります。プロモート額が高い投稿は低い投稿より上になります。
投稿をプロモートするために支払われたSteemドルは誰も所有していない@nullアカウントに送られます。ユーザが@nullにSBDを送ると、Steemブロックチェーンはそれを通貨供給から排除します。詳細はこの公式記事にあります。
あなたは自身の投稿でも、気に入った他のユーザの投稿でもプロモートすることができます。

引用元:Steemit (jp):FAQ
こう書いてあります!まあ簡単にいうと・・・
・自分の書いた記事をSBD払って宣伝
・プロモートした記事は"プロモート"のタブに表示
・プロモートに使ったSBDが高いほど上の方に出てくる
・自分の投稿&他のユーザーの投稿どちらでも宣伝可能
こんな感じでしょうか?
次にプロモートのやり方ですがとっても簡単です!
友人のPC奪って30秒で出来るぐらいなんでwww
記事の一番下の「プロモート」を押して、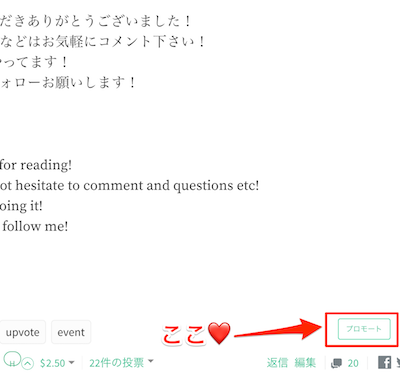 出てくるウィンドウの数量のところに宣伝に使うSBDを入力、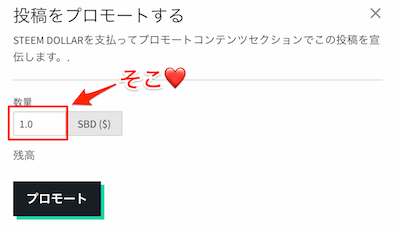 最後にパスワードを入力して完了です!!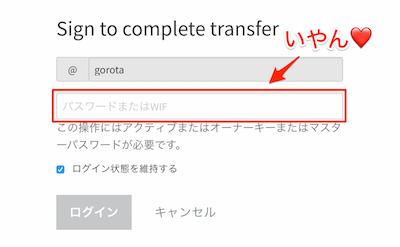 さて肝心のプロモート効果についてなんですが、ぶっちゃけあんまり感じられませんでしたwww
友人にその後どうだったか聞いたところ・・・
・報酬はほとんど変わらない
・フォロワーも全然増えない
・お前を一生許さない
このような回答が返って来ました!
ちなみに今回使ったのは2SBD、あえて#japaneseのタグは外して一番多い#lifeを使いました。
もっとSBD使えば結果はついてくるんでしょうか?
もしプロモートを使ったことがある方がいたらどうだったかコメントください!
P.S
本人の希望により友人「M」くんは私の投稿では紹介しません(笑)
あと、彼とのその後の関係は問題ないです!!
お詫びに焼き肉ランチ奢ったら「もっとプロモートしてくれよ!!!」と言い出す始末ですwww


「SP500&フォロワー300人達成←片方は無理矢理じゃん!!記念イベント」継続中です!!
以下の①〜②の条件に全て当てはまる方に100%でUPVOTEしちゃうぞおおおぉぉぉ!!!うおおおぉぉぉ!!!
①24時間以上経過して$3超えていない記事
②投稿後6日以内の記事
該当する方は
「俺該当するううううぅぅぅ!!ふううぅぅぅ!!」←男性用コピペ用
「あたい該当するううううぅぅぅ!!ふううぅぅぅ!!」←女性用コピペ用
という合言葉と共に該当記事のURLをコメント欄に記入お願いします!!(合言葉は改変OK、最悪なくてもURLさえあれば・・・w)
先着5名様までとさせていただきますのであらかじめご了承ください!
Go "Hey, suddenly but I promote this article of you"
Friend "Why am I having to use SBD for you!"
Go! "Oh good! Good!"
Golota who took a PC forcibly.
Go "I know how to do ~ ♪ Doing this ... you know ... You could promote your post!"
Friend "I will do it ○ !!!! Trying to do absolutely ○ ○!"
Today it is GOLOTA that SGB (Super Kin Oma) which feels abnormally hot outside due to high humidity! It seems that in Tokyo we have observed "Midsummer Day" for the first time this year! Summer has finally come so far ~
Well, have you used promotion function of steemit? What?
I also wanted to know how effective it was, I promoted the article of my friend 'M' with power! ! (Lol)
First I looked at the explanation about promoting steemit.jp · ·
What is "promoting" a post?
When you post, you have the option to promote it with Steem dollars. It will appear in the "Promoted" tab. The order shown in the list depends on how much the post was promoted. Posts with a high promotion amount will be above the low posts.
The Steem dollar paid to promote the post is sent to a @ null account that no one owns. When the user sends an SBD to @ null, the Steem block chain removes it from the currency supply. Details are in this official article.
You can also promote your own posts or posts of other users you like.
This is written! Well in short ...
· Promote your article by paid SBD
· Promoted articles are displayed on "Promoted" tab
· The higher SBD used for promotion comes out toward the upper side
· You can advertise by your post & other user's posts
Is it such a feeling?
Next is the practice of promote, it is very easy!
It takes about 30 seconds after taking away my friend's PC www
Push "promote" at the bottom of the article,
Enter the SBD used for advertisement in the quantity of the window that appears,
Finally enter your password and you're done! !
Well, it is about the promotion effect of the bottom, but it was not felt quite often www
Where did you hear what happened to your friend? · · ·
· Remuneration hardly changes
· Followers do not increase at all
· I will not forgive you forever
Such an answer came back!
By the way, 2SBD used this time, dare to remove the #japanese tag and used the most #life.
Will the results come if I use more SBD?
Please comment if someone used promotion!
P.S
My friend "M" kun will not introduce in my post (haha)
Also, the relationship after that with him is no problem! !
For gratitude to the grilled meal lunch If you deliberately say "Please promote me more !!!" is the deception to say www
"SP 500 & 300 followers are achieved ← one side is forced !! Memorial event" is ongoing! !
I will UPVOTE 100% to those who apply to all of the conditions of ① and ② below! ! ! Ooooooooooo! ! !
① Article that does not exceed $ 3 after 24 hours or more
② Article within 6 days after submission
Applicants are
"I Corresponding Wow Uoo !! Fuuuuuu !!" ← For Male Copy
"Aitai applicable Uuuuu !! Fuuuuuu !!" ← For women's Copy
Please enter the URL of the relevant article in the comment column together with the word of! ! (The changeable word is OK, if there is only the URL even if it does not have the worst, ... w)
Please be forewarned that it will be up to 5 first-come first served!


読んでいただきありがとうございました!
感想や質問などはお気軽にコメント下さい!
Twitterもやってます!
お気軽にフォローお願いします!
@gorota
Twitter

Thank you for reading!
Please do not hesitate to comment and questions etc!
Twitter is doing it!
Feel free to follow me!
@gorota
Twitter