はいどうも!
steemitに関する便利そうなツールを紹介するコーナー
【Steemit tools】
紹介していきたいと思います!
今回紹介するのは
ユーザー名を指定してタグ検索するツール
『Steemit Tag Search』です!
Corner introducing useful tools for steemit
【Steemit tools】
I would like to introduce you!
What I will introduce this time
A tool that searches tags by specifying a user name
"Steemit Tag Search"!
---
"Steemit tools"
第3弾
『Steemit Tag Search』
This time is the introduction of "Steemit Tag Search"!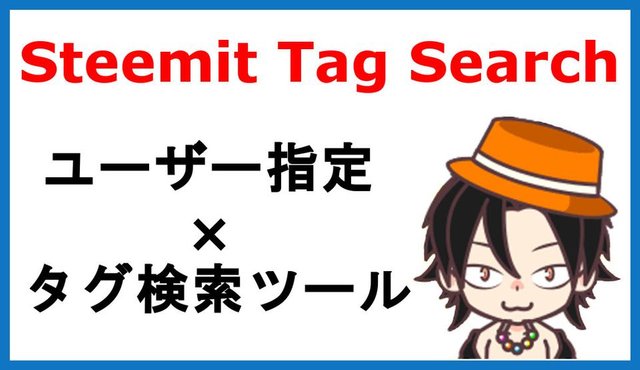 <できること>
1)指定したユーザーの記事に使われている全てのタグを一覧表示(タグ使用回数も表示できる)
2)指定したユーザーの記事をタグを指定して検索が可能
これ、地味に結構便利かなと思います!
<What can be done>
List all the tags used in the article of the specified user (the number of times of using the tag can also be displayed)
Search specified articles can be searched by specifying tags
I think that it is quite useful for this place!

<使用方法>
サイトを開いて[Authors]の所に@以下のユーザ名を記入すると、そのユーザの使用したタグが一覧表示される。
この時、タグの使用回数も表示されるので、そのユーザーがどのタグを一番使っているかなども把握できる。
<How to use>
Opening the site and filling in the user name at [Authors] will list the tags used by that user.
At this time, the number of use times of the tag is also displayed, so you can also know which tag is most used by that user.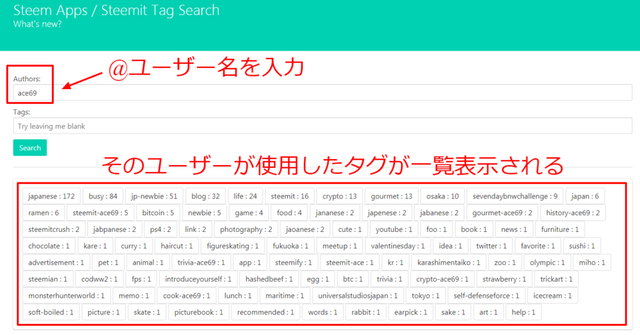 僕の場合、 #japanese が172回、 #busyが84回・・・etc
といった感じですね!
---
さらにそのタグをクリックしたら、そのユーザーのそのタグが付いた記事を一式表示することが出来ます。
In my case, #japanese 172 times, #busy 84 times etc etc
You can also click on that tag to display a set of articles with that tag by that user.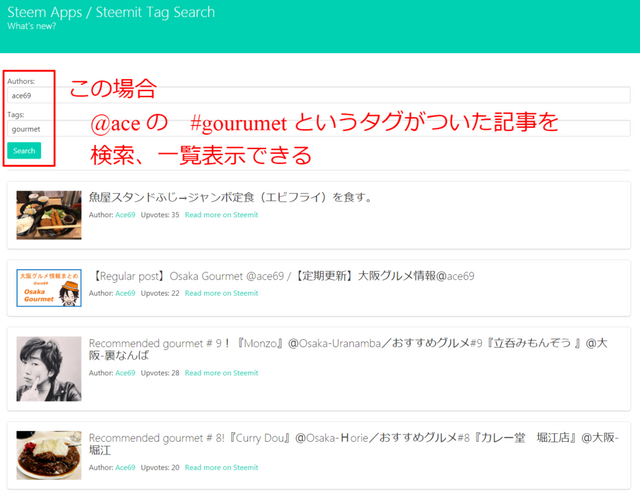 自分以外にも例えば、 @childcareさんの #food のタグを検索してみると・・・
For example, if you search the tag of #food of @childcare other than me, ...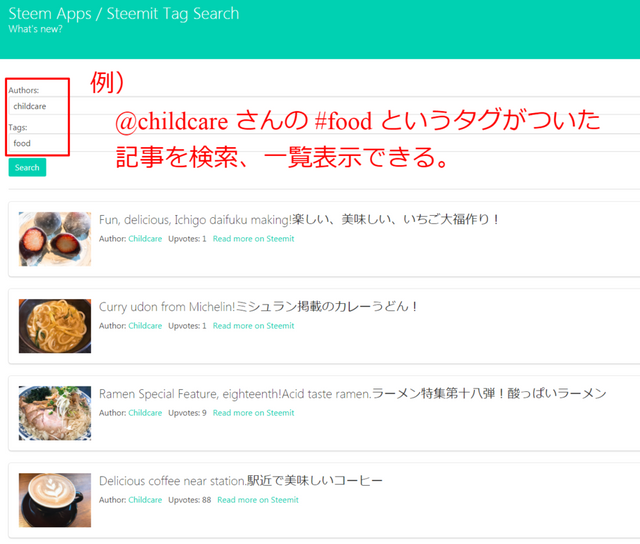 こんな感じで検索することが出来ます!!
自分の記事のタグ付け管理や
他の人がどういった感じでタグ付けしているとかが見れるので
記事管理・分析にちょっと使えるツールなんじゃないかなと思います♪
You can search articles like this! !
Tagging management of your articles
Since you can see how other people tag it
I think that it is a little useful tool for article management and analysis ♪
---
以前、僕が紹介したタグ付け管理術↓は有効に使えなかったんですが
このツールを使えば記事管理もしやすいかと思います!
Previously, I did not use the tagging management technique ↓ I introduced effectively
I think whether it is easy to manage articles by using this tool!
・Steemit記事のタグ付け管理術
https://steemit.com/japanese/@ace69/steemit-steemit-1
※1週間でタグからの検索はできなくなる仕様と判明し有用性がなくなりました
こちらを参照↓
【悲報】タグが有効なのは7日間だけ!?
---
よかったら自分がどんなタグ使っていたか見てみてください♪
Please take a look at what kind of tag you were using by all means ♪
---
他にもいろいろ探してみまーす!
次回、乞うご期待♪
Let's search various other things!
Next time,


そんな感じで
アシタマターナ!

---
◆定期投稿まとめ記事
 ・Steemitの解説・使い方のリンク集
Steemit's commentary and guide link collection (Japanese)
 ・大阪グルメ情報
Osaka Gourmet Information
---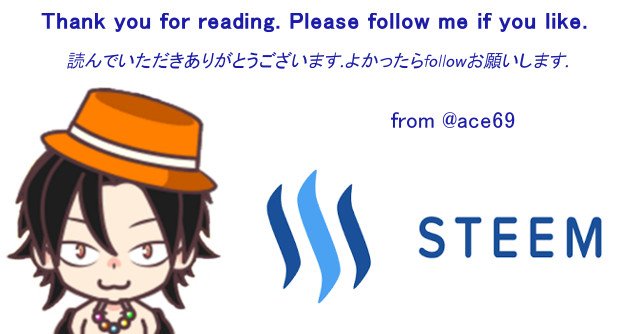 Please Follow @ace69