はいどうもー!
えーすです!
個人的に使えるなと思ったsteemitの小技を紹介する【steemitテクニック集】の第1弾です!
使えね~!とか思っても優しく流しといてください!笑
使える~!って思ったら優しく褒めてください!喜びます!笑
今回はコチラ!
Hi! 
I'm Ace!
It is the first step of [steemit technique collection] which introduces steemit technique!
~steemit記事のタグ付け管理術~
~ Steemit article tagging management technique ~

steemitを使っていて、
・自分の昔の記事を見つけるのが大変
・〇〇シリーズで書いてるけど何個目の投稿だっけ?
みたいなことってないですか?たまにありますよね!?
あるって前提で進めますね!
steemitはWPやアメブロとかの他のブログと違って、自分のページでカテゴリーとかで分けることができないので、自分の投稿記事管理がしにくい仕様になっていると思います。
唯一、1つの記事に対してタグを5つまで付けることが出来るのですが、タグによってどういった記事なのかザックリと伝えるとか、同じタグの記事を検索する・検索されるといった使い方しか使われていないかなと思います。
このタグ付けをちょっと工夫します。
Using steemit,
It is hard to find my old articles
I am writing in the series # # · ○ ○ series, but how many pieces are you posting?
There are things like that, do not you?
Unlike other blogs, steemit can not be divided by category and so on your own page, so I think that it is difficult to manage my posted articles.
In steemit, it is possible to add up to five tags for one article. However, I think that it can only be used such as telling the article what kind of article by tag, zakkuri, search article of the same tag.
I will devise a bit of this tagging.
〇タグの基本的な知識
A) 記事内に#(シャープ)を付けて表記したもの
B) 記事投稿時に設定したタグ
この2つは同じ意味になります。
~例~
A) #japanese (記事内の表記)
と
B)記事自体に設定したタグ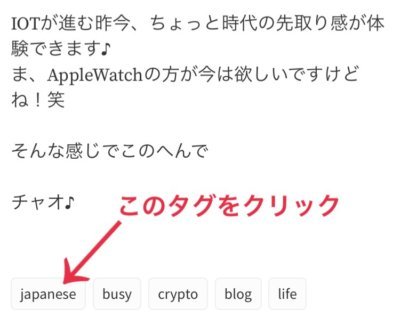 どちらをクリックしてもjapaneseのタグ付けされた記事を検索することが出来ます。
以上を踏まえてやっていきますね。
※ Basic knowledge of the tag
A) What was written with # (sharp) in the article
B) Tag set at article posting
These two have the same meaning.
You can search articles tagged with japanese whichever you click.
〇自分のユーザーネームを付け足す
コチラのタグをクリックしてみてください。
僕の記事がいくつかでてくると思います。
『おすすめグルメ紹介シリーズ』の記事を書いているのですが、
#gourmet (グルメ)
のタグではたくさんの記事が出てきてしまします。
そこで、gourmet のあとにace69という僕のユーザーネームを付け足しています。
付け足すのは何でもいいと思いますが、自分のユーザーネームを付け足すのは自分しかいないと思うので他の人と被ることはないと思います。
これで #gourmet-ace69 のタグは 『 @ace69 のグルメ紹介記事』のタグとして僕は扱っています。
Add your own user name
Please click on the tag here.
#gourmet-ace69
There are a couple of my articles.
I am writing an article on "recommended gourmet introduction series"
#gourmet
Many articles will come out with this tag.
So after gourmet we have added my user name of ace69.
I think whatever names you add to the back, but I think that there is no one to suffer with others because I think that only you are adding your own user name.
With this, I treat the tag of #gourmet-ace69 as a tag of " @ace69 gourmet introduction article".
この要領でいろいろタグを設定しています。
カテゴリー分けの代わりになるわけですね!
I set various tags in this manner.
It is a substitute for categorization!
#gourmet-ace69 :おすすめグルメ紹介記事
#steemit-ace69  :steemitに関して役立ちそうな雑学記事
#history-ace69  : @ace69のsteemitに関する履歴などの記事
#crypto-ace69  :仮想通貨に関する記事
#trivia-ace69   :一般的な雑学記事
これで自分の必要な記事を呼び出したいときは、関連するタグをクリックすればいいので、過去の記事などもすぐ検索できます。
If you want to call up your own article with this, you can click related tags, so you can search past articles etc at once.
こうしておくことで
---
過去の『おすすめグルメ記事一覧』はコチラ↓
#gourmet-ace69
---
という具合に過去の記事も見てもらいやすくなりますね!
※注意点
・同じ名称のタグは誰でも設定できるので自分専用のタグというわけではない。
・記事投稿して1週間が経つと編集(EDIT)できないので、それまでに設定すること。
・設定したタグの名前を忘れない。
※important point
· Because tags with the same name can be set by anyone, it is not a tag for yourself.
· Since you can not edit (EDIT) after posting an article for one week, set it up to that.
· Do not forget the name of the tag you set.
---------------------------
若干使いにくいsteemitの記事管理、少しでも使いやすくなればいいかなと思います。
よかったら試してみてください♪
他にも違った使い方等あれば教えてください!
それでは素敵なSteemit Lifeを
ちゃお♪
Steemit article management which is somewhat difficult to use, I think whether it should be easy to use even a little.
Please try it if you like ♪
See you later.
Chao ~ ♬
・
・
・
Please Follow @ace69