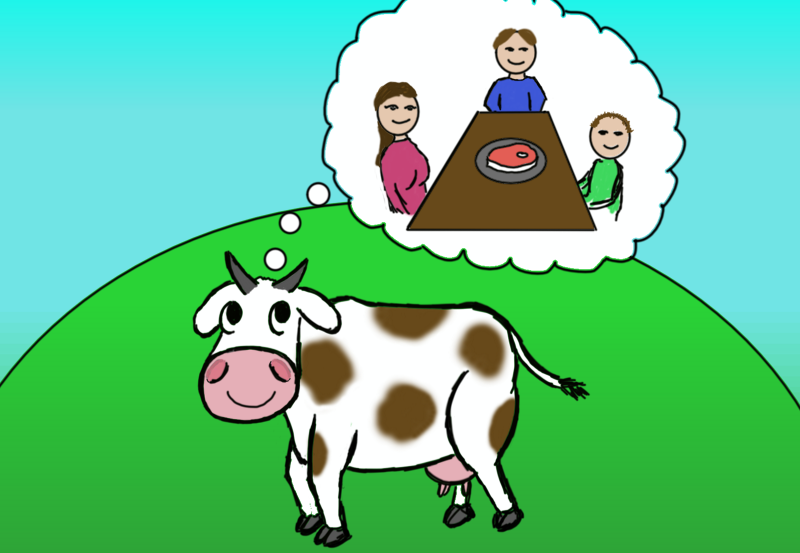 In response to #istilleatmeat #challenge; @evecab 's post:
https://steemit.com/istilleatmeat/@evecab/my-convince-me-challenge-why-i-still-eat-meat
Cruelty Free
Most people have no clue about cruelty. Unless you have gone full circle through the circle of life, what you think of as cruelty, may be the kindest thing, and what you think of as being good, is the most harmful.
The wonderful life of a cow
The only reason cows exist on earth is to feed humans.
Cows have a wonderful life without much hardship, few predators and they get to give of themselves to feed humans. The karmic energy by that circle is very important. Cows cannot improve the land, but man can.
A cow doesn't fear death like a man does. A cow knows its place in the world. It knows the circle of life. It does not fear dying. (not saying anything about it trying to preserve its life)
To deny eating of cow, you are not saving a cow. Since you have stopped, a cow is not born. It is not bred. And so, you are denying a cow the enjoyment of living the life of a cow.
The destruction wrought by the vegetable industry
Our factory farming techniques leave a lot to be desired, but our vegetable growing industry is even worse. The amount of small critters killed every plowing. The amount of CO2 released into the air by plowing is ¼ of the total CO2 created by man. The amount of pesticides and chemical fertilizers used is far more horrible to the environment than raising cattle.
So, by not killing and eating a cow, you are sentencing 100s of smaller animals to being plowed under, and whole swaths of fish and other wildlife destroyed by poisonous runoff.
Plants are living creatures too
Many have the thoughts that killing something with a face is cruel, however, things without a face have feelings too. Plants suffer pain when they are harvested.

Half the People Would Die
There was a "study" that claimed that feeding cattle takes more crop growth, then just feeding everyone a vegetarian diet, and so we should convert all our farm land to growing vegetables.
What this "study" failed to take into account is that these lands are not farm land, they are grass land. Livestock eats grass, we can't eat grass. And grassland cannot be turned into arable farm land easily. It takes years, and lots of water, and lots of manure, microbes and fungi.
There is lots of grassland all over the world that is used for grazing. If we all stopped eating meat, then all of this land, that used to support human life, would be, for the most part, useless. New Zealand is a good example, they do not have enough farm land to ever feed themselves without the sheep they raise on the grasslands.
Further There is a mere three days of food supply held within the distribution system known as the modern supermarket. If the demand suddenly jumped by only 10%, the produce section of supermarkets would be cleaned out. (we see this all the time just before hurricanes and snow storms) If everyone suddenly turned vegetarian, everyone would starve. It takes 5 years to turn good land into a good farm. I takes 8 years before a tree gives an abundance of fruit.
And the oceans are being over-fished right now, just because of the vegetarian diet + fish.
The end result, if everyone suddenly stopped eating meat, we would all starve to death.

A Better Way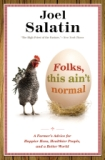 Joel Salatin of Polyface Farms has shown many about the benefits of regenerative agriculture. Actually feeding more people on less land while rebuilding the environment and creating more top soil.
He grows chickens and cows on natural pasture. Making sure to get those cow pies into the soil. Moving the herd to new grazing areas every day so that they do not overgraze and make barren a particular pasture.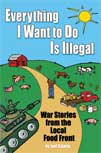 Joel Salatin grows happy, healthy cows. And there is no reason that we couldn't copy what he does and put all the factory farms out of business.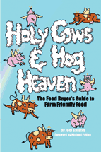 Further he uses practices of no-till farming. Meaning he doesn't kill tons of bunnies and release tons of CO2 into the air. He also continually adds natural fertilizers to the soil making it even better every year. He has made so much top soil that he has had to replant many of his fences. (they were getting buried by the build up of top soil)

And lastly, for full disclosure. I am allergic to all the high oil plant p⬛⬛⬛⬛.
So there isn't a vegetarian or vegan diet that i can survive on.
Still i do not eat much meat each day. Usually only one meal per day.

Images of the cow is my own original creations.
Images are from Joel Salatin's books.
Buy them at http://www.polyfacefarms.com/product-category/books/