All Ireland Hurling Final day is almost on us. I just spent two hours travelling half way across the country to pick up this golden ticket. Tomorrow I am hoping to see my team lift the Liam MacCarthy cup for the first time since 1973.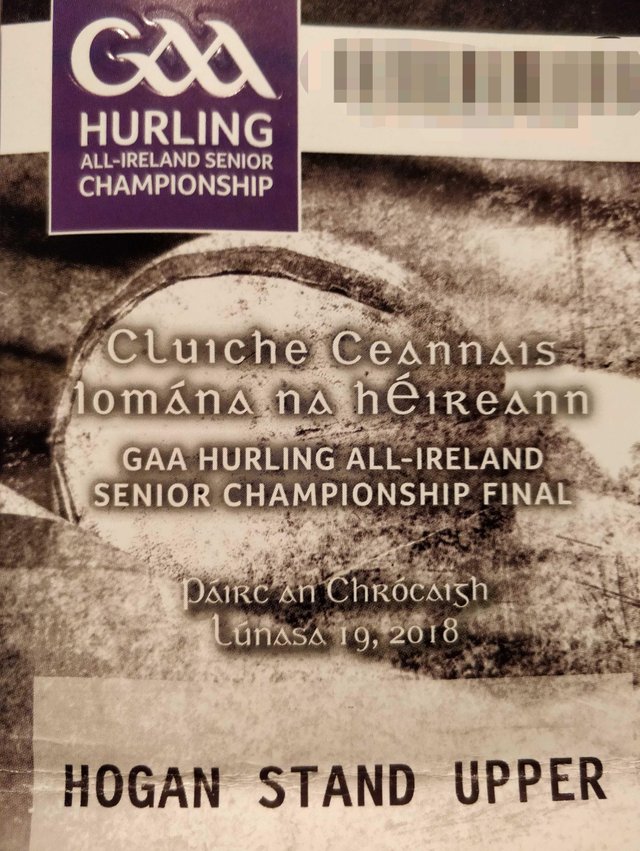 Pride & Passion
You may be forgiven for thinking the players are professionals but hurling is not a professional sport.
Players train year round and play for the pride and the honour. The games are almost tribal and because of that magic happens. The game is a game of skill, but it is played with an intense passion and pride, you play for your club, for your county. There is no switching sides, no transfer windows. Generations play for the same team, it is in your blood and you will do anything to win the coveted Liam MacCarty Cup, or get one of those gold Championship Medals. There is no greater honour!
Getting the Ticket
There are so many traditions and rituals to the sport. Getting the ticket is no exception. This year my friends have gotten tickets in raffles, from family, thorough facebook, from contacts in England, you name it.
There is no queuing up or buying online. You almost have to be born into this sport. To get a ticket you need family or a good contact to get a ticket.
Today, at the eleventh hour someone came through for me, I had to meet them in a hotel half way across the country to pick up my ticket. It will be worth it. We have been waiting since 1973, and I don't want to miss this year. The closest we came to win was back in 1994, 6 points up with 5 minutes to go, people had left thinking it was all over but that is how quickly a game of hurling can change. It is end to end stuff, and the greatest spectacle to watch.
Match Day
Traditionally All Ireland Final day is the day when the Culchies decend on Dublin with the sandwiches and flasks of tea.
This year is a bit unusual, match day is in August, a few weeks early. I live in Dublin now so the trip to Croke Park is shorter than it has been in the past but I am really looking forward to the day.
See you in Croke Park!