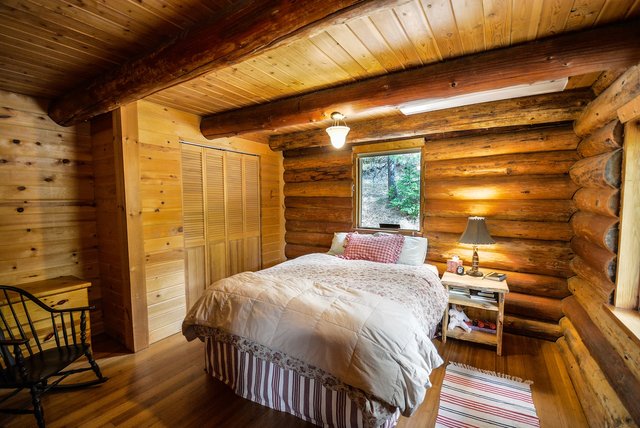 I missed a really great opportunity this year, it was one of my best ideas I had – since I bought Bitcoins in 2013. One of this year's great losers on the markets is lumber: this commodity lost 29 percent of its value in one year, but in fact, the 52-week range is between 299.9 and 659 dollars. It means, the price exploded like hell first, to fall like a stone a short time later.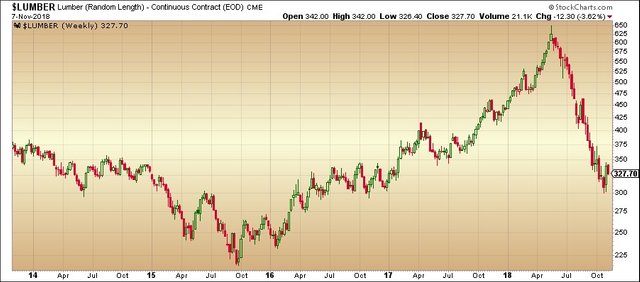 Chart courtesy of StockCharts.com
A huge all-time high
And I noticed close to 400 dollars that this commodity is nearing multi-year highs. I'm hunting investments mostly on multi-year (at least 10, much better 12-15 years) lows to purchase, but I'm not afraid of shorting either. I wanted to short lumber at 500 then I wanted to do it really bad at 600 dollars. It seemed to be a huge all-time high, I found data since 1969, and the price was never above 500 USD before. (The conclusion may be different if we calculate also on the inflation, but maybe next time.)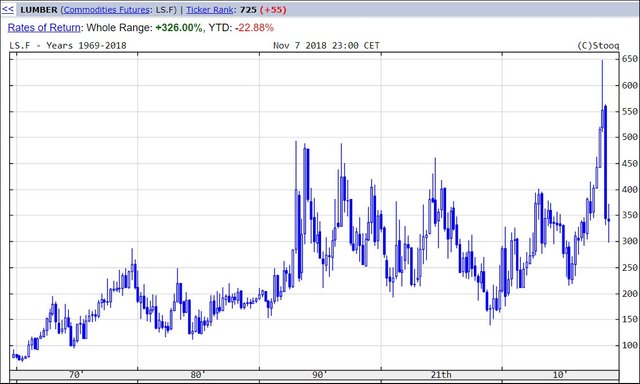 (Chart: Stooq.com)
Unfortunately, I couldn't find any product, like inverse ETF's or certificates to buy, to reach the desired lumber-shorting effect. And I don't like the products with a margin call. (I don't trade futures or CFD's.)
Don't surrender so soon
Maybe I surrendered too early, maybe I should have found some CFD (contract for difference, a derivated product) with a decently low leverage and apply an abundant cash puffer. If I had shorted it by 600, or even by 500, it could be a huge yield now by 329 USD. It is falling again by two percent today. (And if I had resisted the temptation to close my position too early, of course.)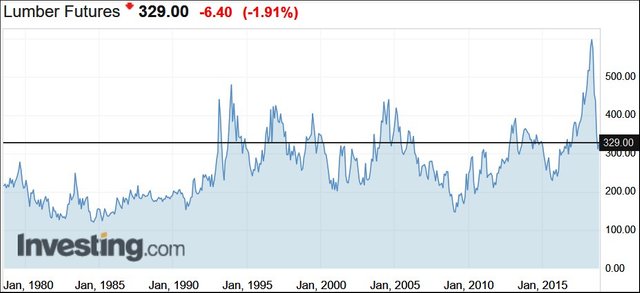 (Chart: Investing.com)
So I missed my great opportunity. The lesson is, I should work harder on my ideas. You can't eat ideas, you can't live from inspirations, you must implement them, realize them to have success. Make your homework – are saying some famous investment gurus.
Factors to consider
Another question is, where is heading lumber now? But I can't tell it. I read a lot about the influence of home buildings on the lumber price (houses in the US are made often of timber). Or that lumber prices can predict home buildings and economic growth. Trade war, taxation differences between Canada and the USA can also influence the prices. And of course imports from other countries (like Brazil).
Conclusion?
But at this level, lumber doesn't seem to be either expensive or cheap for me. Maybe I should find another target on extreme high or low levels. Because the motto is:
Bottoms in the investment world don't end with four-year lows; they end with 10- or 15-year lows. Jim Rogers in Investopedia
Other posts in this series:
Disclaimer:
I am not a financial advisor and this content in this article is not a financial or investment advice. It is for informative purposes only, or simply to make you think, entertain, increase testosterone and adrenaline level. Consult your advisers before making any decision.
Info:
You can message me in Discord.
(Cover photo: Pixabay.com)