Some overthinking about the term. How I do everything alone, and some things I learned along the way.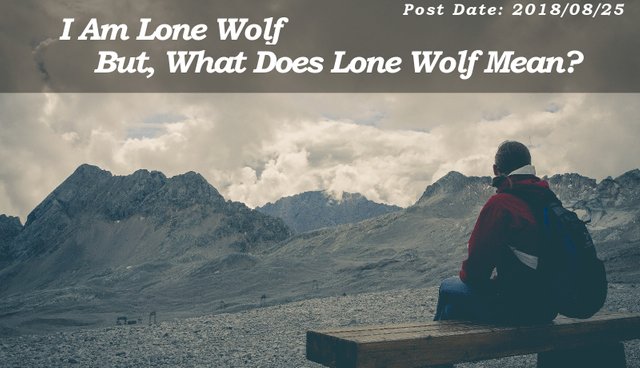 In introversion/extroversion scale, I am totally introvert guy, it's one if the reasons I spend so much time on the internet. Introverts just don't like being around people so much, but we still enjoy the company of the friends we care about.
The other day I watched a video from the developer of Philophobia,
he was exactly like me. He told us how being a truly solo #GameDev isn't practical.
He learned that the hard way.
[More on: "Can you succeed as a solo developer?"]
In the video is that he described his life, as if he was describing mine! Introvert, but sometimes I'm working with people, at least he's better handling stress than me. LOL! Anyway The thing I cared about the most is the term he used: Lone Wolf!
According to Wikipedia:
As a person, a lone wolf is an individual who prefers solitude, expresses introversion, or works alone.
But Why Wolf?
Why this animal to be exact?
When I heard this term all my life before, I thought 'wolf' was chosen because it's strong, powerful and can live alone... But now I noticed something I should have noticed ages ago: Wolfs Are Social Animals. They Live In Packs!"
As an animal, a lone wolf is a wolf that lives independently rather than with others as a member of a pack.

A Pack? Not really sure...
That's why the word, #LoneWolf is so powerful. Because there are actually wolves that prefer to live alone. The word now describes any any social creature that prefers solitude. Speaking about lone wolves:
Very few wolves will simply remain lone wolves; as such, these lone wolves may be stronger, more aggressive and far more dangerous than the average wolf that is a member of a pack. However, lone wolves have difficulty hunting, as wolves' favorite prey, large ungulates, are troublesome for a single wolf to bring down alone.
So I Am A Lone Wolf

But I learned to rely on people, I still fear making people rely on me because of my record of dragging them down (which always they tell me I'm not the cause.) But if "I WANNA BE PERFECT" I should overcome that fear, I want to be useful to humanity... There's already so much depression in the world. At least I realize now, being a #lonewolf/introvert isn't that bad once you learn that you are human, a social creature, I'm needed.
---
~~ And, we all need each other ~~
---
Hope you learned something from this.
If you have any comment please tell me what do you think?
---