MEETING H. P. OLIVER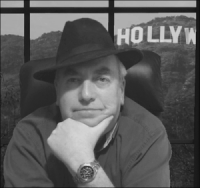 This fellow H. P. Oliver is plainly a hack writer. That is to say he does not strive to create grand literary triumphs. In fact, some call his work pulp fiction.
I, being said H. P. Oliver, have no argument with that description. I am quite content to follow in the iconic, if somewhat blurred, footsteps of Raymond Chandler and Dashiell Hammett, or even those of the more plebian Mickey Spillane. My objective is to entertain, not secure a niche in the hallowed halls of literary antiquity.
To the above description of my favored genre, however, I hasten to add those elements which make my brand of pulp fiction unique. You see, I write historical pulp fiction—thrillers set in bygone days. Well, not too bygone. I lean toward the periods between the World Wars, the 1920s through the early 1940s.
For physical backgrounds I prefer glamorous Golden State seaside locations like San Francisco, Santa Barbara, Los Angeles, and Hollywood. That combination of historical periods and locations provides me with colorful eras of palm-infested decadence in which to set thrilling fiction. The era also provides oodles of swell dialogue possibilities and colorful folks to speak the words.
In coming weeks, it is my intention to dazzle you, dear readers, with examples of my historical brand of pulp fiction. Or as one of my favorite characters, a Hollywood gumshoe named Johnny Spicer, would be more likely put it, "If ya can't dazzle 'em with brilliance, baffle 'em with bull . . . uh, baloney."
If a few personal adjectives about myself are thought desirable, I am proud to be a native Californian, also a history enthusiast and a restorer of classic automobiles. I currently divide my time between the neon glitz of southern California and the tranquility of my home along the course of the last untamed river in our fair state, the Cosumnes.
In closing I should like to make a point of saying that I come by my initials honestly. No reference to the H. P. of horror fiction is intended or desired.