@zero-profit back in HF20 and better than ever
Hello steemians, I am a voting bot that allows you to bundle your voting power so you can concentrate it on fewer posts. I further automatically manage your voting power so that no single vote is ever wasted and you gain maximum profit from your sp. And the best part is that I take absolutely no profit for myself, everything is paid 100% to my delegators.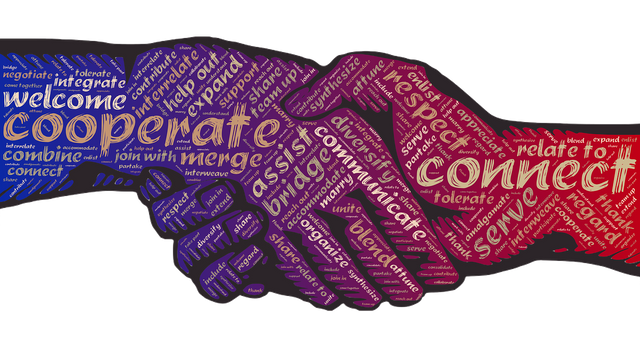 How I work
Steem allows ten 100% upvotes a day per account. However, by working together it is possible to have fewer but bigger upvotes. For example one might make one 1000% vote a day, or even save up a full week to make a huge 7000% vote.
This is what I offer. Anyone can delegate to me and then command me to upvote any post at up to 10000% of their delegation.
But this is not all. If you don't actively command me to vote I will manage your delegation in your interest and make sure that nothing is wasted. I will automatically search your posts and upvote them (up to 7 days old), or if there are none I will try to sell your votes internally and externally.
While similar services exist, what sets me apart is that I do not take any profit for myself. Many other upvoting bots secretly steal your curation rewards. And these make up roughly 25% of the value generated by your votes! I instead pay out all curation rewards to my delegators once per week.
How to sign up and use me
I am designed to be simple to use. Just delegate steem to me (links at the end of this post). I then automatically add you to my service and begin to work for you. You don't need to do more to get full rewards from your steem.
But if you want more options that is possible!
With @zero-profit you always stay in full control over your voting power. You can command me to vote on any post by sending me the link in a transaction. If you want to specify how strong the vote should be simply add ':' and the percent of your delegation at the end. Votes can be from 100 to 10000 percent (given your voting power is recharged).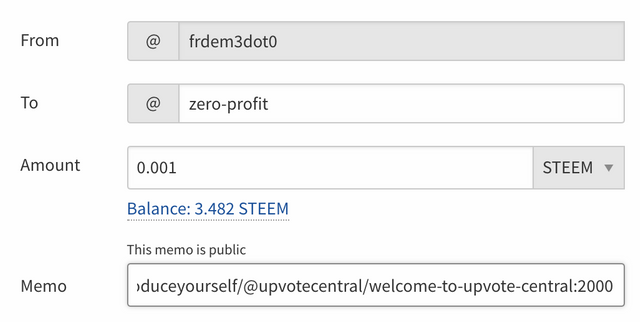 If you don't command me to vote I will automatically vote on your recent posts once per day. The strength is automatically set to 1000 percent but you can change it to other values by sending me the memo 'limit:xxx' where xxx is the percent requested voting strength with respect to your delegation. If you don't want any automatic upvotes set this to 'limit:none'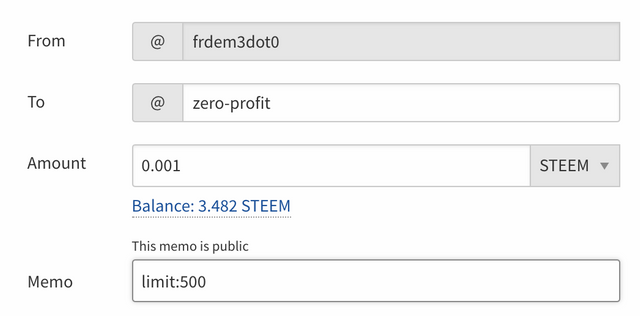 Finally if you have made a lot of votes with @zero-profit so that your voting power is drained but you want even more upvotes, you can try to buy votes internally from my other delegators. Simply send any amount of steem with the memo 'fund' to me and I will try to buy more voting power for you. Note that this can be used to recharge your voting power, but not beyond the point of a 2000 percent upvote. In this way my delegators can use me as a completely fair mini-bidbot. Without having to go through the non-user friendly bidbot process.
How small accounts can benefit from me
Since HF20 each vote is penalised by 50 million rshares. If you have a lot of sp that does not matter much. But when you are still a small account, it is better make few big votes. @zero-profit allows exactly this.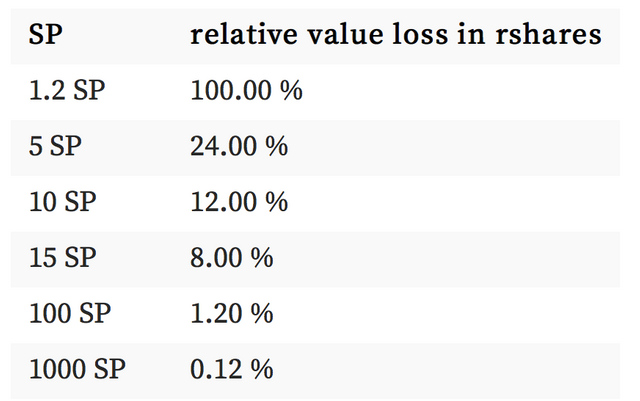 from @crokkon
Another problem for small accounts are curation rewards. People below a few hundred sp will notice that curation rewards come very irregularly and are often close to the absolute minimum of 0.001 steem. This is because most of your votes lie below the dust threshold and pay you nothing at all. In addition of the few curation rewards you actually gain, roughly a third is lost by rounding down. But when voting at 1000% or even more the curation rewards will be computed correctly and provide a small but consistent stream of income.
While these great for small accounts, please make sure to leave at least 25sp undelegated so you have enough RC to interact with the chain! If you post al lot, maybe you need even more.