Introducing Myself - Traveler, Writer, Creativity Hacker
Pleased to make your acquaintance
Hello out there, all you lovely geeks. My name is Brooks. I'm an American living in China, traveling as often as I can and writing when I'm at home in Shanghai. 
Well, writing and drinking. They take turns.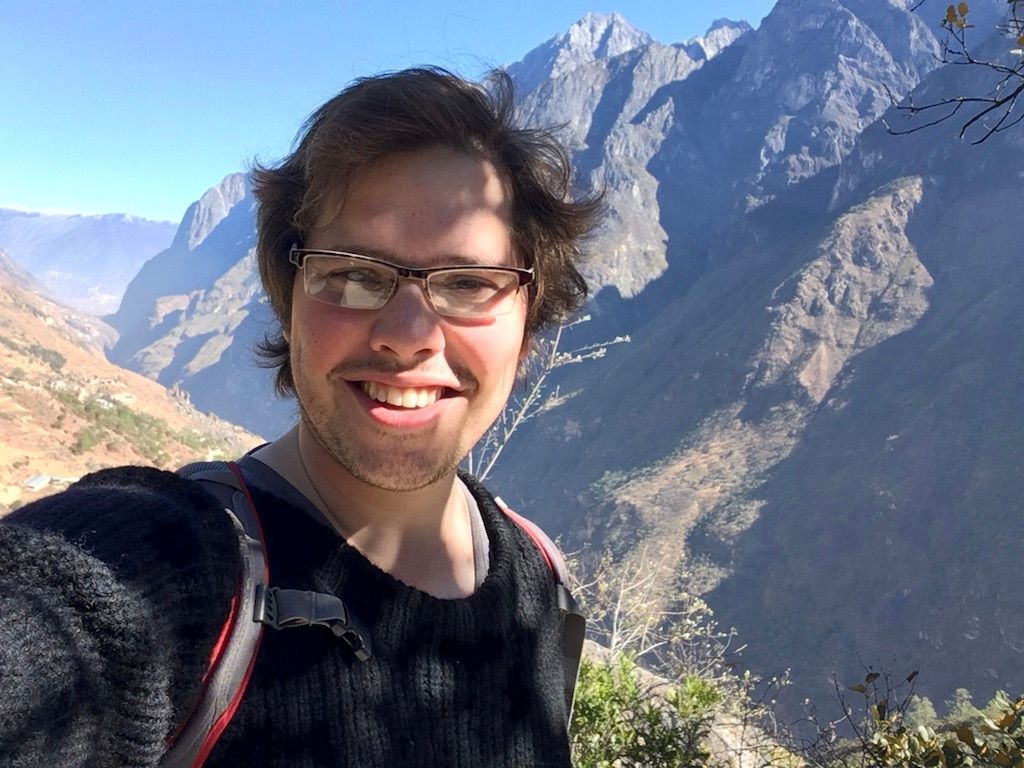 Here I am, hiking the Tiger Leaping Gorge trail in Yunnan earlier this year.  
I'm looking forward to sharing some of my writing with this community, but I'm far more excited to discover the cool projects that that all of you are working on. If you're doing creative work, please let me know in a comment -- I can't wait to see what you guys and gals have brewing.
Actually, if you don't mind helping out a newbie, please point me in the direction of the creative scene on Steemit. I'm primarily a writer, but I also produce music and play piano, and for my day job I'm a UI designer and content curator. Basically, I have a wide variety of interests.
As far as what I can contribute to this community, my posts will fall mostly into the following three categories: Creativity, Life Abroad, and Fiction.
Creativity
As I mentioned, I'm a writer that dabbles in music and experiential art (apps, installations, and my dream of designing an amusement park), which means that I have to keep my creative juices flowing and abundant. As many of you know, this can be a near-impossible task. Thankfully, over my career as a traveling author and designer, I have found a few tricks designed to clear out the cobwebs and kickstart the creative process. I'd sell them if I knew how, but since I don't, I'd just as soon see someone else benefit from them.
Several of my articles will deal with creativity and lifestyle design, by which I mean setting yourself up as much as possible for artistic success. For a sneak preview of the kind of content to come, try these when you have a moment:
Open up a text document and, without stopping, write 750-1000 words. It should take 15-20 minutes. This can be literally anything, including just a long list of expletives or a detailed description of whatever's on your mind. Either way, you're clearing out the pipes. When you've finished, turn your mind back to whatever problem you've been working on and see if ideas come more quickly. That is, of course, if those ideas didn't start flowing somewhere near around the 500-word mark.
Carry a notebook for the next week and just write down anything interesting or unordinary that you notice. Really keep your eyes open. After a few days, take mental stock on whether you feel creatively invigorated, because you probably will.
Take a walk without listening to podcasts or music. Seriously. Carry a notebook or your phone, and be ready to write down the thoughts that bubble up when you just allow your mind to be silent for a moment.
Life Abroad
I'm lucky. I get to live wherever I want, go wherever I want, and disappear any time I need the chance to get away from it all. When I was younger, I thought that I would need to be rich to accomplish this. Turns out, the truth is a lot simpler.
I moved to Taiwan 4 years ago, then later moved to Shanghai for better work opportunities, and, yes, because I fell in love with a Shanghainese girl. She was with me on that hiking trip to Yunnan, and is upstairs asleep now.
But life abroad can be difficult. It has challenged my ideas about nationalism, patriotism, and belonging, and has opened my eyes to the reality of the modern political machine. More than anything, it has shown me that most people have no idea who they really are, which thoughts are their own and which are culturally taken for granted.
This, too, is something I write about. If there are other expats on Steemit, I expect we'll have a lot to talk about. One topic to expect is the "traveler's curse," described here:
The more you travel, the longer your list of must-haves in a new home becomes. You can no longer go home because "home" is lacking some essential thing that your new residence has. You move on to another country or city, discovering something else to love and become attached to, only to discover the shortcomings of that place. Over time, you continue to search for a home with all of these elements that you have learned to love. No such place exists. You continue searching anyway.
Fiction
Finally, we have lies. I like to write fiction and I hope that some of you will enjoy it. If there is demand, I have a backlog of dozens of short stories that I can polish up and put out there. I never intended to publish them, but then, what's the point of hundreds of manuscript pages in a box in a closet?
And who knows? The novel I'm working on might actually be pretty good.
Thank you for reading, and I look forward to talking with you!