HEYA! I pretty much started with Steemit to follow some of my favorite crypto technical analysts, and since I'm spending hours on charts I thought might as well share some of my thoughts.
I am under no circumstance a pro (yet!), just trying to get a grip with consistent TA. Experienced analysts' feedback would be more than greatly appreciated, while newbies can have the ease of mind that there aren't only TA gods here on Steemit. I'm a beginner just like the majority here, only taking that risk to expose my potentially highly flawed charts. But hey, best way to learn, eh?
At the moment I'm doing only BTC. Here is what I'll be looking for during the next 12-36hrs: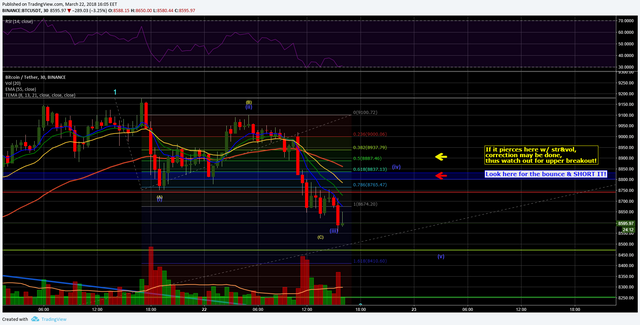 It's a double scenario chart:
Secondary scenario is that the correction of the first (sub)Impulse Wave up has finished, so I'll be looking for signs for a breakout. This is less likely due to timeframe symmetry.
My main scenario is that we are currently doing the A corrective wave, and I'm tracking the subwaves in it. Due to the RSI I expect a bounce up pretty soon, which most logical would compose the corrective subwave 4 of A. Once I see it slow down and show signs of reversal (bearish divergence, candlestick profile, fib levels), I would enter a short position targeting subwave 5 based on Fibonacci extensions, depending on where subwave 3 ends up.
There is also the sub-scenario where subwave 3 is done and we are currently doing subwave 5. In this case I would like to see strong upper strength, since it would be the corrective B. If it smashes through subwave 1 resistance, I will consider this scenario as more likely.
For now, I want to see where the current drop ends up and take it from there.
Elliott Wave theory will be my main approach for higher timeframes and also, at times, for lower ones. I would really love an interpretation of my charts using other tools and indicators as well. Good luck and may you be ever-profitable!