This is: The Magic Story Machine - Help the (not so) Magic Frog and win a Pot full of Gold! Collaborative Storytelling!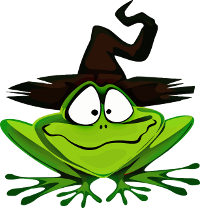 Dear Steemit people,
storytellers as well as readers,
young and old,
Seriously... I need your help!
What's in it for you, you ask? Certainly something, but first let me introduce myself to you.
As you can clearly see... I am a frog! A storytelling wizard frog, to be precise. Well, I am not much of a master of wizardry myself, I have to say, but I worked together with a truly mighty wizard ever since I can remember, almost. And you can be sure that it is quite likely that I am the oldest frog this side and beyond the old magic forest. Believe me or not... I just turned 11!
Anyway,... I know you're wondering who this mighty wizard is, right? Well, not so hasty... We'll get there. Actually this is the whole point of this letter but first I want to show you where I live. Yes, that's important!
This, my friends, is my beloved home swamp in the magic forest! Isn't it the most magical and cozy swamp you've ever seen? Of course it is! You see me? I'm the green one with the hat!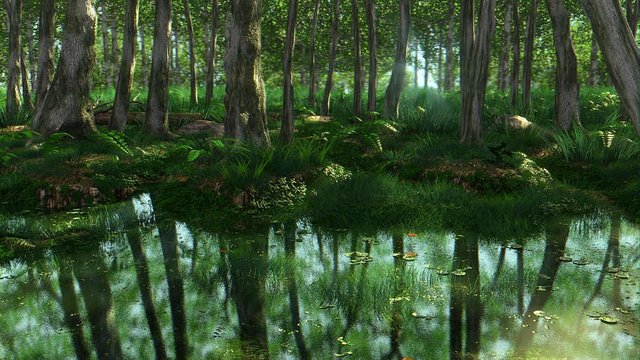 This is the place where my mother raised me until I lost her, far too early, to one of those winged feathered flying monsters that know no mercy, with no one. The most dangerous and terrifying creatures that live in the forest. I still see the fear in my mothers eyes, in that last desperate moment of her life, when her cries became quieter and quieter. May she rest in peace!
I was on my own very early... but not for very long. The swamp is also the place where my great master picked me up one day, after he almost squashed me. I always wondered who lived in this old sordid hut nearby. A wizard! Can you believe it? Of course we became best friends and he taught me everything he knew. I didn't understand much but certainly a fair portion of his magicness jumped over on me. I wouldn't be as magic as I am today, without him. I owe almost everything I am today to him... my vast knowledge of everything, my extraordinary skills, and for some reason I even became much prettier than before since I lived with him. A true master!
But now... something bad happened. Something really bad! Yes, indeed, you guessed right. He's goooone! Simply.... gone! After all those years! I will be honest with you. I don't know how to live on without him. He was not only a master of wizardry but a master of friendship too. I usually don't get emotional but this time... it's different. It's a new kind of feeling, that I've never experienced before... I kind of... miss him! Sorry mother, at least I know where you went. I can live with that, but not with the uncertainty about the whereabouts of my master. He very rarely left our hut because... Well, you remember? He's a wizard! He simply conjured everything we needed right in front of us. That was amazing! *sighs* And now he is gone for at least... let me think... it must be... an entire... HOUR! Well, reading the clock was one of the things he never taught me, he always knows what time it is.
Don't say it, I know what you are thinking and I don't think any different. He literally just... disappeeeeared! *waves his hands mysteriously* Maybe a failed magic trick? No! Not my master! Impossible. I remember him saying something about a great master plan and a witch and the eeeend of the woooorrrrld. "A wizard must follow is destiny!" he said. Or... did he? To be honest, there might be a small chance that he said something slightly or completely different or nothing at all. I don't remember but it sounds very much like him! Why on earth did he teach me his "don't regret, just forget" spell after my last excursion to Quaker's Inn. But that's a different story,... maybe next time, or... maybe not.
Actually, over the years, he told me his entire biography, aaaand everything else there is to know about him and the world of wizards. He's an old man, talks a lot. But... it's all gone! As if it went with him! Yes... maybe it's not even my fault! He controls what you know about him and what not! But no matter what, I need to remember anyway... At least I need to try and... and you can help me! Hopefully... well... maybe not but... let's give it a try. Maybe someone hits a lucky strike and if not... well, maybe more people will "disappear". Who knows, it's weird days we live in!
Ok, are you prepared? Can we start? Excellent! By the way, I prefer the classic approach. So...
Oooonce upon a time, there was a wizard... and that's basically everything I remember.
Oh no, wait... I forgot one more thing. Let me get my (magic) glasses. We must devote to the formalities first if this story is to end happily.
How it works
Ok, here's how we'll do it. You'll write down what you see happen next in the wizard's story and everyone else decides if that might be true or not. Just write your version of the truth to the bottom of this letter. I left some extra space for that.
Hopefully this will trigger some of my memories and we can get a step closer to the mysterious truth about my master.
But wait! Be careful! Your suggestion must be readable for the Magic Story Machine! It must start with a > then one empty space and then your sentence or word or... whatever. It also must not be longer than 100 characters and in one line please. The machine can't handle that much text at once unfortunately. After your suggestion leave a blank line, if you want to add a personal note or... basically you can write whatever you want. I won't read it anyway. I'm a very busy frog! Comes with the magicness.
Here's an example:
> and then the great wizard got very angry and transformed the monster into a delicious cake.

I think this is what really happened! Does it help? I like frogs!!! Hahaha!

Easy, isn't it?
I will consider the one suggestion with the most Upvote Spells casted on it, as the new truth. For the sake of simplicity. We need to get somewhere, don't we?
If there are two or more with the same number of Upvote Spells, I don't care about who casted them! I have a very mysterious Spell of Randomness at hand. My master taught me to use it wisely.
I will write a new letter everyday, with the whole story, as far as it has evolved, revealing the whole greatness of my master and his mysteries and of course his master plan (if he has one) and probably a lot more weird things.
Afterwards we can have a look at some other interesting stories and myths from the ancient magic forest or... basically everything you can imagine as long as it starts with "Once upon a time".
"What's in it for me? I'm greedy! I want money! Or chocolate!"
I know, I know... but I don't have chocolate! Here's what you will do: Every time you see one of my letters flying by, you read it and cast an Upvote Spell on it. I know another wizard, not as mighty... but he can do this for you., at least the part with the spell. This way the Magic Mone... Story Machine can make precious and valuable coins appear out of thin air, on its whole way throughout the story, each.. and every... day. *mysteriously waving with frog hands*
Every time a story ends, all those precious coins the Magic... Machine has created are given to one of you! The more parts you contributed to the story, the higher your chances to win the pot! Did I say all the coins? I meant... half of it. The bigger half! The other half will be used to grow my Sorcerer's Power to cast more powerful Upvote Spells on your creative contributions! If what you write actually becomes part of the story, you will receive such a benevolent gift... promised!
Spread the message!
Share this matter of concern of mine with all your friends, in case you... you have some, your family, even your boss should know about all this. Yeah... I think he definitely should. Just as a reminder... the world could easily end very soon without us knowing about it to... to wait for it! Maybe you even know other wizards, not as mighty as my master of course but get them involved anyway! Every tiny little help is a tiny little bit appreciated!
Share your Sorcerer's Power (SP)
The more Sorcerer's Power (SP) we gather, the more efficient the Magic Story Machine will work! If only I could remember where I put the scroll with the spell... ah, here it is:
https://steemconnect.com/sign/delegateVestingShares?delegatee=the-magic-frog&vesting_shares=10%20SP
Yes, you actually have to read this out loud. It won't work otherwise.
The Magic Story Machine
If you are experienced with magic machinery and the wizardry of programming, you can help to work on the Magic Story Machine. It works quite well but it's old and I'm sure there's still room for some more magic.
The Story Portal
There's a ancient portal at http://the-magic-frog.com. It is currently occupied by the old headman and shaman of the Apache tribe. I don't know anything about their business here in the forest but I will use my magic power to reclaim this portal and make it a place where you can find all the stories, the current pot size, the winners of each, updates and what else we will need.
OK, that's it! I think we can finally start!
---
Once upon a time, there was a wizard...
To be continued!
---
---