How to make the most out of your introduction post
This is the "how to" to introduction post. This is not a second introduction post. I've already introduce myself here!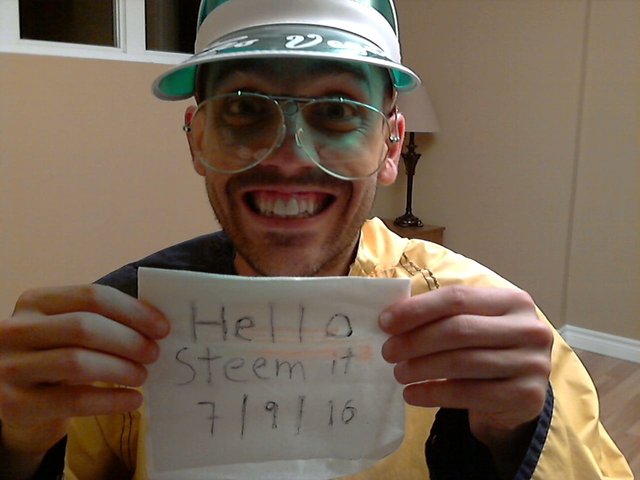 You'll want to share it with everyone!
Introduction
Steem Power holders are incentivized to vote and this governs a lot of Steem's behaviors, in particular in regard to upvoting.
If you understand this, you can jump to the next section.
Whenever Steem Power holders vote, they make money, so every Steem Power holders are incentivize to vote.
The sooner someone casts a vote, the better for them in regard to how much curation reward they'll get.
There's only so many good posts for Steem peeps to vote on, in a day, so if someone sees a newly publish introduction post, with no or few upvotes, then it is mathematically sound for them to upvote these posts. As long as the post isn't plainly stupid, wrong or plagiarized, then other people will come afterward and also upvote it. The firsts to upvote, will get bigger curation rewards than those who upvote later. Steem Power and voting power has to be taken into account.
The problem and the solutions
People making multiple accounts and posting multiple introduction posts to unfairly profit from the system are hindering Steem's growth, thus nobody wants to upvote these introduction posts and would prefer upvoting any introduction post, with proof of them being genuine, over any other post that don't have those proofs.
This means, if there's proofs your post is genuine, the better its chance for greater reward compare to all other introduction posts.
Also we don't upvote posts that vehicle values that are in contradiction with our values.
Hold Steemit Signs
Yulia ( @jlove ) made one of the most valuable introduction post of the last 2-3 days. It's worth 362$ and counting. She's holding a sign Hi Steemit 07.07.16 :) :) :) written on it, so we know it's not someone who took whatever photo and use it to make a fake introduction post. Sure, someone could Photoshop a sign, but the higher the bar to make fake introduction post the fewer there will be.
Get verified
If you know someone on Steemit, get him or her to "verify" you, with a comment saying, he or she knows you. He or she will be very please to do so for you. I might even recommend mentioning his or her Steem account's name in the first line of your post, so that it shows up in the post's summary. The better the person who's verifying you is known, wealthy, or both, the better we can be sure your post is genuine. We know this person wouldn't risk his or her reputation for a couple $ on introduction schemes. The sooner your post is verified with a comment by such a known person, the better it is, so coordinate yourselves. Also state who he or she is in regard to you. I would be much more willing to upvote somone close to someone I know than someonw he or she barely knows.
Link to your Facebook or any other place where you can verify yourself
If you don't know anyone on Steem yet, but have Facebook, you might want to link it in your introduction post and post something on your Facebook page to verify you're the owner of this Facebook profile. It can also work with other account from other websites.
Summary
Post a picture of yourself holding a sign with Steemit written on it and the current date.
Get someone to verify you if possible. (most powerful thing of the 3)
Link your Facebook account in this post and make a reference to your Steem post on your Facebook account.
These give a clear advantage over other introduction posts, as they prove of strong willingness to make Steemit the best it can be.
Conclusion
In some cases, posts without any message and containing those 3 things could even be argued to be better than the same posts with a message. Let me explain. If there is a message, the upvoter has to read it. This is so, in other to determine, if the post contains anything that goes against the fundamental values of the person casting the vote.
So maybe, one would be better to just post those 3 things mentioned above with no or the shortest message possible and keep anything else of value to write in another post. This last part is debatable and how it plays out remains to be seen. This has to be weighed against trying to post some unforgettable first impression with some picture, quote, funny anecdote, signature or anything else really.
The undebatable part is: do the most of the 3 things stated above and it will greatly help your introduction post before better compare to all other post and also it will discourage fake introduction posts and thus will facilitate Steem's growth.
Also I highly encourage you to link to this very post, with this link: so that people reading your post know what you did and why you did it. This will incite more people to follow those guide line. People who look to better the Steem's overall value will be more willing to upvote your post if you are actively working to stop people from rigging the system. This will lead to a virtuous cycle and a faster adoption rate for Steem, better reward for your introduction post but also for your future posts.
Don't forget there should always be a place for people who prefer to stay anonymous. I don't oppose this.
One more thing: -#introduceyourself this is the tag you should use for your introduction post
The ultimate guide to Steemit (written by me @teamsteem)
Edit: Sorry I hadn't read steemit today before posting this. I usually read everything before posting. So I was totally unaware of the fact that many people have been posting introduction video and have been posting a lot more photo of themselves holding Steem sign. Anyway my post still make much sense as it give a lot of other ideas but also precisions on some aspect of introduction post and Steemit in general.