Introducing Steem Raiser | How to Raise your profits as Steemit author | Just delegate and Raise your Upvote up to 1,100%
We are happy to see that despite the low prices and the poor rewards most of you are still active, publishing content and voting for those posts that, according to your criteria, deserve it.
The circumstances of each person are very diverse, so the amount of Steem Power (SP) that everyone can accumulate in their account varies greatly. The consequence of this when voting content or comments, is that the authors of these publications receive very diverse rewards, when surely in most cases we would like to be able to give them more. In this respect @steemraiser can not do anything, that depends on you. However, we are here to increase your benefits as authors.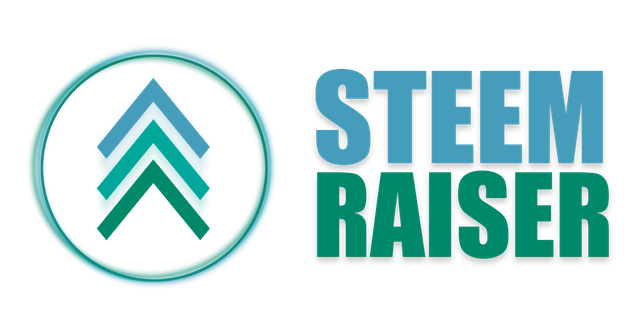 @steemraiser is a very simple and effective solution to increase the Upvote value you receive on your own posts. How? Very simple: joining forces.
Many times we forget the importance of uniting with other people to obtain better results in what we want to achieve. In the case of Steemit, a place where people are the most important, it would be a mistake not to apply this same principle. Here, more than anywhere else: There is strength in numbers.
If instead of assigning your SP to vote your own post, you delegate them to @steemraiser, and others do the same. @steemraiser can Upvote your posts and those of other members, with greater profitability than if you do it alone. In fact, being voted by @steemraiser can generate you benefits of up to 1,100%
What exactly does 1,100% mean?
1,100% is a percentage that we apply directly to the SP that you delegate to @steemraiser. Once applied, we will Upvote one of your posts a day. This equals to your SP x 1,100%
Let's see some examples:
Suppose your delegation to @steemraiser is 250 SP, then the votes you would receive in your posts would be voted with 2,750 SP.
If your delegation is 1,000 SP, you would receive votes made with 11,000 SP.

If your delegation is 3,000 SP, you would receive votes made with 33,000 SP.
Let's see it now valued in dollars, of course according to market values at this time (September the 16th).
If you vote for your own post with 250 SP, your vote would be valued at $ 0.01. Delegating those 250 SP to @steemraiser the vote you would receive would be valued at $ 0.12

If you vote for your own post with 1,000 SP, your vote would be valued at $ 0.04. Delegating those 1,000 SP to @steemraiser the vote you would receive would be valued at $ 0.47

If you vote for your own post with 3,000 SP, your vote would be valued at $ 0.13. Delegating those 3,000 SP to @steemraiser the vote you would receive would be valued at $ 1.42
Without a doubt, they are more desirable profits. Imagine these rewards when the prices goes up

How is this all possible?
It's not magic or anything like that, it is simply the result of joining the strength of many users who, like you, want to increase the rewards of their posts in a simple and pleasant way, only delegating the amount you want, but it must be above 99 SP.
You do not have any other obligation, it is not necessary to follow any trail, nor configure a fanbase, nor use a specific tag. You do not have to follow any account, you do not need to Upvote any posts, and you do not need to resteem anything. You do not have to buy votes or make any kind of payment. The only thing you have to do is delegate and start receiving an Upvote per day, much higher than you would give yourself with that amount of SP.
Do all delegations receive the same percentage of profit?
Not currently, since we are still few. Our calculations estimate that when we are more or less around 30 users will receive then all receive 1,100%. But this is difficult to predict, since it depends a lot on the amount delegated by each user. The greater the amount delegated the faster we will reach the 1,100% for everyone. And one thing is for sure, with each new user the overall percentages will increase until we all reach that 1,100%
How are these percentages currently distributed?
Until we reach the number of people required for everyone to receive 1,100% we have decided to offer a higher percentage to the ones who really need it. So the users with the smallest amount of SP are the ones we give our support to. It seems a fair sacrifice.
At this moment the percentage that each user would receive according to this delegation can be seen in this table. Keep in mind that only some examples are represented, the table is only indicative:
| Delegated SP | Profit achieved |
| --- | --- |
| <855 | 1,100% |
| 1,000 | 955% |
| 1,500 | 670% |
| 2,000 | 527% |
| 3,000 | 385% |
But it is very important to keep in mind that this percentage goes up every time someone delegates, until reaching a maximum of 1,100%
How do the percentages rise with a new user?
Imagine that at this moment a new user enters delegating 1,000 SP. In this case, the previous table would look like this:
| Delegated SP | Profit achieved |
| --- | --- |
| <955 | 1,100% |
| 1,000 | 1,055% |
| 1,500 | 737% |
| 2,000 | 577% |
| 3,000 | 418% |
Realise that the minimum to receive 1,100% would increase and the rest of the delegations would increase their benefits as well.

I like the idea. How do I sign up?
It's very simple, all you have to do is follow these steps carefully:
1. Delegate your desired amount of SP to @steemraiser.
2. Enter our Discord server and tell us how much you have delegated in the channel called #my-delegation.
3. Once your delegation is confirmed, your account will be added to the list of members and you will start receiving one vote per day in your posts.
It's that easy and that fast. In the same way you can modify your delegation at any time, always notifying these changes in the Discord channel.
Do you not know how to delegate? We explain it to you in this simple guide
We have created a table with some of the most common delegation options. You only have to click on the amount you wish to delegate and a Steemconnect window will open with your delegation's details. It will ask for your active key to verify the delegation. Once verified, the delegation will be made.
Most commnon delgations
Not so usual delegations

If you want to delegate a different amount from the ones on the lists, you can delegate through the Steemworld tool by entering the following address:
https://steemworld.org/@YourUserName
Change @YourUserName for your Steemit user name.
Once in the website click on where it says "Delegations".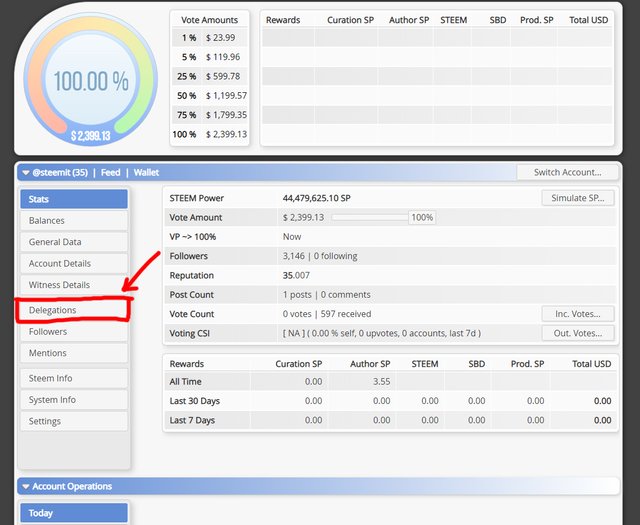 In this screen your incoming delegations will appear, if they exist. Click on the button that says "Delegate SP ..."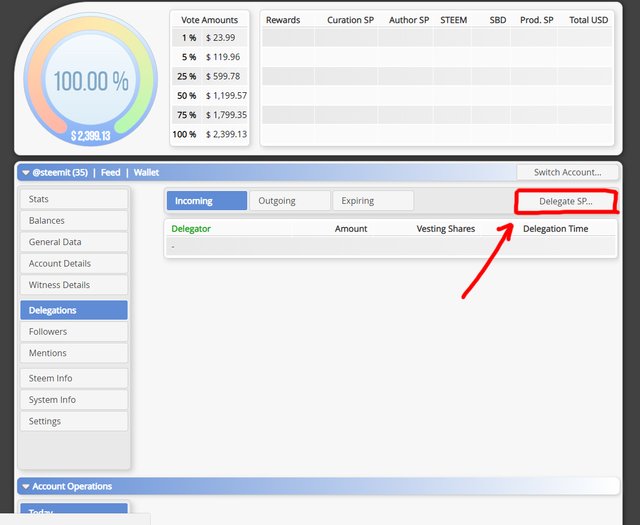 A new window will open where we must enter the delegation information:
From Account: here you have to type your Steemit account without "@"
To Account: type steemraiser
Amount (SP): the amount of SP that you want to delegate. Any value higher than 99.
Click Ok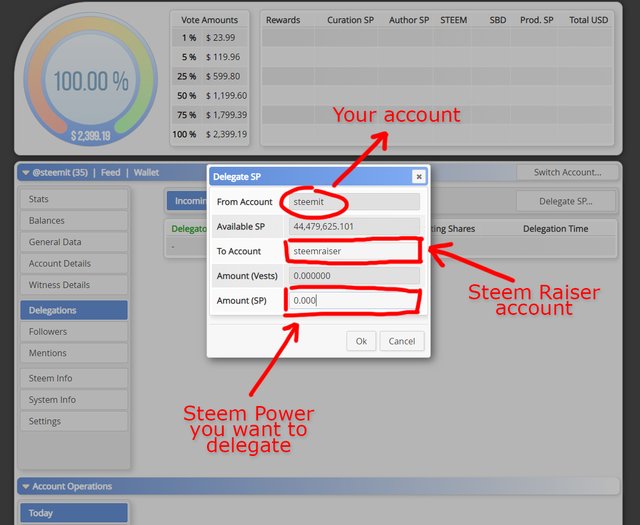 Another windows will show the summary. You have to confirm by clicking Yes.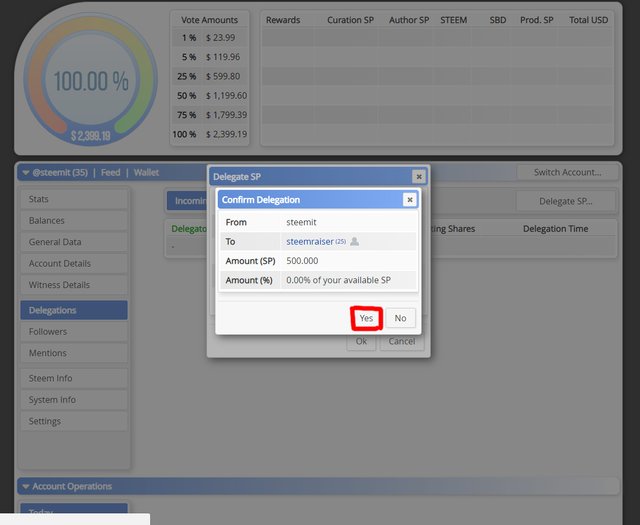 Another window will request for your private active key. Paste it in and hit Ok.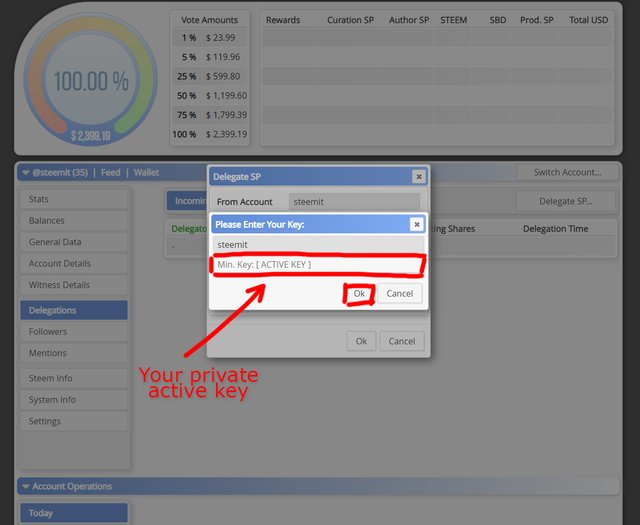 The operation will be confirmed in just a few seconds.
If you have any doubts about the delegation process you can ask for help in our Discord server and we will help you gladly.

At the moment we have 8,577.67 SP accumulated and our members are already enjoying their daily votes. Enrol and increase the profits in your posts.