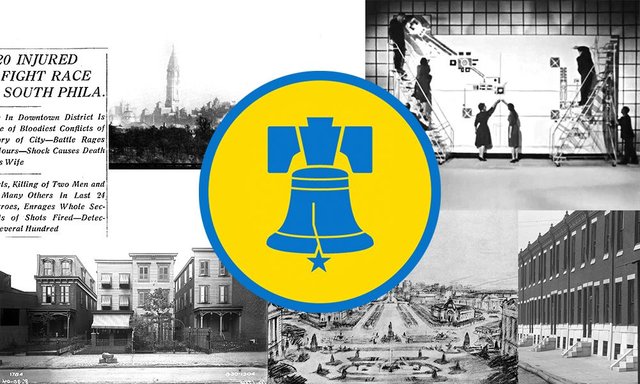 ---
In partnership with @sndbox, this Steemit account will be a platform for a graduate level course at Temple University: "Nonprofit Management for Historians" (History 5151) with Professor Kenneth Finkel, @kenfinkel in the College of Liberal Arts at Temple University (Philadelphia, US).
---
A Forum to Explore History, Empower Education and Endow Meaning
---
So you might want to "audit" my graduate course, History 5151? Welcome! (And if not, you are still welcome!)
We're going to get to know more about a niche in the non-profit organizational landscape, those places carved out by society where history and the public cohabitate. If you are thinking about a career in this sector, get ready to deal with an array of complex issues and challenges that await you. We'll explore many of these during the upcoming semester. We'll consider the meaning and significance of the idea of Public Trust in a mission-driven organization. We'll become versed in practices and standards from strategic planning to collection management and public programming. Students will explore the upside and downside of emerging trends, including innovative collaborations and mergers. When all's said and done, students of History 5151 will be better prepared to enter a world where survival is defined by adaptability.
Buckle your seatbelts!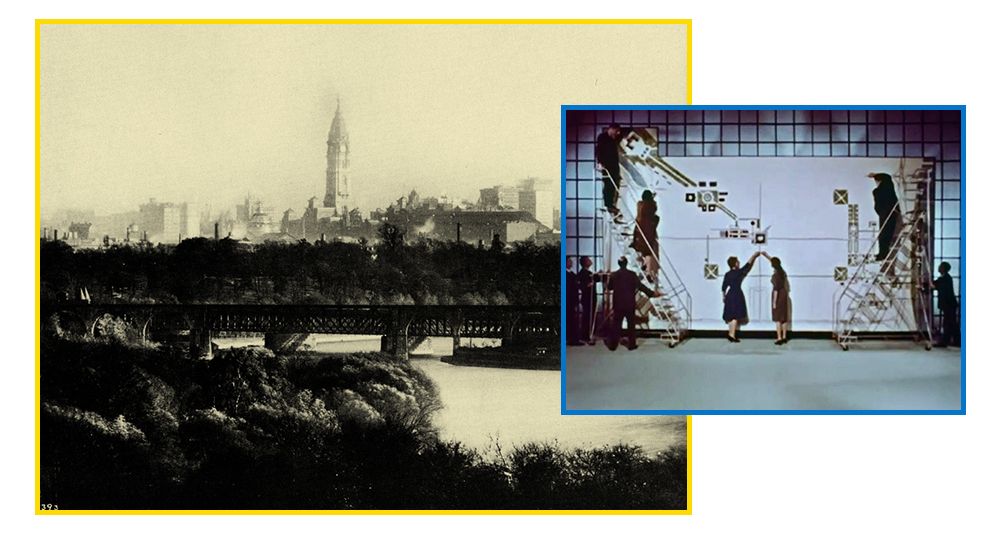 "Nonprofit Management for Historians" is a course in Temple University's Center for Public History (CPH), a place "that provides training in museum and historic site management, digital history, historical interpretation, and community history." CPH students intern "in the shadow of Independence Hall, wander the back rooms of our nation's oldest museums, and explore new possibilities for digital pasts at some of the most historically significant sites in the United States." Graduates become "mindful of community, collaborative practice, and the fraught politics of shared memory" and land positions as historians "wherever they are needed–from house museums to the halls of government."
Since 2011, Professor Finkel has written 210 historical essays illustrated with vintage images from the Philadelphia City Archives. You can see them online here at PhillyHistory.org. Previous to that, Finkel has written several books, including Nineteenth-Century Photography in Philadelphia (published in 1980) while he was curator of prints and photographs at the Library Company of Philadelphia, an institution invented in 1731 by Benjamin Franklin and friends.
Blogging and Empowering through Steemit
---
Steemit is a blog-focused social media platform that allows content creators and curators to earn Steem (a token, or digital currency) by blogging and upvoting other online content at Steemit. This new online environment has created a game-like experience where points can be collected by sharing various types of media content. Thousands of writers, developers and artists currently use this open-source economy to crowdfund for projects while simultaneously building appreciative audiences and followers.
You can learn more about Steem by exploring the bluepaper, here.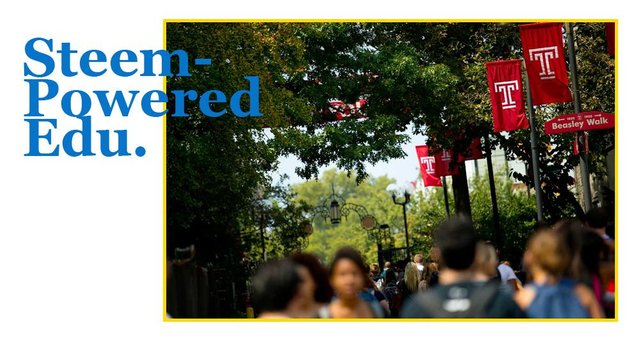 Steemit as a Forum for Education and Catalyst for Attention
---
Each student in this course will create their own Steem account, using it to blog, document and share their ongoing research and commentary. This account - @phillyhistory - will be used to compile research, evaluate it (through @sndbox upvotes), share it with the wider community and serve, in a sense, as a public space. (Sndbox is an incubator on Steemit that supports educational projects and community initiatives, learn more here.)
There's more: Since this project will be developed on Steemit there's the opportunity to build not only community interest, but to address local community needs. Steemit's capacity as a mechanism to fundraise for projects will be deployed right here, through @phillyhistory. This project is inspired by and borrows from the original project (by @sndbox) carried out during the Summer of 2017. That landmark project was "the first public-interest project supported completely by public interest."
STEEM Park is a public garden designed and funded exclusively through Steemit.com, a social media website that rewards impactful content with digital currency (STEEM). This garden within Herbert von King Park represents an entirely new way to empower community projects and celebrate special places within our neighborhoods… and is proof-of-concept that local community projects can be initiated and sustained through a global attention economy." (Learn more here.)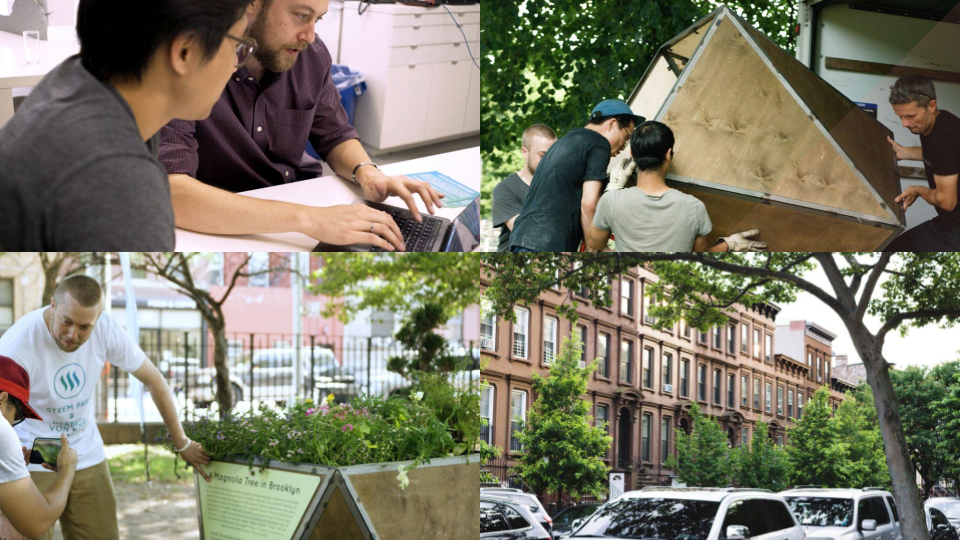 Steem Park design process. Located in Brooklyn, New York.
What will this upcoming course, History 5151, explore?
---
For the Spring 2018 semester, Temple University students, faculty, followers and friends will have opportunities to access extensive collections of artifacts and archives throughout the city's history institutions, with a special focus on the Philadelphia History Museum. The course will mine lost narratives embedded in historical holdings and will breathe 21st century life into vintage collections.
The Philadelphia History Museum collection consists of more than 130,000 artifacts including furniture, paintings, prints, photographs, books, signage, tools, clothing, maps, architectural models, scrapbooks, clocks, carts, etc. In teaming up with Temple, the PHM is exploring new strategies to enliven and enrich its massive holdings, a collection that is largely curated behind closed doors and locked drawers.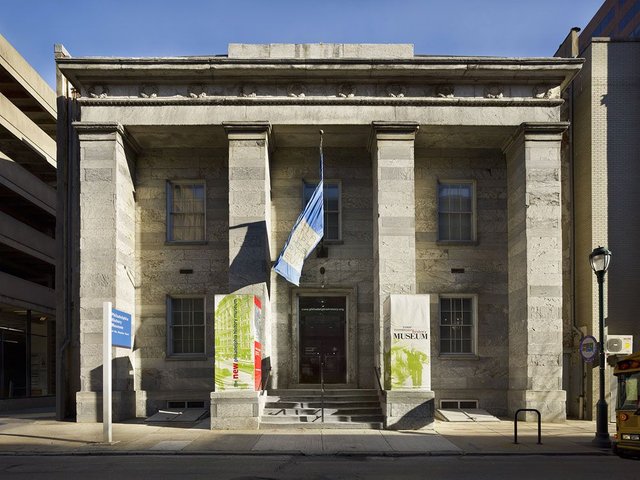 The Philadelphia History Museum, 15 South 7th Street, Philadelphia. (Source)
Through Steemit, our goal will be to excavate, highlight and narrate hidden stories. We'll be asking lots of questions:
What are the stories from the past that we want to explore?
Which stories deserve to be retrieved from the edge of oblivion?
How many are crying out for fresh reinterpretation, to be shared, mourned or celebrated?
How to even begin? This class will start by focusing on that question; we'll start by creating a window into the world as it existed 100 years ago, in 1918.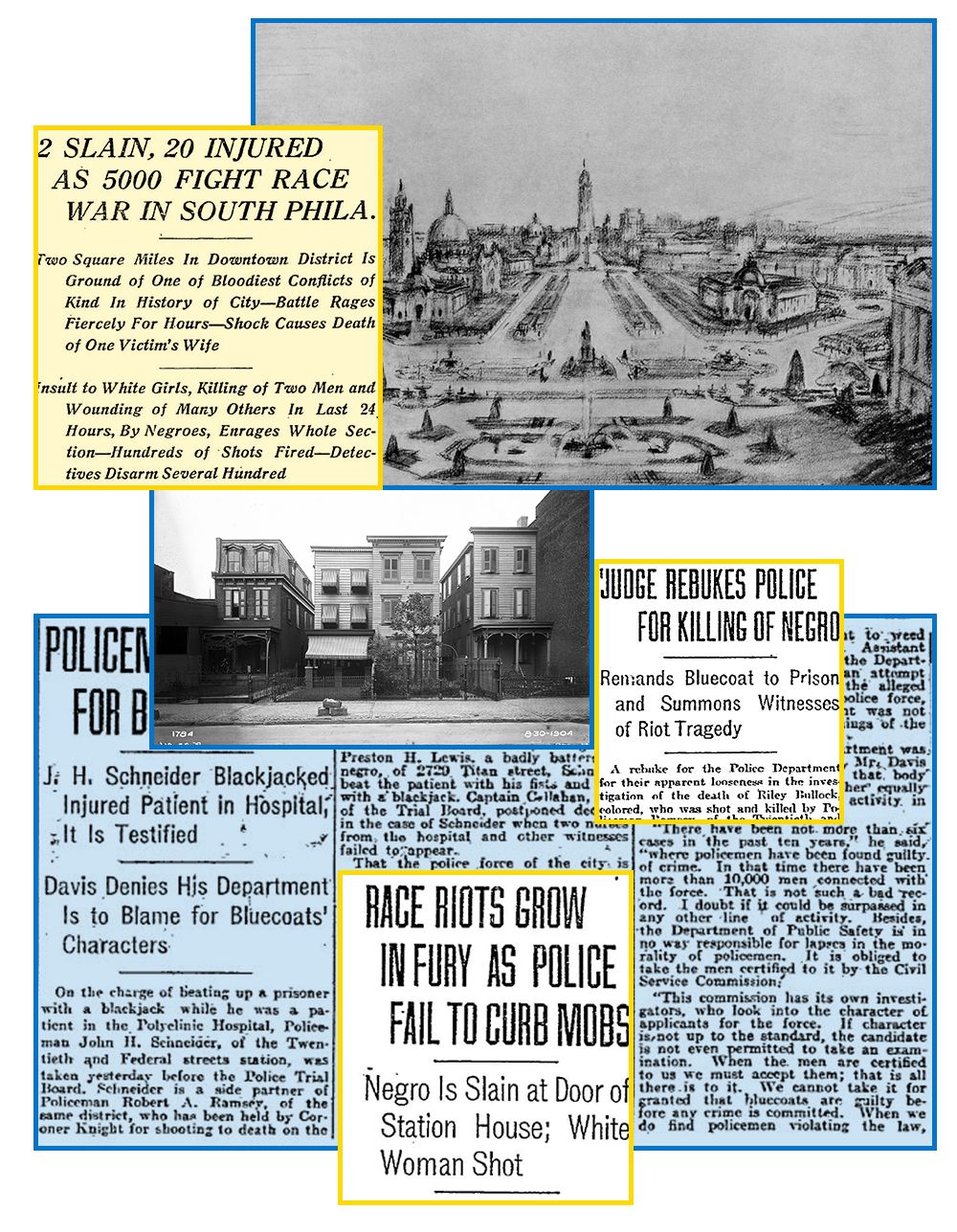 Why 1918?
---
More than most other years, 1918 was particularly rough, robust and even pivotal - not only in Philadelphia but throughout the United States and around the world. The events that occurred in Philadelphia that year can be used as a powerful lens for what took place elsewhere. In 1918 Philadelphians experienced a coal famine, race riots, labor strikes, police murders, an influenza pandemic, world war, xenophobia, soul-saving preachers and much more. In 1918, the city proposed a revitalized design of it's center and reformation of its politics. In all, the events of 1918 and the artifacts that represent them offer up narratives that are waiting to be explored, recontextualized, re-interpreted and remembered.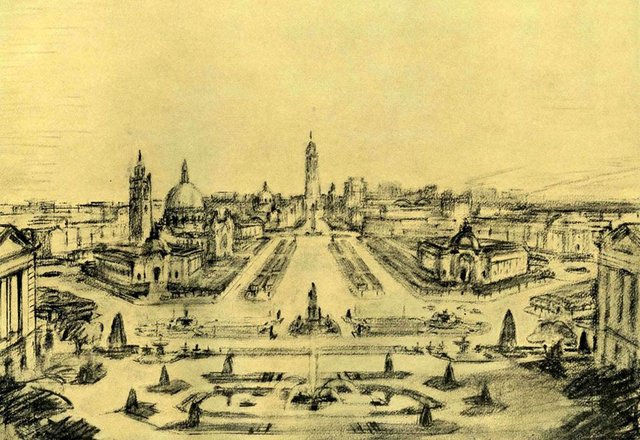 Jacques Greber's sketch for the Parkway, 1918.
Course Timeline
---
The class begins in mid January, 2018 and continues for the 16-week Spring semester until the middle of May. Students and faculty will begin with a Steemit workshop conducted by @sndbox in Philadelphia and work strategically (and transparently) through the semester constructing a dynamic body of shared narratives. Appropriately, these efforts will be tagged #explore1918.
The culmination will be a public history/public art project, leveraging the Steem earned throughout the semester in order to create resources that the Philadelphia History Museum would share with the broader public. Exactly what might that be, where, and what might it look like? Well... that's all part of what students and followers of History 5151 are going to be dealing with. And what we're going to be talking about right here on Steemit.
Stay tuned for updates as we get closer to the beginning of 2018. Over the next couple of weeks we'll be sharing more, including details and ways you (the Steemit public) can get involved in what we expect will be a great #explore1918 experiment.
---
Image References: (Source; Source; Source)
---
100% of the rewards from this post (this account and all student accounts) will go directly towards the support of the Philadelphia History Museum initiative.
Please follow, upvote, resteem and keep track as the course progresses.
---