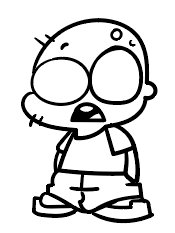 Hi, I'm Pepumu! I am a polyamorous Illustrator from México.
This is my story.
I'm fairly new to cryptocurrency, and practically don't know anything about it, I found about steemit and thought it might be a good way to start, as I read through the faqs and info I realized steemit is a lot about making unique content instead massively spreading memes and repetitive posts, and how its reward system does a great job at organically keeping it that way and detracting spammers and copypasters from becoming widespread.
About me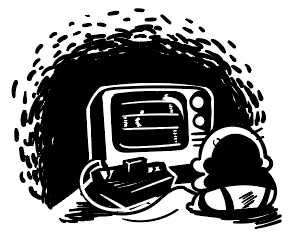 I've liked video games since I was little(wasn't bald at that time), I was around pretty much when they became mainstream, I practically grew with them, they taught me english and introduced me to fantasy and rpg's with Final Fantasy I. I've seen the raise of video games and their fall into the awful greedy industry they have become on most cases, giving rise to a new generation of Indie developers.

I'm mostly an arts person, I sketch since I was little creating my own characters and comic books, Ive tried music and literature but found to be lacking at both, though visual arts were always easier for me. 

So I kept working on it, and left my other skills unattended, but i became relatively good at drawing and anything related to visual arts.

My interests vary a lot, but they usually have to do with indulging in whatever pleases the senses, the search for happiness, truth or transcendence. I love good stories, in any shape or form, movies, comic books, videogames, anything that allows me to delve into new worlds, and I've always hoped to create my own.

The last few years of my life haven't been the best ones, I spent them trying to get economic stability and ended up working too much, Im very dedicated, and it was easy to get carried when following my dreams and forget to live, I felt like loosing contact with my inner child to the point of not even knowing what I wanted to do with my life.

Once it was too much I decided to change everything in my life and focus on the things that I really like and share them with the world. So what can you expect me to post? Sketches are a given, I enjoy making home-brew tabletop games or roleplaying campaigns, and would love to share them with more people, also steemit seems like a great place to write (with my lacking abilities) a long role campaign about a wizard pangolin that controls the flow of time and needs to figure out why the seers of the word are unable to se into the future beyond a certain date, I'd love to share my personal experiences in Polyamory and hopefuly promote this loveful way of life among other things.

Overall im pretty excited to be part of a community that breaks the old ways humanity is interacting with itself, promoting the uniqueness that every people has to offer to the world instead locking ourselves in content developed with only poor goals in mind like a blatant thirst for money without anything else but the greed for it. I hope to find a lot of interesting people with whom I can learn, teach and grow, people that strive for a new era of consciousness and empathy, and maybe find that lost boy I left somewhere along the way here.