Hello, great to be here :)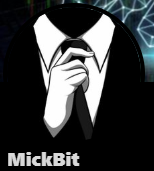 https://twitter.com/Crypto_Mickbit
Hello Steemit,
I decided to create an account here to compliment the work I do via twitter. I am a crypto analyst and trader, and my main focus will be to contribute my ideas on market behavior, important news in relation to the crypto space, and provide educational methodologies that I've have come to learn over the years.
As a quick disclaimer, I am not a licensed financial adviser - what is published both here and on my twitter are not to be taken as investment advice or instruction.
So about 2013 I started doing forex trading part-time as a kind of hobby - it was much like gambling at first and was an expensive learning curve. I gradually refined my method and kept learning as much as possible. Starting with the basics and moving into more advanced methods, I spent more time early on researching as opposed to live trading. I found it very interesting the elaborate way that elements of psychology had been integrated in a quantifiable way with such methods like Elliot-Wave Theory. In contrast, methods like Wyckoff building on the premise of an Institutional strategy to exploit, or W.D Gann and his use of Geometry and Time cycles. Honestly you can spend years studying all the various methods used and never make a single trade - I did a balance of the both.
I entered into the crypto space early 2017 - the year when everyone felt like a pro trader. I was sharing my trading ideas for free and eventually got recruited as an analyst for a private trading group. This i did for about a year with membership comprising of traders who also ran their own private groups. Eventually I pulled away from it due to concerns I had over risk tolerance and legal matters. The trader I am today would of slapped the trader i was back then - I had learned a-lot at that point of time but didn't feel an adequate level of confidence as yet, and needed more time to trial more strategies. A significant factor was also the bear market that followed - options became limited to 'shorting' on Bitmex or Bitfinex, which requires a different approach entirely. It's one thing to learn without trading, it's another thing to apply that live with real money behind it, and another thing again to feel somewhat responsible for capital of others that far exceeds your own. In saying that, it was a strong motivation to knuckle down on education resources - it just wasn't enough for me to have something that only worked half the time, needed to develop a method that was much more consistent.
Trade analysis is highly subjective and everyone has their own approach. I know one guy who only puts a single line on his charts, and another who's charts look like a laser show at a disco. With TA my goal is simple, identify low risk and high reward areas - doing this sent my approach around in full circle, extremely complex to the point where you create too much indecision due to conflicting cues, to what I use now which is much more simple and reduced to a handful of select tools/methods that have proven to be more reliable - this builds confidence and clarity. Below is an example of my charting on ETH/USDT recently.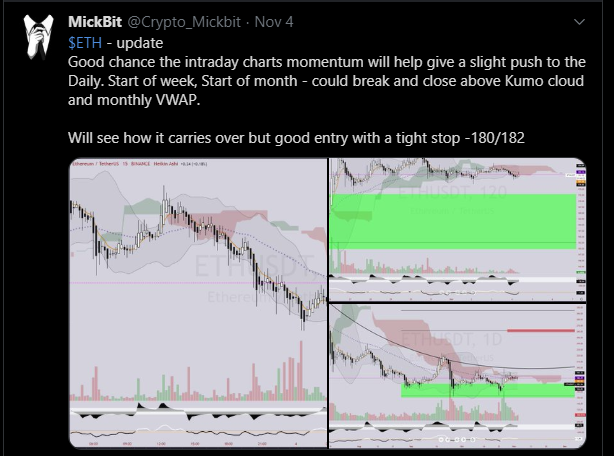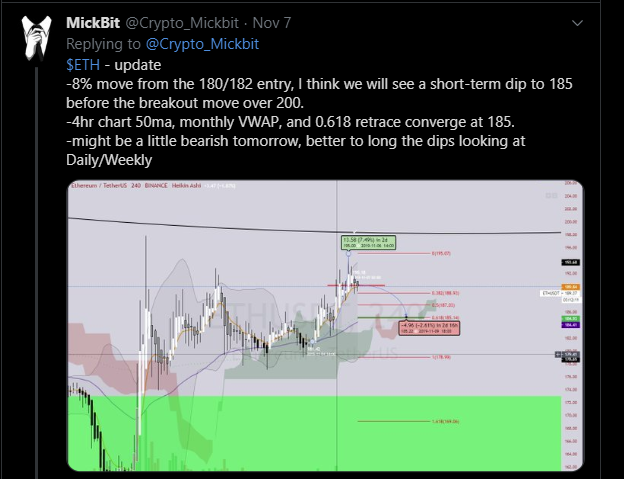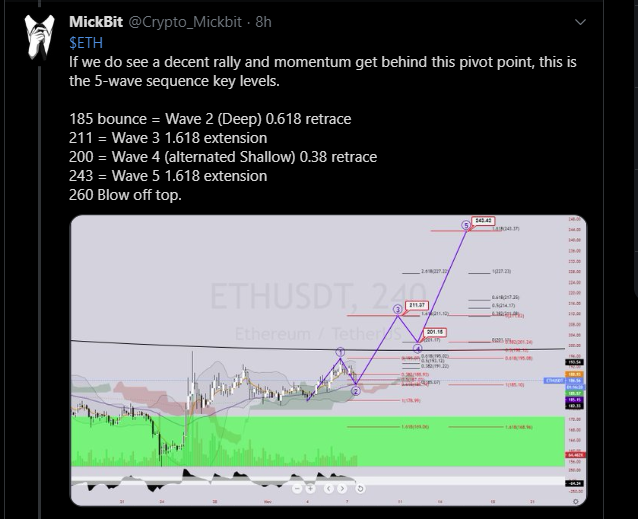 https://twitter.com/Crypto_Mickbit/status/1191118899019837440
I'll leave the educational material for future blogs/articles where I will go over what I have found works for me, and some of the pitfalls that I think traders are best of avoiding. Once again, this will not be intended as advice but I do hope value and benefit is gained for those that wish to adopt my methodology. Aside from this, I will be going a bit more deeper into my thought process with approaching a trade, criteria checklists, risk management, and how I filter out what I believe is insignificant cues that tend to trap traders into difficult positions.
Why am I doing this? Well I'm not doing it to gain a large following or make money from blogging, why I want to do this is simple - to give my contribution and support the crypto space. I understand very well how difficult and challenging it is to navigate the crypto markets in a profitable manner - you are surrounded by participants with a conflict of interest and all too often I see an almost abusive level of influence among it that is out to exploit the community rather than support it. The reality is, the crypto industry needs community support to thrive - and that will dry up and become very centralized if whales and exchanges eat up all the fish. What I wan't to do is give all the fish a big harpoon :)
Thank you for your time and support.