Another Way To Support Steem
The Motivation Of My Experiment :
Monetization and Profit sharing through Steem.
Here on the Steem Blockchain we managed to build HUGE communities and movements, our own Police ( Steemcleaners. BuildAWhale etc ). We always try to just regulate ourselves and make the best of it. With the coming updates ( SMTs, Hive ) this will become even bigger and enable Monetization. But for me, this is not it. Steem is "Social Network 2.0" ( The 2.0 stands then for Social Network + an Entire Economy ). I know it's not perfect but hey nothing is ... and if we don't try to make it perfect, it will just not be...
So to support the Steem price, we need an external revenue. Luckily we are in 2018 and there a lot of ways to make money.
Mining, Staking, Masternode/Smartnodes, trading...
If we truly believe in crypto and what it can change in the world. We should use our funds to help other crypto projects to gain more attention in Steemit as well. So that's how I want to use the funds, we vote for a coin, that we like. We Stake it, mine it, Hodl it. If you want to discuss anything, join my Discord ( The link is in my profile ).
To start this experiment, I will share the mini revenue that I get from my mini Mining Rig. We have 25% maintenance cost. The rest will be given in terms of shares after every 0.05 Ethereum mined for now. ( Check for updates will be edited at the end pls ) From there we should be deciding how much should go as Dividends and how much should stay as a reserve. So for the first Month, we will be documenting everything and decide along the way.
So to make it fair for everyone, I will create a new Account and post One time a day and after 7 days ( after the first payout ). I will start sharing with you the number of shares that you acquired through your votes of the said day. We can soon just make an FAQ for questions.
How The Funds Will Be Used :
It's a community effort, I already have an upvote service that is not profitable for me but for the minnows that I upvote. For some people, every Cent Counts. So I will be delegating the reserves to "boost" the upvote power and make it more profitable to buy. Same profitability still, but a bigger amount, helps more. So instead of a 0.05$ upvote maybe we can reach more and help people in steemit too. So this service will only be available for members.
I already have a community bot that is fully functional, that can automatically upvote members, just like SteemBasicIncome is doing. That could be a cool development for the "service". The changes are not made yet!
How can I become a member?
Register first in the comment section.
Gain shares through upvotes.
Buy shares.
The Shares:
Rig cost about 1500 Euros. 2 RX 580 with 8gb, Bios modded 29.90 Mh/s with 80 watts.
The power Supply was a big bully in the price and motherboard too since a gaming one.
Want more info? It's just in my apartment running 24/7.
I will prepare a link so you can see if the rig is running or not.
Rig cost = 1500 * 1,179051 $ = 1768.5765 $ .
So we can create like 1:1 ratio in shares. ( If you have better suggestions comment down below )
At first, all shares belong to me and will be subtracted from my shares.
Your upvote value will be converted to % of the payout of the post. How? I explained it in my last Article. A polished version is on the way.
If somehow we manage to gather more than the 1768.5765 $ and people still want to get in, I will then start a poll to ask what you want to do next with propositions to choose from )
Like a new GPU, make a smartnode etc..Source
Rules
Respect the rules and the rules will respect you.
If you have any problems/Ideas/Suggestions contact me in Discord or in the comments
Don't forget that this is an experiment and that I'm doing this for free. ( Hoping for support :D )
If I have to stop the experiment, I will just refund you all since I will log everything. ( I'm doing this because I want to make something like this happen )
It's all about trust. If you like me, like my swag and how I want to do things. Let's do this together as a team.
I don't care about where you from, we are all in planet earth and all Humans and crypto is supposed to tie us together so who is in ? :D
---
About me and statistics since I started a month ago
What you can expect from me: Full transparency and communication. You can reach me on my discord server, share your articles with us or just chitchat. I have extended knowledge about Steem and a lot of other projects too, but I never had the audience to explain all that. If you have a question just ask it and maybe it's so long that I should just write an Article about it :D. I always wanted to teach and explain stuff and I know I'm good at it. Give me a chance. My discord is still not much populated so come on in and become my first moderator? :D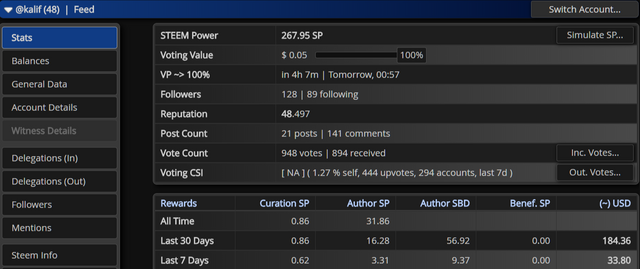 We have reached 128 Followers more like a 100 because of the bots but who cares it's enough for me and I would like to thank you for it. I will be giving away 1 SteemBasicIncome ( Sponsor you ).
Rules Again:
Be a follower
Be sure that you actually create content that can get upvoted from SBI.
write a comment. ( Try not to spam or upvote your own comment )
That's it. I love you all<3
My curation stats are not bad at all for just 268 SP. So my manual upvoting and don't forget I sell my votes to minnows too. It could be more. Achievement Unlocked :D.
If you want to profit from it too you can just follow my curation trail. When I don't sell a vote I try to find content to curate. See for yourself. Instructions on how to follow my curation trail and chill are on my steemit blog too.
If you read this far it means that you either love me or hate me right now but anyway :D
Thank you for reading this far and I can't find a name for the new account where all this should take place.
That is why, if you write in the comments a name proposition and I like it ( or a lot of you like it ) I'll be giving away another SBI to the person that came up with the name.
I will start with all this after we figur out a name or after 7 days. A new logo would be awesome, because I just took some uncopyrighted image to fill :D.