Fundraising for Enrollment in MN Medical Cannabis Program
I'm a proud grandma to an amazing teenager who literally calls me and asks to come to my house every few weeks and I am so thankful to have such a strong relationship with him. My biggest struggle in spending time with him--and life in general--is my rheumatoid arthritis, which I have had for over 30 years now. Arthritis deteriorates the cartilage in my joints, which is easy to see in my hands: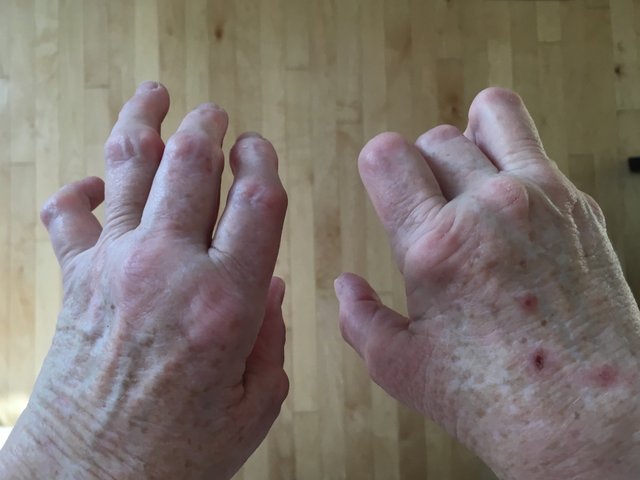 You might find it hard to believe, but I actually can type pretty fast! One thing I found years ago was the effectiveness of cannabis to help mitigate the pain and support my general wellness. Years ago I needed to keep this very private, though today opinions have shifted and there is far more openness and many states are decriminalizing both recreational and medical use.
Minnesota Medical Cannabis Program
I live in Minnesota, where medical cannabis is partially legal as it is only available in oils. Fortunately, they offer a broad spectrum of both THC and CBD, the latter of which plays a bigger role in pain relief and isn't as available when you're getting a bag of weed.
I've wanted to get involved, but I need a doctor to certify me and my "regular" doctor is traditional and won't prescribe alternative medicine and I've found any certifying doctor charges $250 and the annual fee to the state is another $200, so I need $450 to get started. Before I buy any cannabis. That's 3 full months of my regular weed budget and I have no way to produce this much extra cash so I've just sat aside without access to this pretty awesome program.
Fundraising on STEEM!
I barely understand this STEEM universe but my son assures me there's a great community here that might offer some support for my journey so I'm ready to get involved. If I get in the program, I'd obviously get a bunch of the oils and write some posts about the entire program and what they have available.
Minnesota is pretty restrictive in that you are not allowed to smoke the flower plant material, only the oils and tinctures produced by the two licensed providers. The program has struggled with limited enrollment so I'd like to get more visibility into this to not only share my story but ultimately help raise visibility and grow enrollment in the program.
I'm mostly interested in looking across the THC --> CBD spectrum to see how it impacts pain and share these results with everyone.
What More Can I Do?
As I've mentioned, I need $450 USD, which at today's prices is about 1,100+ STEEM and obviously no recent post has produced rewards anywhere near that amount so I'd like to figure out some other ways I could get a little closer to my goal. I'll certainly keep posting, but until I'm in the program I'm not really sure what to talk about. Please share any additional ideas for ways to raise a little more money and get my hands of some of these oils to share that story with everyone!