My first time posting here on Steemit ---- Mein erster Post auf Steemit!
Dear Steemians, liebe Steemians,
glad to be finally getting down and finding the guts to introduce myself to you ... follwing my wife's/@jkiw's inspiring first steps in this community ...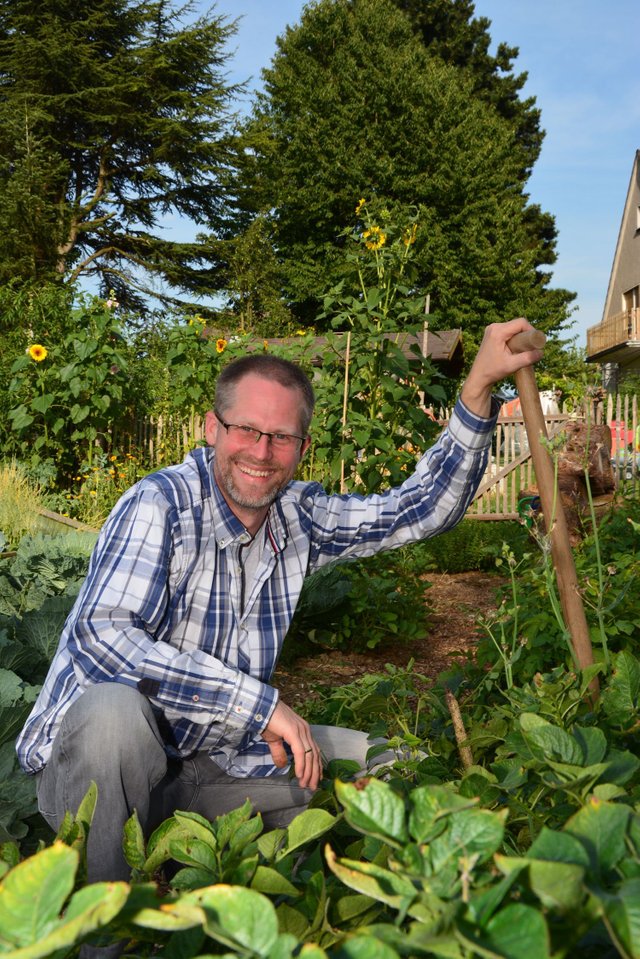 Talking of "community": After extensive searching and travelling I find myself nowadays living with my missis and our two dwarfs on the slopes of "Mount Ölberg" in the Seven Mountains, Germany. Up there, as picturesque as one can imagine, we created what a friend of ours recently called a "biotop": We cultivate our veggies, breed our small livestock (rabbits, chicken) and try to balance the claims of the "system" (be it school or any other of our funny institutions) with the demands of a healthy familiy life. And I would imagine that quite a few of my posts to come will grow around these themes.
Ich freue mich, nun endlich einmal zu Potte zu kommen und einen ersten Vorstellungs-Post hier in der Steemit-Gemeinschaft zu machen, nachdem mein Weib/@jkiw mich nun schon eine ganze Weile triezt ;-) ... und nachdem ich ja sogar am Rande schon einem Steemit-Stammtisch in Bonn beiwohnen konnte!
A propos "Gemeinschaft": Nach Jahren des Suchens und Reisens hat es nun mich, mein Weib und die beiden Zwerge auf die sanften Hänge des Ölbergs im Siebengebirge verschlagen - ein Biotop, wie es ein Freund kürzlich nannte, das man sich gar nicht pittoresk genug ausmalen kann: Hier bauen wir unser Gemüse an, ziehen Kaninchen und Hühner auf und geben unser Bestes, die Ansprüche des "Systems" (wie Schule oder jede dieser anderen lustigen Institutionen) mit denen eines gesunden Familienlebens auszubalancieren - und wahrscheinlich werden sich einige meiner kommenden Posts wohl um dieses Spannungsfeld ranken...
Another story line could go: scholar of economics and scientist - health practioner and homeopathist - hubby and father - gardener and cryptoguy
Ein anderer Erzählstrang könnte sich entspannen um die Themen: Ökonom und Wissenschaftler - Heilpraktiker und Homöopath - Ehemann und Vater - Gärtner und Krypto-Interessierter
In any case: I look forward to learning about awesome people and exciting stories!
In jedem Fall freue ich mich auf tolle Menschen und aufregende Geschichten!
The very best regards for today - für heute seid herzlich gegrüßt
von Foxglovestrat alias Sven