Introducing @entrust | A 100% Delegator and Post Promoter Focused Bot
Hello Steemians! Meet @entrust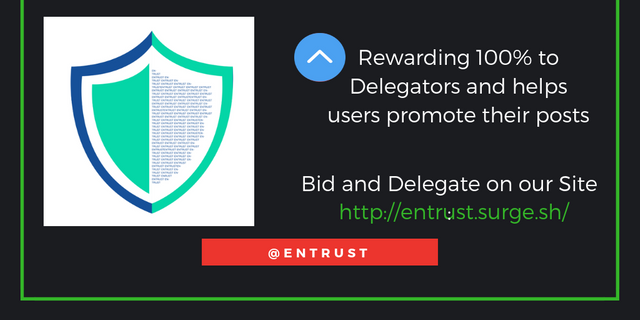 @entrust is a bot focused on rewarding 100% to delegators, aiming to help Steemit users promote their posts. We have made this to give value to the community by sharing all the bid rewards to delegators and intending our voting power to run the system.
Given the name itself, we want to build a service to our bidders and delegators that they can entrust. @entrust is focused on developing into a sustainable service that benefits the community.
Delegators payouts will be given daily and shares are automatically calculated based on the amount of Steem Power you delegated.
We have built an entirely user-friendly (Both bidders and delegators) site which makes it more convenient to Steemit users. Our own website that makes you more convenient with the following :
Automatically Delegate with us without hassle. We built it for your convenience. This delegate panel uses Steemconnect to perform the delegation process. So it is safe to use.
Please consider delegating with us, we have provided a quick delegation link below :
10000 SP | 5000 SP | 1000 SP | 500 SP | 300 SP | 200 SP | 100 SP
If you wish to delegate more, please visit our own Website at : http://entrust.surge.sh/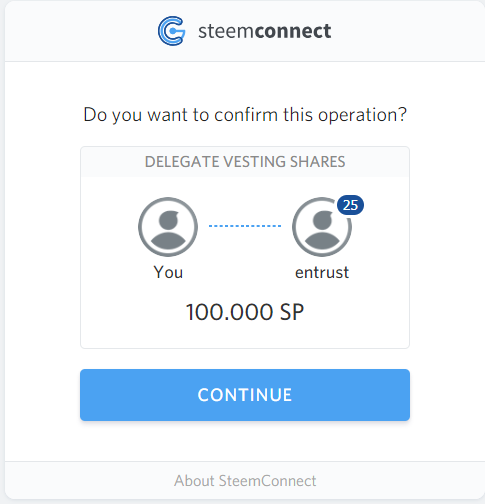 ---

Apart from convenient delegation process, we're more than focused on giving a convenient place for users who wish to promote their posts with
@entrust
. It provides accurate / real-time information a user needs.
Current bid amount will be 0.1 SBD/STEEM which will be voted once @entrust's VP becomes 100%. Voting will be done every 2.4 hours (time needed to regenerate @entrust's VP to 100%).
You can also send either in SBD or STEEM depending on what you like.
Current and Last Round Bids

We provide you an accurate information regarding the bids of the
CURRENT
round and the bids that happened last round. We wish that transparency (in the Steem blockchain) becomes more convenient on your end and we believe this will be beneficial to Steemit users.
---
Consider delegating to @entrust
Entrust your SP with us and we'll make sure we'll distribute all of the bid rewards to delegators!