#Introduceyourself: this is @emma-anna, a weirdo from Amsterdam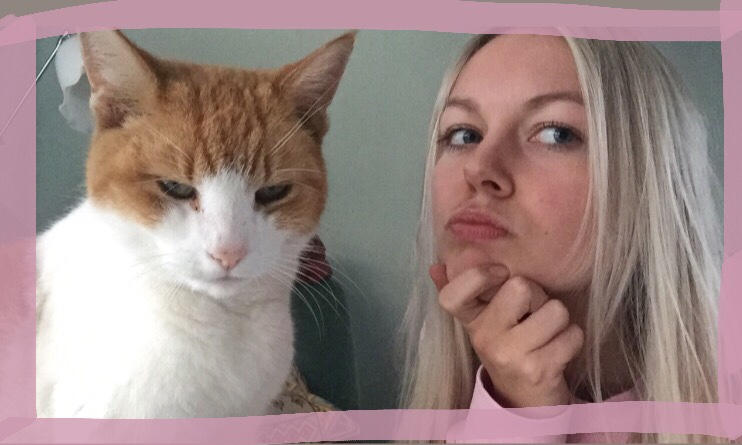 Hi everyone and welcome to my very first #Steemit blogpost! ~ excited ~
After lurking for a little while I thought it was time to start participating in a more active way. Hence this introductionpost. Read it and weep. (kidding)
WHO AM I?
My name is Emma Anna, lover of cats and drinker of beers, I'm (almost!!) 24 years old and I live in Amsterdam (please don't immediately start bringing up getting high/drunk/stoned. I will scream at you). I'm a freelance journalist, editor, and general creative content creator. Though I've enjoyed writing for several big platforms, I decided it was time to do something more for myself instead of for some company. It gives me more freedom to make absolutely anything out of it, which I'm excited about.
As for my personality, I've been told I'm both adorable and quite agressive, as well as stubborn and very reasonable. I love playing psychologist for all my friends, though I hate sharing my own problems. I can make people feel awkward, but I'm fairly comfortable in all social situations, and I feel like I can find myself in both extrovert and introvert aspects. So yeah - I'm pretty much all over the place.
WHO IS THAT HANDSOME CAT?
That would be mine. He is definitely the best cat in the world, except all cats are the best cats in the world.
AM I INTERESTING?
Well I mean, at least a little, I hope. I tend to not take myself too seriously, and I have a lot of either crazy or just plain funny stories to tell. But stay tuned, and find out the answer for yourself.
LIKES
I'll skip the classics - #MUSIC, #TRAVELING and HAVING #FUN WITH #FRIENDS OMG YOU GUYS!! You know the drill.
I like movies that make you feel things, all animals, the smell of coffee (though I don't drink coffee), and soft pillows. I also enjoy learning new languages, and I am currently working on Spanish and Swedish. So if you speak either one of those languages: hola y como estas? Me gustaría practicar español/ Hej vänner, jag talar lite svenska. Jag vill lära mig.
DISLIKES
Fish really freak me out. Also, I don't care for people who take themselves a little too seriously. And Hitler was a pretty nasty guy, too.
WHAT CAN YOU EXPECT?
Contemplation with a dash of humor, probably in the form of blogposts and hopefully videos after a little while (as soon as I'm comfortable with filming myself which still feels like a silly thing to do). I look at daily things in life and try to let it surprise me. I don't plan on sharing already existing internet-content with you. Unfortunately, I see people do this more often than I'd hoped. So I want to create all new content, and share with you some things that haven't already been published elsewhere.
ADDITIONAL QUESTIONS THAT I HAVE FOR EXPERIENCED STEEMERS (Steemers? Steemians? Steemians.)
How often do you guys post? What is recommended, what is expected?
How many of you put actual money into your account? I have no experience with this and I am a little careful with this.
Can anyone elaborate a little bit about Dtube? It's fairly new to me.
Where are most of you guys from?-
If you have any weird thoughts about daily life, about yourself, about me - please comment them! I'd like to hear all views on life, random fun facts etc.
Thanks for reading! Hit me up if you're up for a little language-practice or just feel like talking and/or sharing.
Love,