Dear Steemians
Warm greetings from the land of wildflower and cork oak prairies. Me and my bees have been harvesting these fields for some decades. The amazing environmental properties of this little corner in south Europe are unique.
What used to be a forest of cork oaks, was converted to grain fields during the dictatorship. The whole region was then known as the "Portuguese Barn". Nowadays, with EU open market economy, grain is no longer interesting. These fields were finally converted to cow pastures. No pesticides or fertilizers are anywhere to be found. Uncontaminated fields and fields of wildflowers, cork oak trees and cows.
---
Where intensified or industrial beekeeping would harvest all the bees' work. Making them feed on sugar water instead of honey. However, it seems sugar fed bees are unhealthy bees. After some time, colonies always need some kind of exo treatment, or nutrients and vitamins. In the end, nothing can be compared to the original, authentic, natural process.
Regarding the beekeeping style, nothing better than mother nature to dictate what's best, and who's fittest. Apart from varroa destructor (mite) prevention, our bee's contact with man barely goes beyond harvest time and the occasional check up. Which one could consider minimalistic compared to today's standards.
---
The nectar, pollen and resins from our amazing flora are rich and vivid. Together with a minimalist approach to beekeeping, it brings up high grade aromas, sweetness, textures and taste intensity. Premium, first hand, completely raw, unprocessed, from mother nature. Time to share it with you.
I will be posting here all the content produced during my experience and continuous research on all beekeeping related topics. Keep in touch, follow @drapis.
---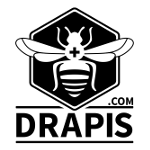 www.drapis.com
@drapis
---
Twitter @drapiscom // Facebook @drapiscom // Instagram @dr.apis