Introducing CycleFeed: Curation Project For Cyclists By Cyclists
Welcome to the @CycleFeed introduction! - Oil your chain, adjust your saddle and hop on board. This is a project to support our fellow cyclists across the Steemit platform.
We are a project supported by @TravelFeed and spearheaded by @mrprofessor, @twowheeledmonkey and @robmolecule, with the special collaboration of @amikphoto (art and logos), the cycling community and friends.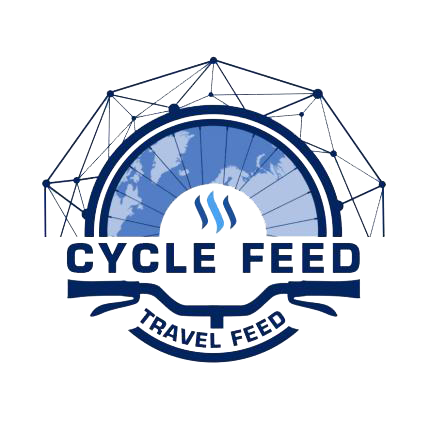 Logo art by @amikphoto.
---
Being traveling cyclists, @mrprofessor, @twowheeledmonkey and @robmolecule have started discussing the importance of supporting the cycling community. It all started after having observed the amazing work done by @TravelFeed, who have done something similar for the travel community on Steemit. This opened a healthy discussion with the cyclists to address what could be done.
THE PROBLEM
The daily growth of the cycling community on this platform opened our eyes to the important role the bicycle has in the lives of people all around the world - it's a clean method of transportation, great exercise and can bring awesome people together. On top of that, we want to spread the benefits of cycling and strengthen the community. We figured that the best way to do so, is by supporting each other.
But How? Over time, Steemit has had amazing projects supporting the cycling community such as @thankyoubicycle. They were doing extensive curation work highlighting the Bicycle world. Unfortunately, the project slowly faded away over time.
We also have the cyclist @robmolecule, who is bravely curating cyclists across Steemit. But he's alone on the task and we'd love to incorporate him into the project, in order to help him reach a wider audience. (Thank you for your amazing effort Rob!)
Without having a project backing our niche, many cyclists seem lost in the sea of posts; some use the #cycling, #cycling4steemit, #bicycle or even the #travel and #adventure tags. Some of us, who explore the traveling side of the bicycle, are able to use the tag #travelfeed, but that is limited for travelers, excluding those who are professional competitors, commuters, people who like to share their daily trainings and so on.
This sheer amount of tags is not only separating us into small groups, but makes it hard to find good cycling content,  adding confusion and frustration to new users who might be already overwhelmed by Steemit.
SUPPORTING THE CYCLING BLOGGERS
In order to address the problems, we want to unite all the cyclists on Steemit and build a project to help curate cycling content. This will support new and existing users on Steemit to get recognition for their talent and hard work. 
INTRODUCING CYCLEFEED
Now @CycleFeed is born - a creation of @mrprofessor, @twowheeledmonkey and @robmolecule with full advice and support from @TravelFeed's team.
We plan to support all posts related to cycling in general. We propose the use of the tag #cyclefeed. It will now be easier to find your cycling text, blogs, videos, photos; increasing your chance to be seen on the busy Steemit platform.
THE CURATION INITIATIVE
Under the name @CycleFeed, we'll resteem and upvote the best content each day, starting with one for now, increasing the amount in accordance with our available Voting Power.
To achieve that, it'll be of great importance to build a solid curation trail. Even the smallest supporter will have huge impact on this project. We also plan to expand our curation contribution over time by featuring selected posts in different categories (still under development) and with challenges that will be presented weekly on @CycleFeed.
All our daily resteems and Weekly Round-up posts will be fully backed by @TravelFeed, conferring a considerable reward for those who produce original and interesting content.
THE FUTURE
We aim to build a solid curation project with credibility and influence, to attract people interested in delegating power to the cause. This way we'll be able to spread the Bicycle word to a greater audience, which will benefit those who are willing to take Steemit seriously and encourage others to give it a try.
For our mission, we want the project to be a community work and not a centralized project; all the earnings from @CycleFeed for now will be converted into Steem Power and the earnings distributed to those creating amazing content.
Follow and upvote @CycleFeed
Follow our curation trail on Steemauto or delegate Steem Power: Check out our tutorial!
Use the tag #cyclefeed in your posts: Check out the requirements!
With over 500 members already on the Steemit Travellers Discord, it is an excellent place to meet other travelers and chat about traveling! Now you are also presented with the Cycling sub-group, that has been created just for you, the Cyclist. The server is also the place where you can ask all your questions about CycleFeed.