How to Participate: Use #cyclefeed in your Posts!
Welcome to the @CycleFeed! - Oil your chain, adjust your saddle and hop on board. This is a project to support our fellow cyclists across the Steemit platform.
We are a project supported by @TravelFeed and spearheaded by @mrprofessor, @twowheeledmonkey and @robmolecule, with the special collaboration of @amikphoto (art and logos), the cycling community and friends.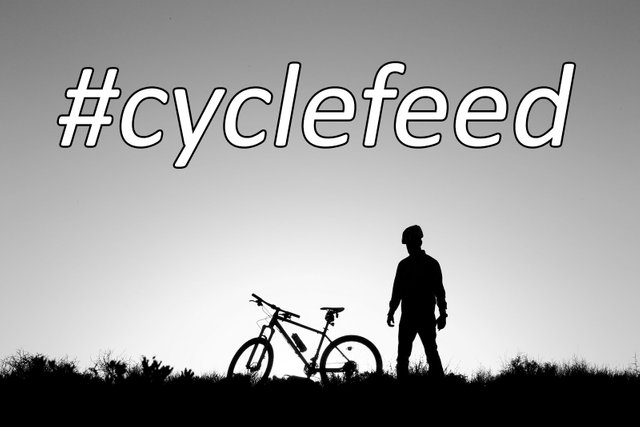 Image art by @sina-adventure.
---
How to Participate: Use #cyclefeed in your Posts!
@CycleFeed is your new curation project for high-quality cycling content with additional support from @TravelFeed. You can find oIntroducing CycleFeed: Curation Project For Cyclists By Cyclists post below.
Introducing CycleFeed: Curation Project For Cyclists By Cyclists
If you're a dedicated cyclist and enjoy blogging about it, make sure to use #cyclefeed, whether you are a daily commuter, professional competitor, traveler or casual cyclist. We'll find your cycling article, and put you in our selection list so that you can benefit from our curation. This will result in greater rewards, a better reputation and more followers.
If you're planning on using #cyclefeed, please check first that your post fits our criteria:
Only original content;
English (or bilingual);
At least 250 words;
Proper sourcing if you are using any media that is not your own;
Only cycling-related content.
It is for you to decide how to accessorize the post (images, videos, gif, styling, etc.). You can use #cyclefeed for your DTube/DLive videos, as long as your post fits the criteria above (250 written words!). And if you're a travel cyclist you can also use the tag #travelfeed.
We are excited to read about your training plans, guides and diaries!
Any plagiarism or repeated abuse of the tag will be reported to @steemcleaners. If you discover any plagiarism or tag abuse, please report it immediately.
If you want to help build @cyclefeed, you can:
Follow and Upvote @CycleFeed
Follow our curation trail on Steemauto or delegate Steem Power: : Check out our tutorial!
Use the tag #cyclefeed in your posts: Pay attention to the requirements!
Our resources will be used to Power Up @cyclefeed and to vote on content creators. Any help is greatly appreciated.
With over 500 members already on the Steemit Travellers Discord, it is an excellent place to meet other travelers and chat about traveling! Now you are also presented with the Cycling sub-group, that has been created just for you, the Cyclist. The server is also the place where you can ask all your questions about CycleFeed.