We offer a new concept to promote quality content opposed to the mindless bidbots. Our service is open to authors of quality content and supporters delegating steem to @curatorbot.

Getting promoted by @curatorbot as an author:
Every day we manually select the best post from all submissions and promote it to our followers and upvote it at 100% voting strength. This service is especially designed for new authors that do not yet have a large following. It provides the opportunity to gain immediate recognition by the community.
We hold these featured posts to high standards and will rather not support a post for the day than supporting a mediocre one. Being featured by us should serve as a certificate of quality.
If you want to participate in this service you must submit your post by adding a 5% beneficiary payment to @curatorbot, meaning that 5% of the rewards from the post will go to @curatorbot to fund the manual curation. This cannot be done from the steemit interface yet, but there exist great tools to do so, for example from steemwhales
Simply type your post as usual, then instead of publishing it directly copy it into the steemwhales interface, add us as beneficiary and sign with your posting key, found under wallet->permissions in steemit.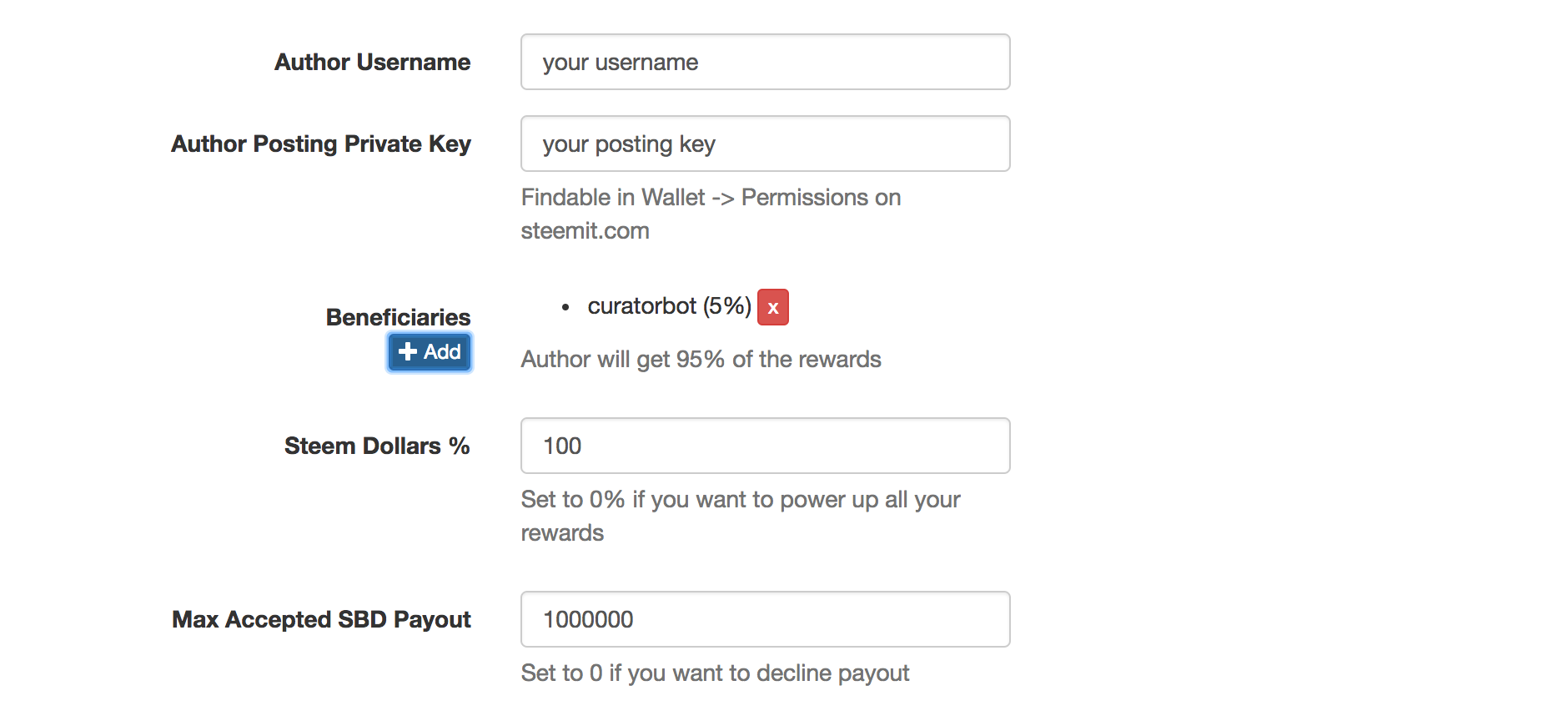 After submitting your post please go to our discord server and post the link to your entry into the postpromotion channel. We will then review all posts manually and upvote plus resteem the best one. A post remains eligible for promotion over the next 6 days.
Apart from the small 5% fee to support us and fight spam using this service is completely free to use for everyone.
Getting upvotes from @curatorbot as a supporter:
You can register as a supporter of @curatorbot by delegating steem power and confirming your delegation in our discord.
Supporters receive upvote shares, with each delegated steem power providing 9 shares. We will then upvote one post per day at steem power corresponding to the number of your shares. This means that a 10sp delegation will give you a 90 shares and consequently a daily 90sp upvote.
So far this resembles the operation of most delegation voting services. But this project is a little different. We are not just a service distributing upvotes, our mission is to promote manually curated content of selected authors and we have an income stream from the 5% beneficiaries of submitted posts. In addition the upvotes of @curatorbot generate curation rewards that most services keep as easy income. And these are not small gains, more than 13% of the total steem rewards are paid as curation rewards according to steemdb.


We share our income with our supporters! At the beginning of each month, the income of @curatorbot will be split into 50% rewards for our manual curators and 50% for our shareholders. The new sp strengthens the upvotes of @curatorbot meaning we can give out addtional upvote shares and distribute these to our existing supporters. You start out with 9 shares per delegated sp, but your shares and upvotes will grow over time.
Delegating to us, means that you are really a part of this project and benefit from its success.
How does @curatorbot make its profits?
The steem delegated from our shareholders allows a total of 10 daily upvotes. We share 9 of them directly with our supporters (in the form of 9 shares).
The last upvote is used to promote the daily featured post. This means that we do not make any profits from the upvotes of @curatorbot.
The bot will be upvoting a lot of content and earn curation rewards. In addition we will have income from the beneficiary payments of the submitted posts. All of these incomes will be shared at 50% with our supporters in the form of additional shares.
Compared to other upvote for delegation services such as @smartvote, our supporters start out with a 10% weaker initial upvote because we support selected authors. But your daily upvote grows and eventually surpasses the upvotes of alternative services. The reason this is possible is simply because we make significantly less gains for ourselves than comparable services. Our vision is to rather be a support for minnows and new authors than a maximum profit operation.
This is the initial setup of @curatorbot. We have many additional ideas that we will plan to implement to make our services more attractive. All changes proposed by us will be open to vote by our supporters.
Thank you for using our service,
The curatorbot-team
---
@curatorbot is a community project promoting quality content from promising new authors and minnows with upvotes and resteems.
You can submit your posts to our promotion service on discord and win the daily upvote for best content.
You can also support the project by delegating steem to @curatorbot and be rewarded with daily upvotes, that grow in strength with the success of success of our project.
Please contact us at any time on our discord server or leave a comment