Block Deals - A new way to earn with Steem (Meet the Team)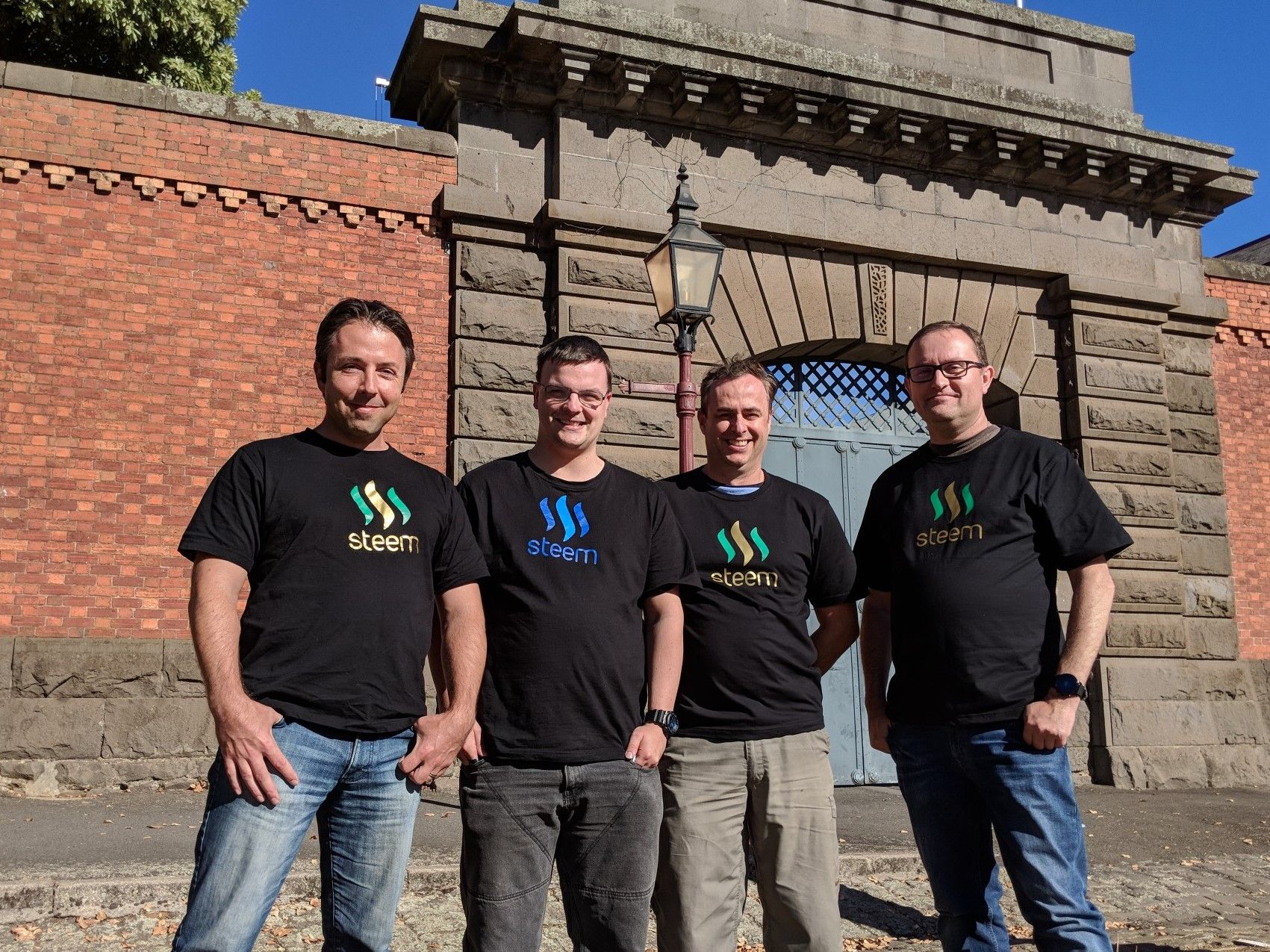 Meet the Team
It's been a few days since we launched BlockDeals.org and we've been really humbled by all the community support so far. Some Steemians have even posted their first deals. Woohoo!
However, we neglected to take the time to fully introduce ourselves so here's a little more information about the Block Deals Team.
We are four Aussies, who see huge value in the Steem Blockchain and wanted to contribute to the bigger picture rather than just contributing via the Steemit platform.
In the photo you'll find [left to right] @mazzle, @dealsy, @just2random and @scottweston and this photo was taken in front of an old Goal in Ballarat, Victoria which is home to a local hacker-space.
As you can see we looked pretty happy with ourselves, but that's not because of the launch but rather we figured out how to take this photo without a tripod. (Of course, we could have asked a passing pedestrian to take one for us but it seemed very un-hacker like at the time)
In the photo we're wearing the lastest T-shirt designs from the @steemitshopaus which is owned and operated by @mazzle while @just2random is developing the steemaustralia.com website with local Steem content.
Yes, we are a resourceful group and have a variety of skills which complement each other nicely. Essentially, @scottweston and @dealsy are working on the back end while @mazzle and @just2random focus on community engagement and promotions.
If you want to know more about each member of the team be sure to check out their personal profiles on Steemit.com
And rather than fork existing code, we've decided to write the code from scratch to ensure we can serve the millions of views we expect to receive once we begin actively promoting this website.
Yes, it's going to be BIG and scalability has always been our number one focus.
But this project won't work without sponsorship as we are all relatively new to the Steem Blockchain and don't have the required SP to upvote people contributing to the community.
So if you see value in this project please don't hesitate to delegate a little SP our way so we can ensure the Block Deals community is rewarded for their efforts.
Thank-you to @ausbitbank and @bec-on-the-block who have already generously donated SP to this project, but I want to give special thanks to @bec-on-the-block who was our first supporter and delegated 50 SP even though she only had 78SP in her account.
Wow! That's special and won't be forgotten any time soon.
It's these selfless acts of kindness that will always remind of us what Steem can be and the sort of community we want to grow within Block Deals.
If you'd like to contribute to the Block Deals project please consider making a small SP delegation donation via the links below.
50SP | 100SP | 200SP | 500SP | 1000SP
And be sure to 'follow us' to keep informed of the new feature releases as we work towards a full beta release and unleashing Block Deals on the world.