DTube Intro: What to expect & why I'm here to stay.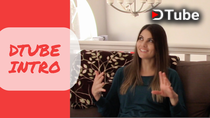 ---
What to expect from my channel: Travel, cooking/recipe videos, lifestyle, crypto info and other fun stuff.
Why I'm here to stay:
Originally, I said I would test out Steemit for about 1 month or so to see how it would work out and if I would continue posting etc… Just a little over 1 month now and I'm here to stay! Powered up some Steem… and here are my reasons why:
MORE THAN JUST REWARDS:
There's obviously an incentive to post on steemit because your rewarded with steem currency but that's also an incentive for people to post great content, (that alone beats facebook/Instagram) because let's face it, bad content just won't get upvoted. It's also an investment in yourself and your future… I think that with persistence, can you imagine what Steemit will look like? I've been here just over 1 month now and I've learned a lot about steemit and the platform. I think it's a great platform for many reasons and a great use of blockchain tech.
STEEMIT COMMUNITY:
This was something that I never expected…Community on the blockchain! In the short month I have been there I have met some incredible people and learned an incredible wealth of knowledge that I can take with me the rest of my life…I have made friends and become part of a crypto world community it's truly impressive. I've met some pretty cool peole on discord and been able to make some real steemit friends very early on.
Shout outs to channels I've been able to join &:
Cryptocurrency focused discord channels: (Team-Bartcardi) https://discord.gg/pcBhuZN
Travel related discord channel: (Steemit Travellers) https://discord.gg/BBHYkaa
Literally any interests you have has a large user base where you can connect with people and gain. Grow in many ways.
WITNESSES and others ARE WORKING TO IMPROVE/PROMOTE STEEM:
I didn't realize how dedicated some of the top dogs actually are. Minnow projects all over the place helping out the new comers to Steem and promoting their posts if the posts are good enough. From a new users point of view, it could seem like the posts are just racking in huge amounts of money but it's actually due to the fact that they are working super hard on promoting and improving the platform.
-I recently learned about Minnow support project and how hard they are constantly working to help out minows with upvotes on the automatic bot.
-One of my travel blogs was recently upvoted by @curie which helps promote minnows with good content, for me that was a huge morale boost and kept me going. I didn't even know what @curie was at that point until I started doing some research and saw how hard they are looking out for minnows. Coming
into steemit I didn't really know so I was posting weak content and expecting it to get upvoted or viewed but it didn't, until I began posting better content.
-@dtube has been helping out minnows with huge upvotes which is awesome to see because I think it's a great way to promote and attract new steemit users.
I could go on forever about how they are actually working but it's just awesome to see that there is a support system for new users to utilize and it's not just racking in huge profits and cashing out.
SHOUT OUTS TO SMALLER USERS:
I don't mean me shouting out to smaller channels, I'm a minnow anyways. However, I love to see when big bloggers will do shout outs to the smaller ones. This can only serve to help promote Steemit and not hurt it when people help each other out it just creates a better morale throughout the entire user base and helps add to the incentive of creating great content. YouTube used to do this like 5 years ago where big channels would shout out to smaller ones. Now that just doesn't exist anymore they got too greedy. I hope steemit will continue keep doing this because it's awesome for the small fish on steemit.
THE LEARNING EXPERIENCE:
It's said that knowledge is worth more than gold or silver…And I believe that Steemit is a place where you can learn as much as you want whenever you want about whatever you want. All my interest points are covered on Steemit and there is just so much knowledge to be gained (as long as its trustworthy) and some of which I have already been able to apply.
Lastly, I would like to give a Thanks to the entire Steemit community, It has been an exciting month and I'm looking forward to the future and will be posting a lot more on dtube in the future along with my blogs.
This is my first DTUBE and I want to point out 3 users that I have learned to model my blogs/vlogs from. They all post amazing content and are worth following!
@theaudgirl, @coruscate, @dewdrop
(fingers crossed it uploads properly)
Thank you!
UPVOTE & FOLLOW.
---
▶️ DTube
▶️ IPFS