Hello guys , this is Akhil Tadiparthi(@akhil80) this is my first ever post in Steemit and I assure u with many interesting posts in the upcoming days.
Life full of roller-coasters :
If u ever have a doubt on the meaning of roller-coaster, u need not refer a dictionary just go through my life which I am explaining in this post its nothing but a roller-coaster
                                                This picture is the symbolic representation of my life incidents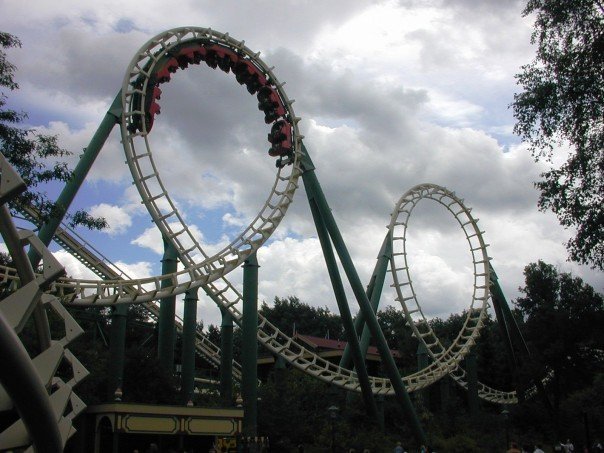 .
Initial Stage:
I was born in a middle class family in Gudivada, Andhra Pradesh. The parents in fact all the people in our state want their children to study hard and become an IIT student, they believe that's the only way to get high salary jobs. In our state IIT training will be started from 4th class itself, I wonder in upcoming years whether they may start right when they are born. So our life race begins from that stage itself. Myself also a participant in this race until I came across a game CRICKET in 5th class.
My first introduction to cricket was due to BOOST company. They used to give a freebie in the form of bat or ball when we buy their packets or bottle.As my father owns a store,our area distributor offered my dad a free cricket bat and ball which is signed by SACHIN and in the Boost advertisement it also features SEHWAG. There is even a famous quote "Boost is the secret of my energy" .From then I started playing street cricket and participated in many tournaments which later turned into a burning desire.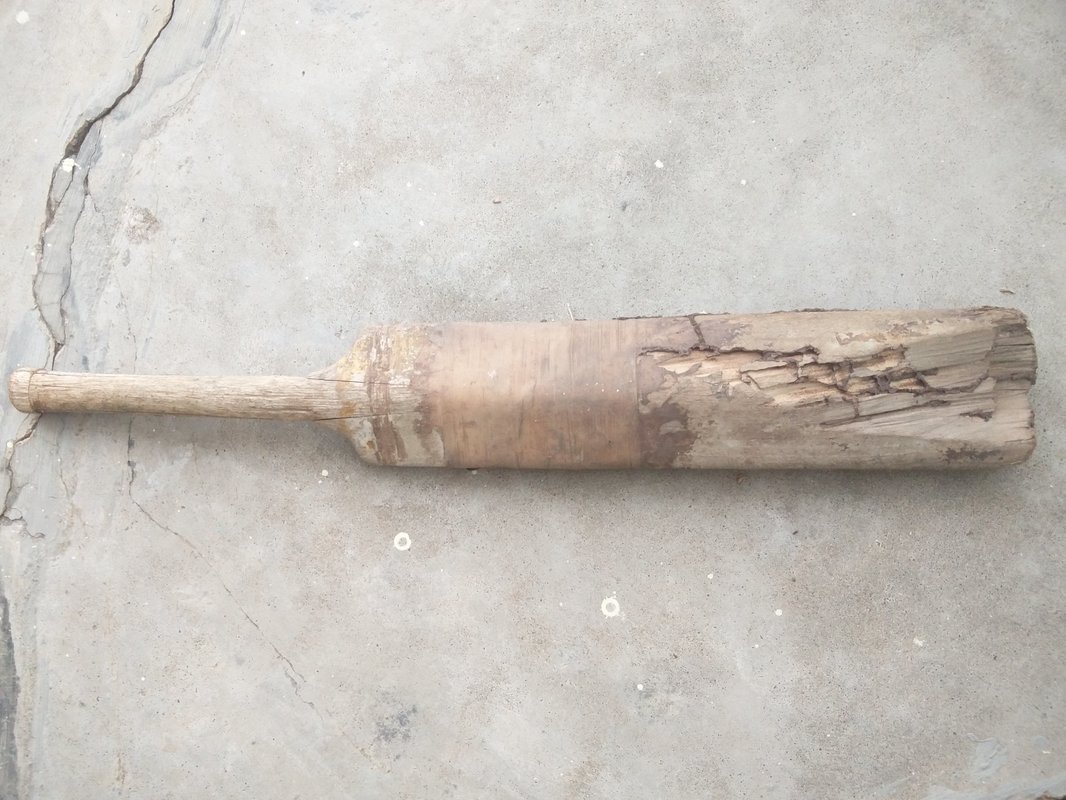 this is the first bat I have used to learn cricket and it the one that I got it for free from BOOST company
My Cricketing Career(which is a failure):
So, when I am about to enter  8th class I asked my father that I cant study anymore and want to be a Cricketer. I used to think in such a way that I have to live a life where the world should know who I am, that desire provoked a thought to become cricketer.To my surprise my father did not oppose me, he is very optimistic and gave priority to children desires but he has put a condition for 1 year in which time I have to prove my mettle in cricket.He has put the condition because he says that only 11 players in the entire country INDIA will get a life in cricket which is really a matter of fact.I even didn't care for my father words and so I stopped my studies at 8th class and changed my field to cricket. 
After 1 year of intense training(my day starts at 4 A.M with a lot of exercises and doing 12-15 rounds around the stadium) in that training institute I am unable to make into the top 11 players, where these players are sent for higher levels so that they can be selected for the Indian Team.Unfortunately I am the 12th person in the selected list and that's the day in my life I will never forgot which stopped me from achieving my cricketing career.
So according to my fathers condition I returned to my education career again and somehow jumped to 9th class by skipping 8th.At that stage I even cant remember the basics of maths and other subjects.I used to cry a lot since I don't even understand a single topic .My father said that don't ever compare with your friends and only concentrate on how much u r developing day by day.From that day I have improved a lot in studies and scored 93% in 10th.Thanks to my DAD for motivating me. 
Intermediate stage :
In next 2 years I have failed to crack IIT, AIEEE and EAMCET .Do u know if a student unable to get a good score in our state they are considered as some one whom this earth bears them for no use.
I somehow managed to a get a good engineering college in our state since students started to find colleges in other states due to state division wars at that time(later divided into 2 states Andhra and Telangana). This internal wars somehow helped me to achieve a better college for my rank.
Engineering career :
Engineering College is the place which changed me a lot in my character of viewing things ,which helped in achieving inner peace only due to the friends in my college.This is the place where I learned how to live a life peacefully.In this period I have learned a lot about technologies and many life theories.The best theory I have learned is "Thoughts Become Things". Thanks to the book THE SECRET which helped me to think every aspect in a positive way
Life is like a novel, u dont know what happens until you turn the next page.Its full of suprises :)
Later I have achieved a decent job and rather than that I have got an admission into IIM but even now my heart wants me to become a CRICKETER.
I wanted to share this to other steemians and thanks to Steemit for creating such a interesting platform.Thanks to my friend @nirmal for showing me this platform and @firepower who made account to activate fast.
There are a lot more circumstances which I am unable to express due to post becoming long, one day I think I may write a novel describing all the up's and down's I have faced in my life.....THANK YOU :)
                                                                 FOLLOW ME :