Some time ago, in a cryptogalaxy far, far away, investors and regular civilians had no access to regulated crypto and digital trading.
New projects were unable to issue and sell their security tokens legally. The crypto community was in turmoil, compromised by scam projects and incapable of sharing trading and investment knowledge effectively.
A group of young Cryptonians decided to change the way the Crypto Universe operates. Spread across the crypto world, they decided to form a new trading base and called it Adara.io, to commemorate the dual star that centers and attracts everything around it for the better.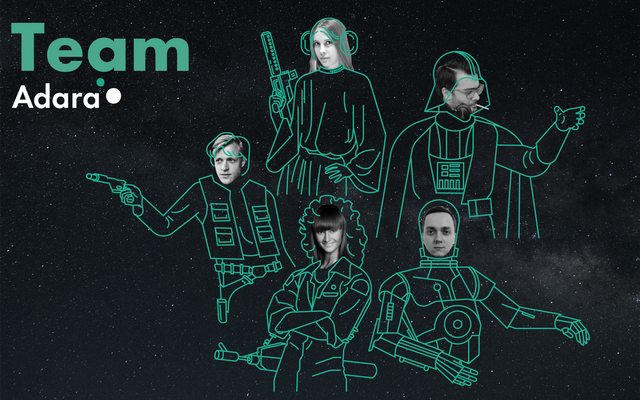 There were five of them to lead the movement:
Sten "Solo" Laureyssens, Adara.io co-founder and Chairman, pilot of the ship. Sten had an extended career in crypto and deep knowledge of the industry. Before joining the Adara.io crew, he co-founded Connect.Capital: one of the leading investors in digital and blockchain enterprises. He is also Advisor to several well recognized projects, including Storm, Current.us and Apex. Sten is an active crypto-investor and trading expert.
Lieutenant Olga "Ripley" Petrunina, Adara.io's co-founder and CEO. Prior to founding Adara.io, she had a long productive track record of starting and managing young tech ventures. She was the CEO and founder of VisaToHome, which was successfully acquired by VFS Global: the world's largest visa services provider. She was also CFO at Anywayanyday.com: "Russia's Expedia", and the country's first and biggest online travel agency. Olga completed a total of five investment rounds totaling US $34mn for the two projects, growing them to a total valuation of US $300mn. She has been working with decentralized financial systems since 2011, making her one of the pioneers in the field.
Princess Ira "Lea" Erokhina, Adara.io's CO and COO. Ira was CEO of Localway, known as "Russian Yelp". She has received the following awards and honors:
Recognized as the best-designed app in Russia
Recognized as the second best travel app of the year in 2015 and 2016
Named the best travel website in Russia and one of the 14 best apps from Russia (by Google).
Artem "Dart Art" Taradash, Adara.io's co-founder and CPO leads the station construction and deployment. Before joining Adara.io, he was Art Director at SuperJob - one of Russia's top job portals. Prior to that Magister Art was Creative Director of the mobile branch of Yota, the country's top LTE operator, and Art Director at Anywayanyday.com.
Kirill "Robo Boba" Kotov, the ship's co-pilot and engineer - i.e. the project's CTO.
There are many more of us on board, of course, and these five are only the team leaders. Adara.io's full team consists of more than 20 professionals who have a deep understanding of cryptocurrencies and blockchain technology; trading and investment; legal compliance and taxation; research; marketing. All of us are committed to building the best service for everyone, from experienced HFT operators to newbies from classical "savings" financial markets.
Right now, we're in the middle of constructing our spaceship. We believe that a strong community is the key to creating a New Universe - and a new, better trading base and that's why our users and community members are key to Adara.io's platform development process.
With Adara, users can create and share content, organically enriching the community as a whole. They can also use the platform's unique tool set to create their own custom studies, signals, strategies, and plug-ins. In addition to that, users can make their own analytic tools - charts, trading algorithms, bots, and so on - to make better-informed decisions faster. The code for any study and indicator can be amended easily, and nearly any custom indicator or study can also be created from scratch.
Every spaceship has a deck where passengers and the crew can meet, enjoy themselves and talk business, and Adara has its own deck: the, Adara.io Social Platform. The platform will be integrated into Adara.io, and will give users the option to share content including but not limited to portfolio information, studies, strategies and trading tools. By sharing this knowledge with each other, Adara.io's users will benefit from the community's knowledge - and thought leaders will have a chance to show off their expertise.
Additionally, Adara.io will publish a widget library that includes:
Crypto news
Analytic tools
Charts
Other content created by the community
In addition to its ready-made content and widgets, Adara.io will give users a proprietary content generation system that makes it easy to create further automations and content. Community members will have the ability to share news, tweets, and blog posts via the social platform and will be able to create private and public chats. Top news and the most popular content will be rewarded with bonuses.
Join us in the journey, and may the Crypto Force be with us!
You can contact us via
  Telegram https://t.me/adara_io
  Linkedin Adara.io
  Or visit Adara.ioweb site