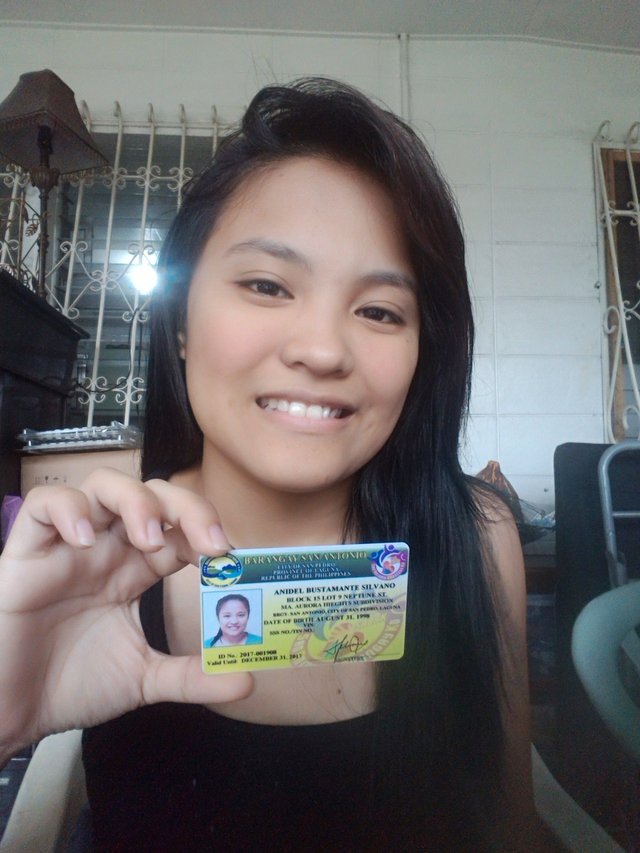 Hi my name is Anidel from the Philippines, 19 years old, living off my earnings from doing cryptocurrency work, trading, Mining, and investment. I hope by sharing my story people may get inspired to go into cryptocurrency and explore the many opportunities that await them.  
My journey to the cryptocurrency world started when I decided to leave home last year to live on my own. At first, it was very hard since I am only living off my savings doing some odd jobs in between school hours. Work is hard to come by and looking for work for me is even harder since I was only a high school graduate.  I tried working for a local food cart business but the business did not do well and it closed down. I worked as a caregiver but my employer moved to another country and I was left unemployed once again. I tried being a waitress but an untoward incident going home made me quit. I was so traumatized by the incident that I limited going out.  
It seemed like a hopeless situation. I was already thinking of going back to my Mom and just endure all the verbal abuse I get from her, my step-siblings who treats me more of a slave than a step sister and Stepdad who is heavy on the hands each time I commit an honest mistake or did not follow his command. NO WAY! I told myself, years of abuse are enough so I started to analyze my situation carefully.  
First, I asked myself what do I like doing? I can surf the net and browse facebook all day and night long. I like making new friends and I don't' shy away from new acquaintances online.  
Second, what do I have and know right now that I can use to make a living? I know how to use the computer, search the internet and I love to learn new stuff. I have a laptop, a desktop, and a mobile phone. I also have an unlimited amount of internet since the landlord of the house I am renting is giving away free internet to its tenants. 
Lastly, I have enough money to survive at least one month and three months if I sell off some of my old stuff that I am not using. That's exactly what I did, I sold my old phones and electronic gadgets and computer parts online. 
Now that I have enough budget for 3 months I started looking for "home-based online jobs." In doing so I found myself looking at the different posts in facebook group pages which shows a lot about Bitcoins.  I know a little about bitcoins but I never view it as something that you can make a living off.  So I moved on and joined a local multilevel marketing and data encoding business opportunity called Plan Pro Matrix.   I tried doing the job but the job was too much difficult for me and the pay was too small. I figure the best way of earn from this is through recruitment. That did not work out too. People are just not willing to pay the registration fee of $12 dollars for work.  
I tried another home earning opportunity. This time the registration fee is $5 only. Again you earn by inviting people to register much like Plan Pro Matrix. It is called S2S or secret to success. The only difference is this one does not offer work but an online education on online marketing. Again this one did not earn me any money.
After two weeks of no result, I thought of learning more about Bitcoins and Cryptocurrency in general. I joined one group page about bitcoins and asked if one of the administrators can be my mentor. Luckily he agreed and began teaching me how to earn online. He introduced me to Neobux, Clixsense, and Get-paid.com. They are long-running and legitimate online "Pay to click" sites. He told me that there are no investment required to start doing this online earning opportunity.  He also introduces me to Payment processors like Payza, Paypal and Skrill. He then proceeded to teach me about Bitcoins.  He pointed me in the right direction where to find more information about a certain topic in bitcoins and explained in detail some concepts that I didn't understand.  
The very first thing that my mentor asked me to do is to get my very first bitcoin wallet. Since I am living in the Philippines he suggested that I get coins.ph bitcoin wallet. It is the most popular and widely accepted bitcoin wallet in the Philippines. Here is my referral link on coins.ph. Then he asked me to register in xapo.com for a Xapo bitcoin wallet which I will use in faucet mining. He then instructed me to register in this faucet site called  Moobitcoin. He demonstrated to me how the faucet worked and showed me that some bitcoins were transferred to my Xapo wallet instantaneously  (currently Moonbitcoin does not remit directly to the Xapo wallet but Coinpot). Faucet sites are sites that give out cryptocurrency like bitcoin in exchange for doing a small task like solving a captcha or viewing an advertisement. Most of these sites are free and you can augment the amount of free cryptocurrency you can get by referring people into these sites.  
After joining and trying out several faucet sites that my mentor suggested I asked my mentor about mining bitcoins. He told me that there are two types of mining: Real mining, which requires you to have the hardware to mine and Cloud mining in which big mining companies rent out its mining power as a service to paying customers. He warned me that mining bitcoins might not be profitable anymore but if I want to learn about it he told me to check out Genesis and Hashflare. Genesis is the most popular cloud mining company and probably the biggest.  Hashflare is a mining company that builds its own mining equipment. Between the two my mentor advised me to use Hashflare as they give better value than that offered by Genesis.  Unfortunately, I am not ready to invest then even though it is a measly $1.2 was all that was required to get started. My mentor also forewarned me that there are a lot of scam Mining sites masquerading as a legitimate Mining site. These sites are called Pseudo Mining Sites of HYIP (High Yield Investment Programs) mining sites. He gave me specific instructions to stay away from these sites as they will never make you any profit. 
As I was searching for legitimate mining sites an acquaintance that I met in some social gathering suddenly message me on facebook and ask if I were into cryptocurrencies since he noticed that I was actively searching bitcoin earning opportunities online. He told me that if I was really interested he could share information about what he knows about cryptocurrency. Little did I know that this acquaintance will not only be my second mentor but also be my cryptocurrency partner.  
Like my 1st mentor, he told me that I must be careful when choosing cloud mining sites. To help me weed out the legitimate, real mining sites from the scam sites he suggested that I'd be a member of HYIP Monitoring Sites. However, he cautioned me that these sites are not always 100% percent correct and a lot of these monitoring sites get their advertising revenue from the very same sites that they seek to monitor.   
My second mentor always believes that you don't need any investment to succeed in cryptocurrency. You just have to learn how to leverage the different cryptocurrencies available online. Each of the cryptocurrency has its own strengths and weaknesses.  Unlike my first mentor that wanted me to focus on bitcoins, my second mentor stresses that I should be open to all cryptocurrencies. He asked me to open an account with the cloud mining site Eobot and micro-payment processor faucet hub. 
Eobot is offers mining contracts like Genesis and Hashflare. He liked Eobot due to the multitude of cryptocurrencies that it supports. It also gives automatically 1 doge every time you log in daily and you can faucet mine any cryptocurrency available there once every day. This can be converted or exchanged to Hashing power or mining power.  
Faucet Hub is a micropayment platform in which several cryptocurrencies faucet claims are collected. You don't need to invest anything here. It also has a section suggesting supported faucets sites that are giving out free cryptocurrency. 
I did what my second mentor asked me to do. I Joined the links that he sent me and tried to learn as much as I could by myself and ask him for clarifications and things that I don't fully grasp. One topic that I was really interested in is Mining with my own hardware. My current hardware was not really good for mining, fortunately, my second mentor, who became my boyfriend, by the way, lent me some of his old equipment. He thought me how to GPU mine using his old single 970 GTX graphics card. He introduced me to several pool mining sites and thought me how to set it up. Minergate and Nicehash. Both mining platforms were easy to set up and I was mining in minutes. I was advised by my second mentor that Mining with your own hardware is not profitable in the Philippines and I should stick with Cloud Mining if I really want to mine cryptocurrency. 
In addition to the Mining sites and payment processor he also told me that there are also "pay to click sites"  much like Clixsense and Neobux that pays in bitcoins such as CoinBulb , BTC clicks  and Bitter.io. All of these PTC sites are free and you don't need to invest anything.  
Although I am learning a lot from my mentor/boyfriend the earnings I am getting from the faucet sites, free mining site and PTC clicks were not enough to support myself. I needed to earn more. I am on my 2nd month and I need to do something before my funds ran out. I told my concern to my Second mentor and he offered me financial support which I gratefully declined. I wanted to earn on my own and I wanted to do it with what I have already started and have grown to love. He respected my decision and advised me to check out Raiblocks. 
Raiblocks is a faucet site that gives out a cryptocurrency called MRAI just by solving recapthca problems. What stands out with Raiblocks is that it does not have any limitations when you claim. You can claim as many as you want and as long as you like.  My mentor thought me how to set up my account and showed me how to trade the MRAI to Bitcoins. In no time I was earning up to 250,000 -500,000 satoshi per day which is roughly equivalent to 300-600 pesos per day ($6-$12) at the rate of $2500 per bitcoin. For a country that has a minimum wage of $10 per day this is not bad at all. I was so pleased with the Raiblocks that I tried to share it with everyone. I asked my mentor if I can teach this to other people that I knew on Facebook. He gladly agreed he even suggested creating a group page which is now called the Coinfinity-Raiblock Community Team (renamed and repurposed to Crypto Digital Giveaway). That group page has grown well over 700 members.  
Since then my second mentor introduced me to Bitcoin earning opportunities that require investments. With his guidance he let me invest in HYIP program and Mining sites. I've invested in Hashflare and Eobot. I also invested in Ethrade and other HYIP programs which since have either been turned to scam or disappeared without a trace. I wanted to cry when I got scammed but he is always there to comfort me and encourage me. He told me that I take those mistakes as lessons and learn from them.   
All the investments that I made on these sites came from free sites like Raiblocks and the different Bitcoin Earning opportunities that I have joined.   Based on my experience with dedication and effort one can start earning Bitcoin and make a living out of it. There are even cryptocurrencies like Steemit that give you some reward just by being social. 
I believe that I have stumbled upon an earning opportunity that will be a proponent for positive change not only for me but for those who seek financial freedom and success. I am sharing my experience in the hope that people seeking opportunities to earn an extra income or to gain financial success and freedom to check out cryptocurrencies. It is my firm belief that cryptocurrency will emancipate money from those who seek to control it. It will enable those who lack access to the world economy the chance that has long been exclusive to those who have money and influence. Through cryptocurrency, inclusive prosperity will be attainable. 
That is all, for now, my friends and I hope to see you again when I share the details of my cryptocurrency adventure on the different platforms that I have joined. I can't wait to tell you how I made $900 dollars in less than 45 minutes only to lose it in just seconds (hard lessons in Binary Options).