My EcoExperience at EcoSwell, Lobitos, during Summer 2018
It's a cold morning in Lobitos. I wake up early around 6am as I normally do, hear the waves break outside my window and the sun come out slowly from the horizon. My normal start of the day at EcoSwell but this time is different. I will not suit up, grab a surfboard and go surfing while the sun rises. I will not meditate on the big rocks overlooking the oil platforms on the ironically pristine sea of Lobitos nor will I not go for a run or hit the EcoGym to start off the day. What I do is take a big breath and start packing up my bags.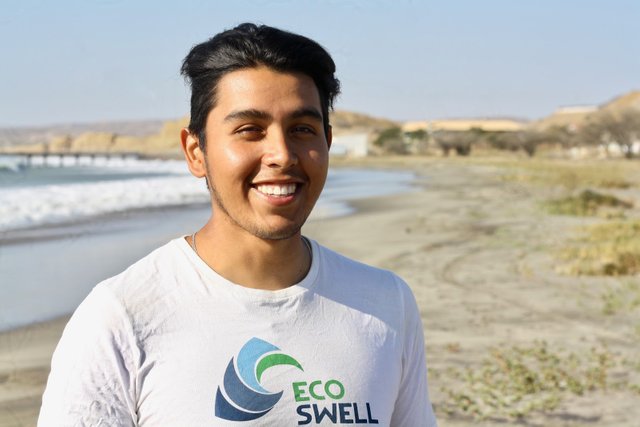 Ale smiling about his future
The day has come where I must part ways with EcoSwell and Lobitos but I look at my farewell as a bittersweet ending and a time to reflect on my experience. My EcoExperience in Lobitos has paradoxically gone fast as the blink of an eye but at the same time appear to me like a whole chapter in my book of life. I've surfed almost everyday here even though most of the surfing I did was falling of the board time and time again. I swam with green turtles, worked on building a wind turbine, built a Vetiver pontoon, planted many plants (mostly Vetiver) and even learned how to cook good, healthy meals. I bet none of my friends can say they've done half of the stuff I've done during my summer experience.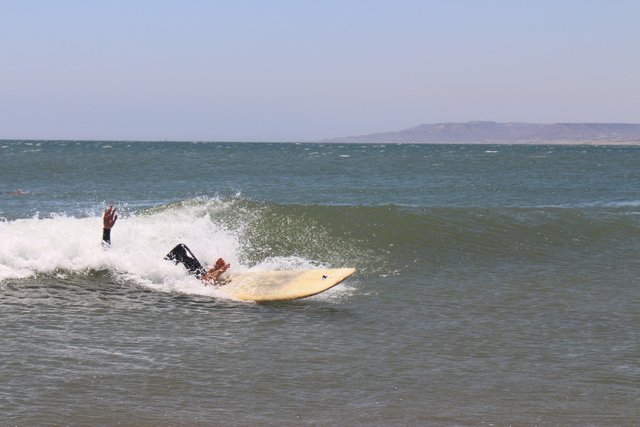 Classic picture of me surfing
I've also had the pleasure to meet almost 20 volunteers and the four EcoSwell directors during my stay. It's amazing how EcoSwell consistently brings highly motivated volunteers with unique interests and experience. This is reflected by the assortment of books at the EcoHouse. I've seen books about the history of human mankind, books about self-motivation and mindset, Lord of the Rings and even a book about what would happen if John Lennon came back to life. They are visionaries who have a positive mindset and so much will to work. I'm glad that I can call such great people friends. I've shared many laughs and good moments with them. I will remember the Tranqui dinners, going to Baterias to surf and enjoying a very cold Cuzqueña at La Casona while looking at the sunset.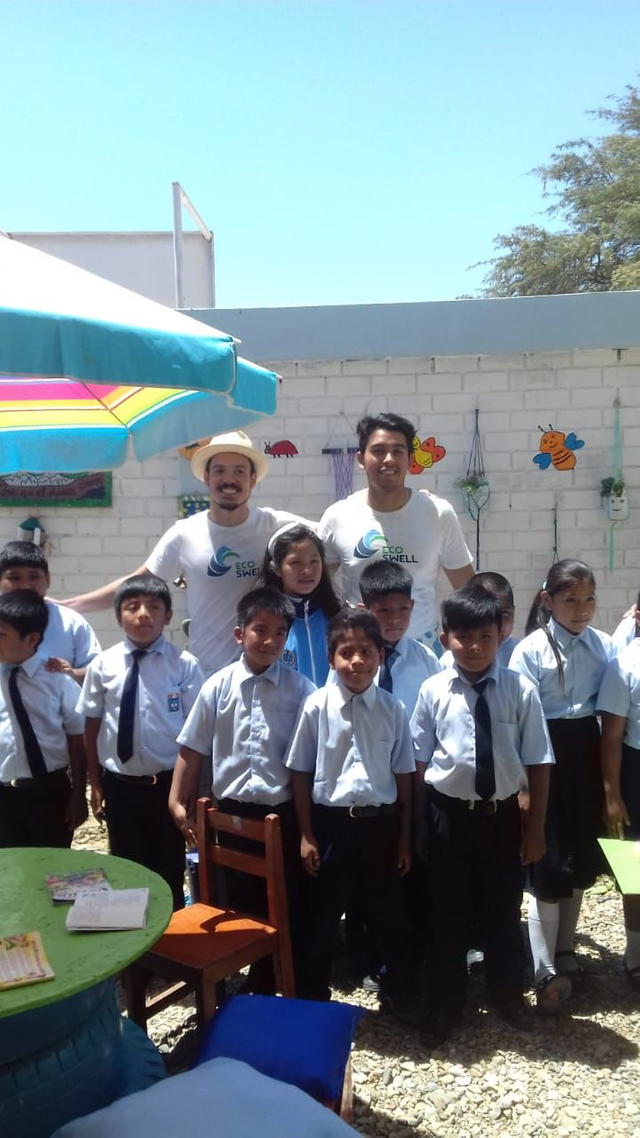 Ale at the Primary School of Lobitos
The individuals that I've met at the EcoHouse, specially the directors, have made me rethink on my lifestyle and my view of success and happiness. The lifestyle I've adopted here is one that I look forward in replicating in the near future. Never have I been more stress-free but at the same time as productive and motivated to work. Never have I eaten so healthy and even tried a vegetarian diet and never have I felt with such energy and motivation to go outdoors and interact with nature. It's an incredibly refreshing lifestyle that was such a necessary breather from the lifestyle I have at Northwestern. Although EcoSwell is focused on planting seeds, literal seeds and seeds of hope, on the Lobitos community, they also did it on me. The seed they've planted is growing and will bear good fruits as I'm beyond motivated now to work for an environmental cause and motivate others to live a more eco-friendly life. I want to find my own Lobitos, a reason to work hard towards a goal that gives meaning to your life. But, it might be the case that I already found it. Thank you EcoSwell. I truly believe that your best waves are yet to come.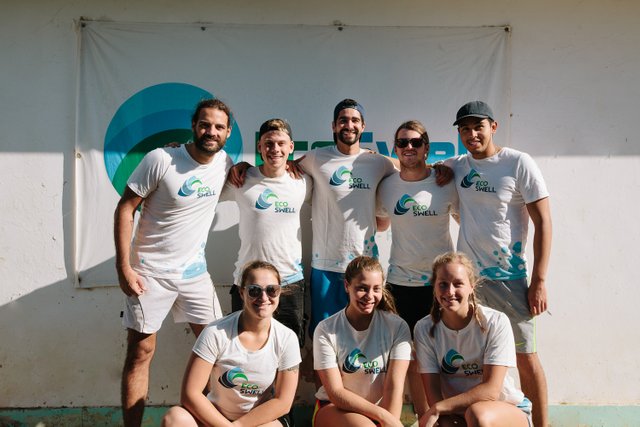 The EcoSwell Team, Ale - top row, furthest right
written by Ale, Northwestern University
@EcoSwell is a for-impact, sustainable development organization based in Lobitos, Peru. Since 2014, we have been working everyday to help coastal communities thrive in unison with nature. All the revenue generated from our SteemIt posts go directly back into our projects. If you would like to learn more, please visit our Facebook, website, and follow us on SteemIt!