What is the InoCoin Platform?

The InoCoin Platform is a unique opportunity for both startups and investors. It is a decentralized investment platform built on top of the Ethereum blockchain.  Our goal is to connect investors and innovators, enabling them to improve upon new or existing technologies, making the world a better place. 
InoCoin is a standard ERC20 token that powers the InoCoin Platform. 
InoCoin Chaincode: At the heart of the InoCoin platform are a set of smart contracts. They serve to coordinate interactions between participants. InoCoin smart contracts are deployed on the Ethereum blockchain, but can be linked to other platforms. 
How does it  work?
Within the InoCoin platform, there are two main features that can be used: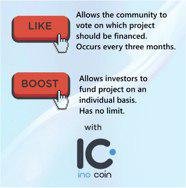 The "like" button is intended to allow the community to vote on which project should be financed. This occurs every three months when our managerial team redirects InoCoins, in order to fund a project. 
The "boost" button allows investors to fund projects on an individual basis. With no limits as to how little or how much they can invest. Each project, individually, details how investors are benefitted. 
InoCoin provides every single person a chance to be an investor and innovator. Age, knowledge and wealth are not important.  
What seperates us from the rest?
InoCoin – Investment Platform allows investors of all sizes to take part. This is the key factor that seperates us from the traditional system, which usually restricts investment opportunities to a small circle of individuals. We are removing these high barriers to entry. Using our platform anyone can make an investment, regardless of how small or big it is. The platform will calculate the profit as a percentage of the invested ammount. INO is an utility token that will be the future of crowdfunding. After investing INO you can receive smart services and all kinds of products from the projects you support. 
InoCoin – Investment Platform places no boundaries on startups. We believe this is the key to a successful business in the global internet era. These new ventures need to be innovative, above all else, not placed within the constraints of old ideas. If you believe you will struggle to secure an investment, if your idea is too unproven or optimistic, then you would be the ideal candidate to apply for funding through InoCoin. Many of the great innovators during our time where thought to be too forward thinking, while at the same time struggling to secure the funding and trust necessary to realize their ideas. That is no more.
Blockchain technology opens the possibility for more transparent markets that are less susceptible to the control of financial oligopolies, operating within a regulatory environment they helped create. 
On our platform investment decision are made by you. Our power is our community !
What about the ICO? When do you ask for our money?
We will not host an ICO , because ICOs are an illusion of progress. They produce tokens we don't need, incentivize marketing and speculation over development, and neglect end-user utility. InoCoin has a working product and is ready to help both investors and startups. All you have to do is register with us. 
InoCoin can be traded at Exrates and Token Store at the current market rate of 1 INO=$0.6

Join us on: