That's John Fitzgerald Kennedy on medicare for all, for those not familiar with the abbreviation-game. In today's short post I'd just like to briefly touch on the fact that medicare for all is something Democrats have historically always supported, and that the current fight within the DNC (another abbreviation: Democratic National Committee, the governing body of the Democratic party) against it, is yet another indication of how that party seized to be a "left wing" party since the 1980s.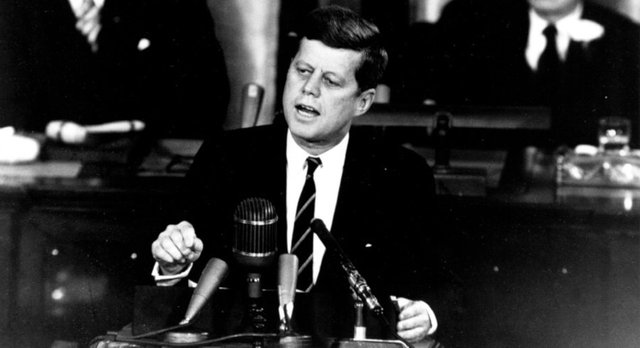 Image by skeeze - source: Pixabay
Medicare for all has been part of the Democratic political agenda since the days of FDR (Franklin Delano Roosevelt), and has remained there up until and including the presidency of Jimmy Carter that ended in 1981, when Reagan and his reaganomics took over for the next 8 years. Since those Reagan and Thatcher years the world has been ruled by the neoliberal economic policies they introduced. This is the time in our world's history that "the left" seized to be the ideological opponents of "the right." Just do a Google search on "what do republicans stand for" and you'll find:
The Republican Party's conservatism involves support for free market capitalism, free enterprise, business, a strong national defense, deregulation, restrictions on labor unions, social-conservative policies, and traditional values, usually with a Christian foundation.
source: Wikipedia
The Democratic party and other so called leftist progressive parties all over the western hemisphere embraced all of that, with the exception of the social-conservative policies and Christian traditional values ("pro life" as opposed to "pro choice", against abortion versus pro abortion); this is why traditional Democrats can only differentiate themselves from their Republican counterparts by clinging on to pure identity politics, political correctness and virtue signaling. Those are legitimate criticisms of the Democrats, but not of true progressives or true leftists. The traditional difference between left and right has always been of an economical nature with spearhead points being a decent minimum wage, healthcare for all, affordable education for all, a strong progressive taxation scheme, workers' rights and so on. Since they've bought into the stark Ayn Randian worldview, so perfectly summarized in Thatcher's claim that "there's no such thing as society," they've lost that distinction. It's time to bring that back, time to make a difference once again... So, without further ado, here's JFK making the case for M4A (he addresses the modern day arguments against M4A starting at 3:54 minutes):
JFK - Universal Health Care
---
Thanks so much for visiting my blog and reading my posts dear reader, I appreciate that a lot :-) If you like my content, please consider leaving a comment, upvote or resteem. I'll be back here tomorrow and sincerely hope you'll join me. Until then, keep steeming!

Recent articles you might be interested in:





Thanks for stopping by and reading. If you really liked this content, if you disagree (or if you do agree), please leave a comment. Of course, upvotes, follows, resteems are all greatly appreciated, but nothing brings me and you more growth than sharing our ideas. It's what Steemit is made for!





I am a proud helpinaut! @Helpie is looking for new members! Helpie has been growing nicely and we are always on the lookout for new valuable members. We are very supportive and community oriented.




@helpie is a WITNESS now! So please help @helpie help you by voting for us here!