Parkland shooting survivor and March for Our Lives leader David Hogg is facing criticism from his supporters for calling House Minority Leader Nancy Pelosi "old" in a New York magazine profile of him published on Sunday.
He noted Paul Ryan's age when he became the speaker of the House (at 45, he was elected the youngest-ever speaker), and added, "Older Democrats just won't move the fuck off the plate and let us take control. Nancy Pelosi is old."
You know what, I actually agree with Hogg for once in my life. Nancy Pelosi does need to step down but not because she's too old but rather because she can barely talk and rambles out words that don't make any sense. She's called president Trump president Bush like half a dozen times and she probably thinks it's 2001 instead of 2018. She looks very frail and is probably needs to be put in a nursing home instead of running our country.
But in typical liberal fashion the SJWs on twitter came out to lecture him on his choice of words because calling someone old is mean and violating their safe space or some bullshit.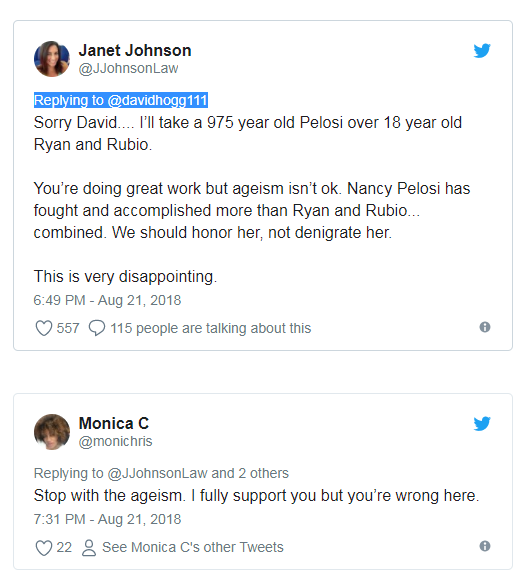 David Hogg took to twitter to try and defend himself from being eaten by his own libtard followers.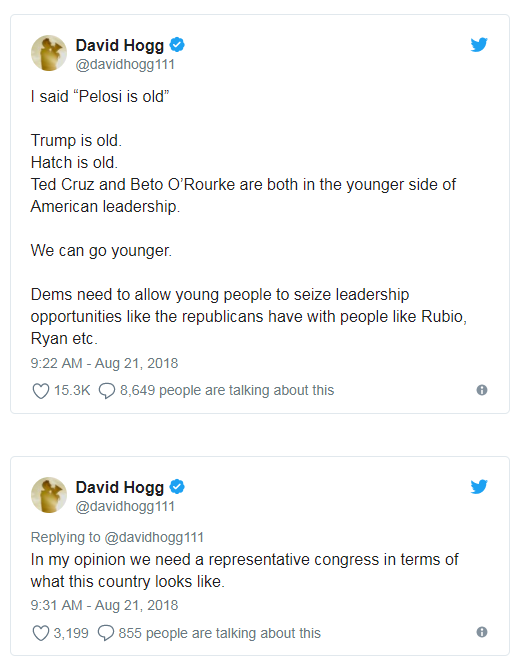 Sure we can go younger but not to young. David Hogg's generation isn't what I would call the brightest in the bunch. Just take a look at some of the stupid shit these kids do now days.
'Deodorant challenge': Are teens really burning their arms to go viral?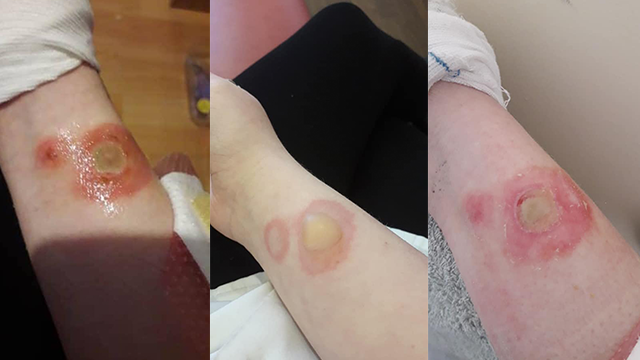 A mom in the United Kingdom sent a chilling warning to other parents on Facebook last Friday about the harmful "deodorant challenge," which she said caused second-degree burns on her daughter's arm.
https://www.usatoday.com/story/news/2018/05/09/parents-worry-over-deodorant-challenge-viral-teen-challenge-united-kingdom/595601002/
Mom Speaks Out After Girl, 12, Sets Herself on Fire While Attempting Viral 'Fire Challenge'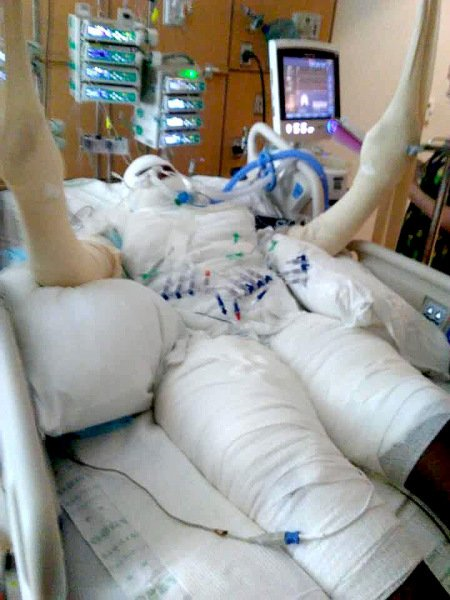 A 12-year-old girl is recovering from the severe burns she received to nearly half of her body while she attempted a viral and dangerous internet challenge.
https://people.com/human-interest/girl-burned-in-fire-challenge/
Teen severely burned in viral 'hot water challenge'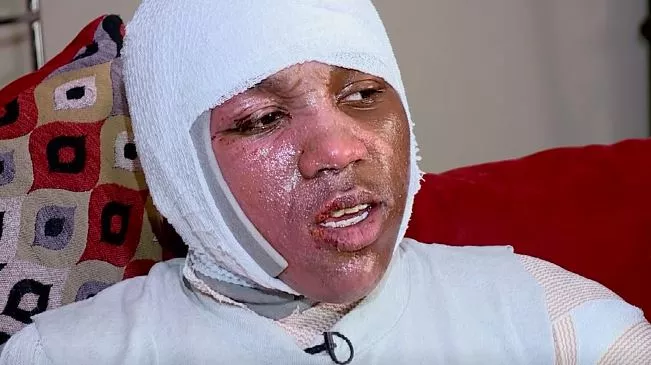 An Indianapolis family is raising a red flag about the so-called "Hot Water Challenge" after the dangerous prank resulted in a 15-year-old being severely burned.
http://www.azfamily.com/story/38755959/teen-severely-burned-in-viral-hot-water-challenge
I don't know about you guys but when I was a teenager we just smoke, drank, used drugs and recklessly drove for fun. We didn't intentionally set ourselves on fire or pour scalding hot water on people. I think David Hogg's generation has a lot of growing up and much to learn about life before they are ready to enter the political arena.
Source: https://www.buzzfeednews.com/article/remysmidt/david-hogg-called-nancy-pelosi-old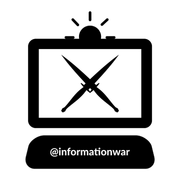 Interested in joining or supporting the Information War?

Use tag #informationwar to post your own stories about the lies and propaganda being pushed on the public. @informationwar will upvote posts worthy of the cause.
Join the discord: https://discord.gg/t5JFAXZ chat with like minded individuals like myself and share your articles to receive additional support
Delegating Steem Power:

Another way you can support the cause is to delegate SP to @informationwar.
Note: remember to keep around 50SP in your account so you don't run into any bandwidth problems.
How to delegate SP, join the fan base and more: https://steemit.com/informationwar/@truthforce/you-can-make-a-difference-join-the-informationwar-and-help-support-others-today