In the past year some of the state governments of India have shown some interest in integrating blockchain into their governance systems. Telangana Government was the first to implement a working blockchain for land records in their upcoming Amravati city.
Amravati city experiment proved successful. Now the state government of Telangana is considering a wider implementation in other parts of the state.
Source
However, in recent times other states including Kerala have announced blockchain projects but many haven't taken off. Infact a Steemian told me they tried reach an office of one such project but couldn't get through to anyone.
Factor Daily now has a report on the status of blockchain projects in India. It is perhaps too early to state but I'd let you read the full report here and decide for yourselves.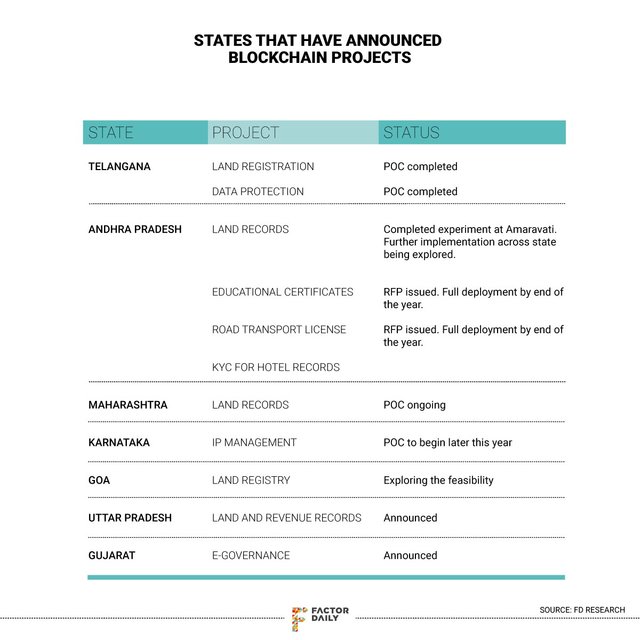 Source
"Another challenge is the money for these deployments. We cannot spend from our pockets to do the implementation because you need to hire developers and will have other expenses. With no financial commitments from the government departments after the PoC, carrying on with the development is difficult," says the executive quoted above without name.
This statement is as true as it can get! Infact I'm in touch with a few people who have worked closely with state government on some IT projects. Most people within the government are hard to deal with as they lack knowledge on IT matters let alone blockchain and its use cases.
Getting the government to sign off on a project where you can implement transparency, accountability, efficiency, trustworthiness of data amongst other things isn't easy. You cannot hire low cost devs and you cannot get the top devs to work on projects at costs that doesn't justify their time when everyone knows the government has deep pockets to pay for an official's whims and fancies but not for scalable public projects.
For now I'm just keenly observing this space and recording some of the developments and information. I think it's important to make a note of such significant changes in the IT industry in India. Some of us truly believe in blockchain technology and it's potential to change business as usual.
This technology can open up so many possibilities and improve the employability of software professionals as well as create a thriving new sector within IT in India. It's already happening and there's a lot more to come.
However, without regulation in this space, adoption remains difficult. Adoption of any new tech can be seemingly hard when there are a number of forces that need to approve these things. Hopefully 2019 onwards we'll see more government blockchain projects taking shape and more systems being put on-chain.
Currently as we stand many projects seems to be still in the proof-of-concept stages and only one has seen deployment.
Feel free to share your opinion on this as well as read a previous post on similar matters, 'Can India Become One Of The Blockchain Leaders By 2023?'
---
If you like my work kindly resteem it to your friends. You may also continue reading my recent posts which might interest you:
---