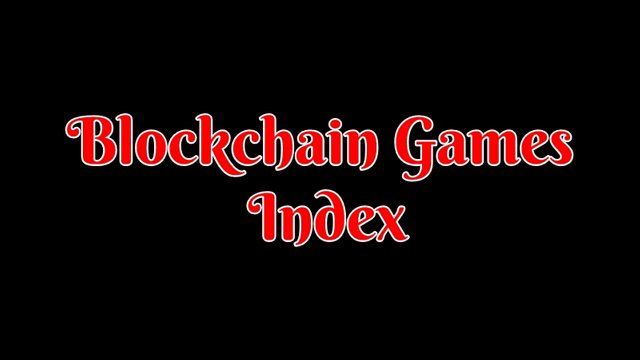 This is an extension of my main index that includes blockchain games. This due to its size has needed to be expanded again. Many of these games are in different stages of development from still in testing closed alpha to a released version. So far I have covered games from the following blockchains: Steem, ETH, Enjin, EOS and I'm sure many more in the future.
Each game denoted below states which blockchain it is from in [square brackets]
Blockchain / Cryptocurrency Games
[Steem] Brosino
[Steem] DrugWars.io
[EOS] EOS Knights
[Enjin] Forgotten Artifacts
[ETH] Gods Unchained
[Steem] Holybread
[Steem] IBT Survival Island
[Steem] NextColony
[EOS] Prospectors.io
[Steem] Splinter Lands (Steem Monsters)
Other Blockchain Gaming Content
Since my content is published on a site that rewards in crypto it only makes sense I have some skin in the game when it comes to taking a deeper look at these kinds of games. While this industry is still quite young it has massive room for expansion and I feel I will start building up more of an audience for it over the long run.
[Steem] Brosino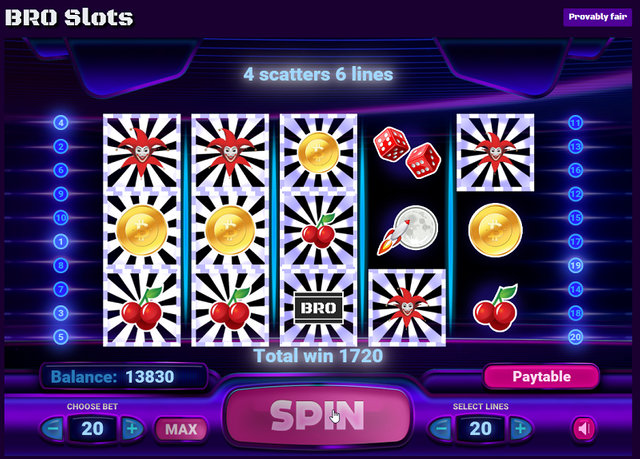 Recommend: Yes
Whether you are slots or a card kind of person there are a couple of different games to enjoy. I talk about in detail for those who don't know how to play the classics that are provided in this online casino. Thankfully it just plays money and they are looking to expand the games they provide in the long run!
[Steem] DrugWars.io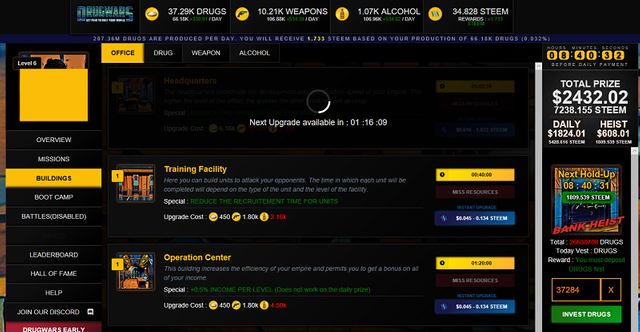 Recommend: Maybe
Is early access free to play the game that draws inspiration from the former game of the same name—Drug Wars. After a while and so many changes to how the player would be paid out I lost interested and stopped playing. Most of my content is a bit dated on it. It is, however, something to play on Steem.
A quick overview of the game is a bit outdated these days.
Some thoughts I had about the game I would like to see introduced back when I use to play.
[Steem] EOS Knights
Recommend: Maybe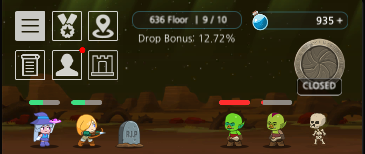 While I've never been a huge fan of idle games if you in the market for one this might be for you. It is also on the EOS blockchain I would just not have high hopes of making back what you put into it. The lower markets don't seem to have high trade volume and most of the top players seem to have their value in the gear they wear more than anything else. As such if you want a game where you spend a little and check in a couple of times a day to revive your character maybe.
[Enjin] Forgotten Artifacts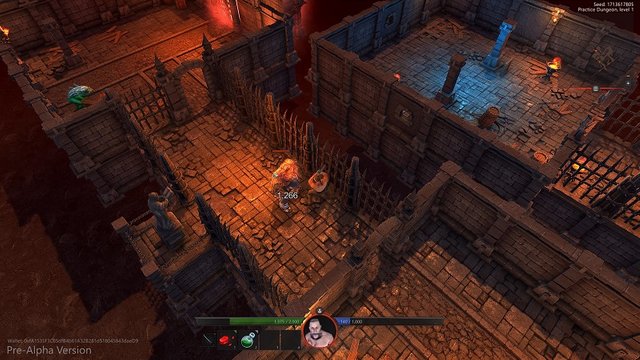 Recommend: Game is in pre-alpha
Forgotten Artifacts is an ARPG dungeon crawler that uses Enjin's wallet as a ERC-1155 asset on Ethereum. This game is still in pre-alpha so it is subject to having some major content patches in the future that may change the overall gameplay.
[ETH] Gods Unchained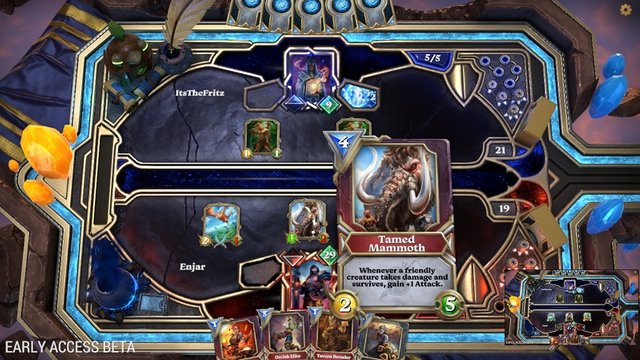 Recommend: Yes
Still, in development, this collective card game uses elements of the Ethereum blockchain for card ownership. While keeping player matches and other stuff that's not really required off to save on the cost of using gas for transactions. You get to pick different gods who each have their own abilities and this is a turn-based game at that.
I look forward to creating more content about this game when it comes out or had changed quite a lot.
Every weekend there is an event where players battle it out to earn enough wins and rank high enough for core and other pack rewards.
With the recent release of the market place players are wondering should they be fusing cards once that in game mechanic is activated again inside of the game. I go over some pros and cons. People also add their own take in the comment section on this topic.
I do a full breakdown of the game and go over many different aspects to bring a player up to a fundamental understanding of the game.
[Steem] Holybread
Recommend: Yes
Holybread is an rpg game that released in January 27th. It incorporates several aspects of the Steem blockchain into it. In this game, you level and gear up heroes to send them off on quests and battle in the arena. My review is based on my testing in closed beta. Some things may be subject to change.
[Steem] IBT Survival Island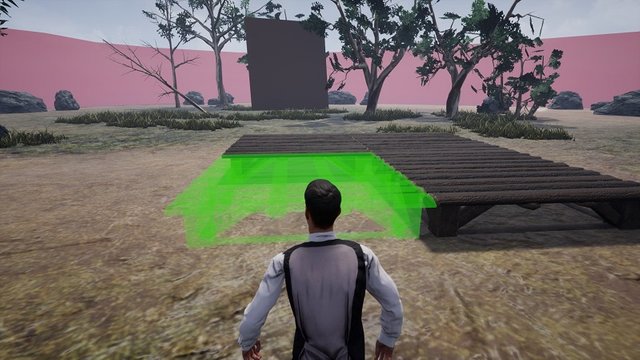 Recommend: Game is in early testing
IBT Survival Island is a survival game that is in the early stages of development and testing. The game itself will be using its own SMT on the Steem blockchain when those are released to reward players for playing.
So far I have been a tester in their second demo round. I look forward to joining more and posting updates on the games progress from time to time.
[Steem] NextColony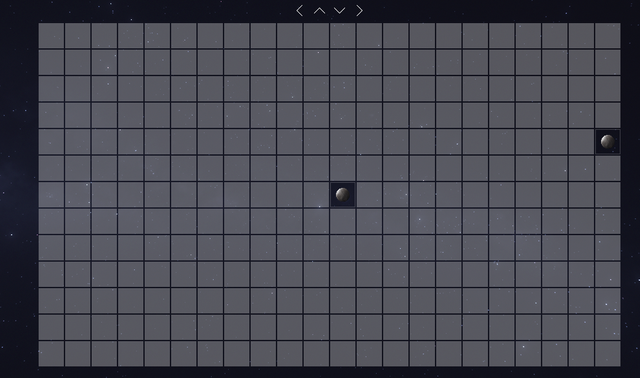 Recommend: Maybe
I go over my initial thoughts of the game after it became available to play on the Steem blockchain. It's a f2p browser game that is inspired by Ogame and has you colonizing the universe after the earth is no longer sustainable. I take a look at skills, building, microtransactions and other aspects of the game.
[Steem] Prospectors.io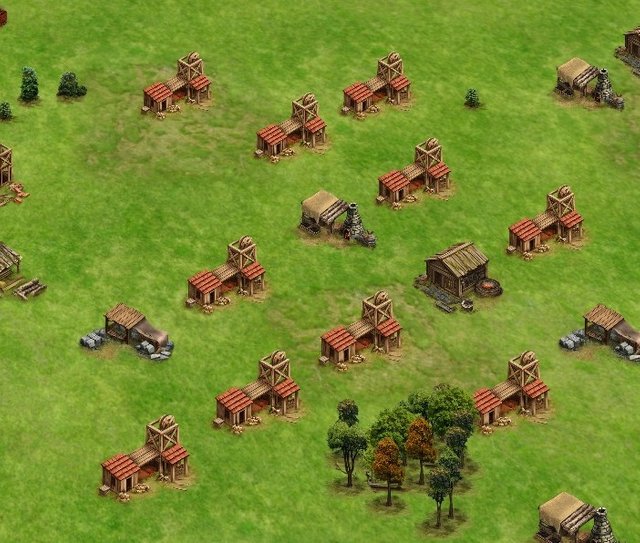 Recommend: Maybe
If you have gold fever perhaps this browser game being played on EOS blockchain can meet your fix. Players work their way up from using their hands to building up land and hiring others to do the back-breaking labor. While you can mine gold there are a bunch of other materials and goods in this fully player-driven economy game.
[Steem] Splinter Lands (Steem Monsters)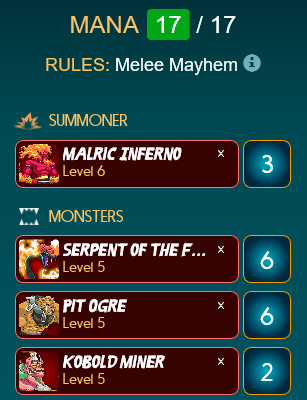 Recommend: Yes
A collective card game played on the Steem blockchain. Players build up there decks around splinters and level up the cards by combining them. They then can battle other players in matches that have different rule sets and other resections like mana cost. This is one of the few blockchain games I expect to keep innovating and creating value over the long run. It has changed a lot during the short time it has been around.
A look the tournament system that has been added to the game.
I wrote this when the game was still young and Alpha cards were still cheap! My the game and the times have changed. This review is a bit dated these days!
I go over at the time my plans to slowly remain viable in this game in the long run. Games like these you need to think long term. At some point, I took a break so my plan did not work out as well as I was hoping.
It is shocking to recall I used to be able to get rather high up in the seasons. It has been a while indeed.
Knowing not everyone is a gamer. I wrote a few pieces like this with the intention of trying to build up an audience of new people to both the game and gaming. Quite of the number of others were doing the same and so I never wrote many of these.
Other Blockchain Gaming Content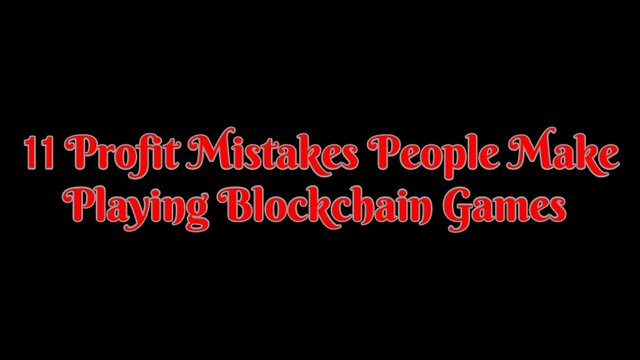 I go over some things to watch out for from small costs to possible scams. Along with pointing out some advantage and giving yourself multiple options for revenue streams.
I go over some of the struggles of playing on EOS. Everything from having a hard time getting a wallet and set up to being stuck at max CPU due to bottlenecking and glitch issues the overall network has.
I go over some new regarding a few different blockchain from Steem to Enjin blockchain. Quite a few games have had recent updates fixing bugs, rolling out new features. There has also been some interesting development going on in those individual blockchain themselves regarding gaming.
Final Thoughts
With blockchain gaming expected to become even bigger in 2020 and beyond this section will surly grow over time. As I check out new games I find interesting, along with, checking in on how older ones are doing. I will be doing a weekend gaming blockchain news post at least once a month if not more often as the market becomes busier.
At this time blockchain games are not my sole focus. In the future this could change as projects come further along and more money starts to be inverted into this emerging market. For the time being these are very risky games to get into as with any game they can go out of bussin3es or even popularly over time. As such play at your own risk and set a budget! I hope you find something fun to play.
Indexes
Information
Screenshots were taken and content written by @enjar. Screenshots are from their represented games noted by the header of each game and further linked to in the actual article themselves.