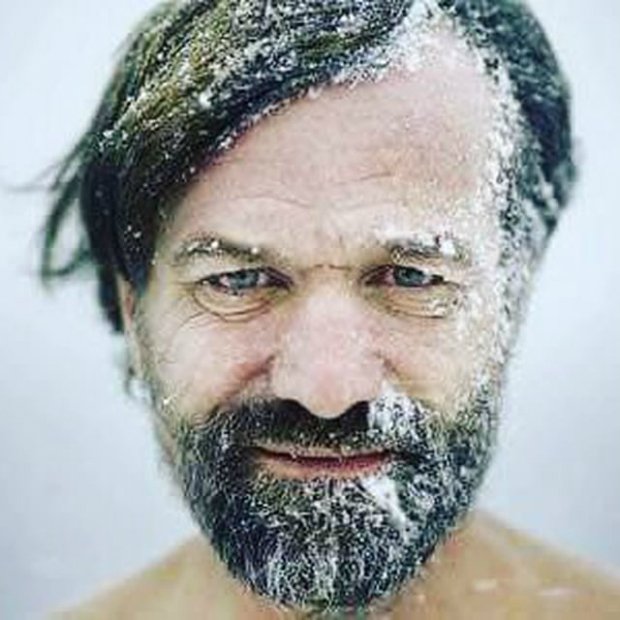 Wim Hoff is a miracle of modern science; or has he just learned to do what is within us all?
For those of you who haven't heard about him, Wim Hoff is a Dutch national with an incredible talent. He regularly exposes himself to extreme cold whilst partaking in gruelling athletic challenges.
Whether it's running a marathon in minus 10 degrees in his underwear, or swimming beneath the ice in a frozen lake with nothing more than a pair of pants, Wim has done it all.
The Making Of The Iceman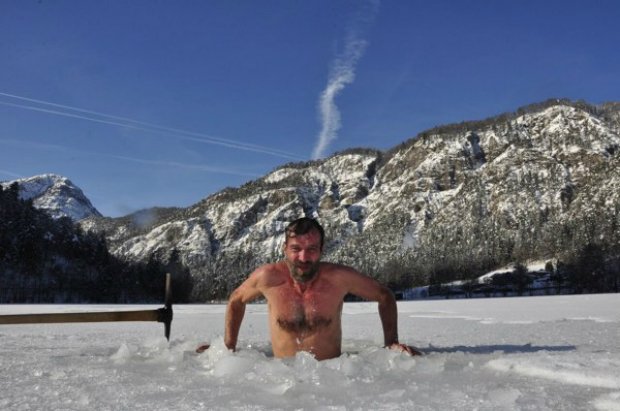 The cold is my only master, the cold is my only teacher.

~ Wim Hof
Wim Hof hold's 26 world records, all of them have been set in extreme cold.
He has climbed mount Kilimanjaro in his shorts, and he has been submerged in ice longer than any living human being.
Some biologists think that Hof may change the face of medicine all on his own. Yet what was it that originally drove this man to discover the limits of his body in such a stark way?
As most of us do, Hof spent a portion of his early life looking for a 'truth' beyond that which he already knew.
He claims to have looked into various religions and martial arts. Then one day he was near a body of cold water in his native Holland, and decided that he was going to get in.
Hof claims that it took him between 30 and 60 seconds to fully immerse himself, and from that point on, "The Iceman" was born.
Wim says that he felt that he had gained more knowledge in that one minute than he had reading a ton of books. He said that he realised then, that what might be called enlightenment did not come from the head, but rather the body and the head together.
In 1995 the love of his life, his wife who gave him four children committed suicide. Hof says that it was this personal tragedy, along with the determination to be there for his 4 kids, that spurred him into finding a solution to his depression.
He found that the more he employed his breathing techniques, along with his 'cold therapy', the better he felt.
Both him and his children, Hof says, benefited greatly from using this method, it was not long after this that the media started to get interested in his exploits, and thus, the iceman was born.
The Science Of Cold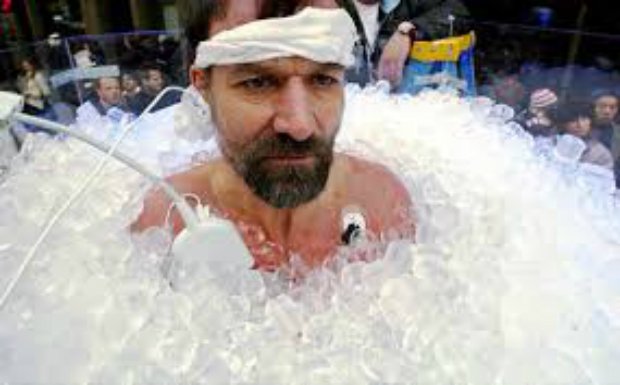 Up until the discovery of Wim Hof and his amazing method, it was thought that both the autonomic nervous system and innate immune system could not be voluntarily influenced.
However due to a study published in 2014 by Matthijs Kox and Lucas T. van Eijk, et al. that notion was completely flipped on its head.
By studying Wim Hof's physiology, scientists realised that he was indeed doing what he claimed to be doing. He was taking conscious control of his nervous and immune systems, simply by regulating his breathing in a certain way.
What was completely groundbreaking about this study, is that they used Hof's method on a group of completely normal people, whilst measuring against a control group who had not been taught the method.
This is science at its best, Wim Hof past on the precise details of his method to others. They were then able to take those methods, teach it to a group of unknown test subjects and duplicate Hof's results.
Make no mistake, these results were phenomenal, they found that by using 'the method', subjects had higher adrenaline and lower cortisol levels in their systems.
This was especially interesting because adrenaline is used by our bodies to help us perform better under stress. Whilst cortisol is a result of the stress that we're feeling, so adrenaline and cortisol play this merry dance within us, in order to get us to perform at our peak.
The next amazing discoveries were that subjects who underwent the Hof method, produced epinephrine which in turn, stimulates the production of anti-inflammatory hormones within the immune system. While at the same time suppressing pro inflammatory mediators such as cytokine.
The importance of such discoveries is highlighted in this short paragraph from the study.
The innate immune system is crucial to our survival, but excessive or persistent proinflammatory cytokine production can result in tissue damage and organ injury, such as in autoimmune diseases.

Biological therapies that antagonize proinflammatory cytokines or their receptors are very effective and have revolutionized the treatment of autoimmune diseases, such as rheumatoid arthritis and inflammatory bowel disease.

However, these drugs are expensive and have serious side effects. Therefore, innovative therapies aimed at limiting inflammatory cytokine production in a more physiological manner are warranted.
Taking On The Wim Hof Challenge