ICO legalization race– new turnaround for France ?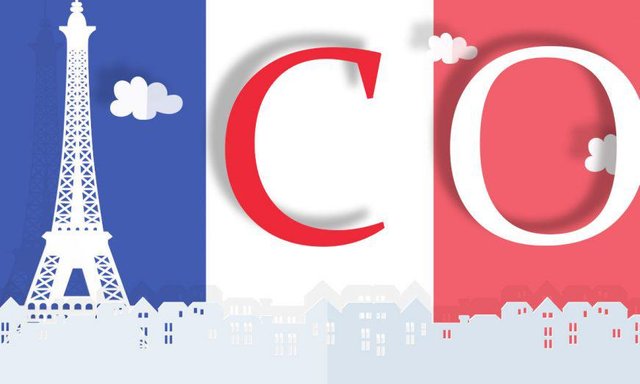 France is relatively loose on blockchain projects and crowdfunding. After the Brexit, France intends to recapture talents and revitalize the economy through the blockchain boom. Therefore, both the government and the regulatory authorities are open, friendly and positive.
The French government has set up a working group to explore and introduce cryptocurrency regulations. In order to attract more cryptocurrency enthusiasts, the cryptocurrency tax will taxed to 30 %.
On September 12, French Finance Minister for the Economy and Finance, Bruno Le Maire said on Twitter that the parliament decided to implement a new legislative framework that would give ICO legal status.
Companies seeking to launch an ICO will have the choice to apply to the French financial authorities (AMF- Autorité des marches financiers) a "visa" and provide a whitepaper, a clear definition of the project, their token and economic purpose. The committee will only grant projects that provide specific guarantees to investors.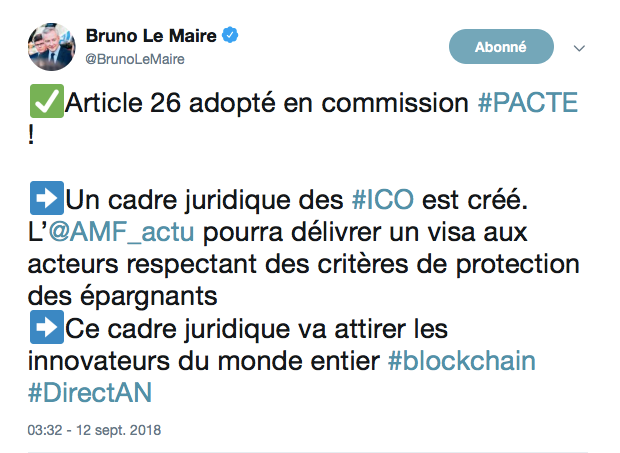 This new law comes into force is part of reforms promoted by the French President Emmanuel Macron through Parliament. As part of his campaign, Macron is committed to implementing a PACTE (Enterprise Growth and Transformation Action Plan) to create a better "business friendly" atmosphere for France. It's presumed to protect business investors and attract blockchain innovators from all around the world.
In fact, France has long planned to supervise ICOs. Last year, AMF launched a new project focusing on the cryptocurrency, "Unicorn" (UNICORN), the ICO research network universal node, aka "Universal Node to ICO Research & Network". It designed to provide a framework to support business development and protect investors and activists who wish to participate. AMF's institutional leader, Robert Ophele, said
Officials are quickly determining their position on the ICO, and several approaches were considered at the time, including upgrading existing specifications, incorporating ICOs, or creating new regulations around use cases.
The French government hopes to revitalize the economy through the new technology of blockchain, and it also recognizes the importance of regulation. Station F area in Paris is one of the largest startup incubators in the world, and many blockchain startups are developing applications. Although blockchain technology and cryptocurrency are in an emerging field and require a lot of exploration, the French authorities are positive and optimistic about the future of blockchain technology and the overall cryptocurrency.
Pierre Person, a French politician representing La République En Marche, also said,
In today's environment, an appropriate legal framework and structure must be established to promote the emergence and development of these blockchain projects. France must occupy a leading position in the blockchain industry. An ICO is a good alternative financing model, disintermediated, which brings real funding closer to the population. But it has more risks.
Overall, European countries allow the existence of ICOs. Among them, except Russia is in a stricter regulatory environment. Other countries, including United Kingdom, France, and Germany, they have set up a special working group to study the pros and cons of related activities, or "will strengthen supervision."
In early August, the Stuttgart Stock Exchange, the second largest stock exchange in Germany, announced that it is developing an ICO platform that will allow token distributors to issue tokens through standardized and transparent processes.
From a global perspective, Asia has the strictest regulations, including China and South Korea, two countries that explicitly ban ICO. In fact, since the South Korean government issued the ICO ban in September last year, the call for legalization of ICO in Korea has always existed. It is "likely" to announce its official position on Initial Coin Offerings (ICOs) in November.
If you are interested in the countries' regulatory attitudes towards ICOs, please read our previous articles: ICO Supervison Is Still In The Era Of Grassroots.
In short, the French Parliament has become the leading ICO center in Europe through the new ICO framework. This law is focus is on establishing "rules of a certain nature to avoid obvious abuse and to inform and protect investors."
This move is undoubtedly good news and great push to provide certainty and clarity around ICO regulations.
Check also our previous blogs:

Does Ripple (XRP) may continue to grow until the end of the year?
Is the decentralized dividend model a future and promising trend ?
Can Bitcoin cash surpass Bitcoin?
Are Stablecoins a Cryptocurrency Volatility Solution?
For Crypto Rookies – What is cryptocurrency exchange?
Follow us